NFL Week 7 Injury Tracker: Live Updates, News and Analysis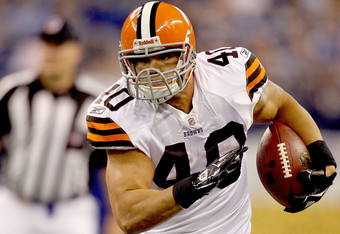 Matthew Stockman/Getty Images
The matchup between the Seattle Seahawks and Cleveland Browns is sure to be an underwhelming one today when the teams meet at 1 p.m. ET in Cleveland.
Both teams will be without arguably their best players. Seattle will start Charlie Whitehurst at quarterback because of a pectoral injury to their upstart starter Tarvaris Jackson. On the other side of the field, Cleveland's lone star, Peyton Hillis, will miss the game with a nagging hamstring injury.
Other major inactives from around the league include St. Louis Rams quarterback Sam Bradford, who will miss his first career start since entering the league as a starter last year, Tampa Bay Buccaneers tailback LaGarrette Blount, Detroit Lions tailback Jahvid Best and Atlanta Falcons receiver Julio Jones.
These injuries could all have major consequences for the teams involved.
Stay here throughout the course of the day to keep up with all of the latest injury news and injury impacts during early games.
Gregory Shamus/Getty Images
Detroit Lions quarterback Matthew Stafford just gingerly limped off the field against the Falcons.
Stafford's last pass of the game, which fell incomplete on fourth down, came with a nicked right foot or ankle.
An Atlanta defender, trailing Stafford, fell on Stafford's ankle as he released the ball downfield.
Matthew Stafford has a history of dealing with injuries, and his considerable health has been what has catapulted the Lions offense so far this year.
Kevin C. Cox/Getty Images
The Atlanta Falcons Pro Bowl fullback could have just possibly suffered a major knee injury.
Ovie Mughelli just went down with an obvious knee injury after getting hit in the leg by a Detroit helmet following a reception.
Mughelli immediately grabbed his knee and was clearly in pain. He had to be helped off the field by trainers.
Atlanta's I-Formation based offense could suffer mightily if Mughelli has suffered a serious injury.
The Falcons don't have depth at fullback and rely on a powerful rushing attack to create tempo on offense.
This could mean playing time for third-string tailback Jason Snelling, who has played both positions, should see more playing time once again.
Matt Sullivan/Getty Images
Jason Miller/Getty Images
A couple of former Georgia Bulldogs went down for the Dawgpound today.
Cleveland Browns receivers Mohamed Massaquoi and Benjamin Watson both left the game today with head injuries.
Cleveland is now without their top running back, tight end, and receiver.
Starting tailback Peyton Hillis was listed as inactive today with a hamstring injury.
As expected, the game hasn't been a shootout. Seattle lost their top two players on offense, as well, with Tarvaris Jackson failing to start and Marshawn Lynch going down with a back injury.
The game is currently tied at just 3-3 in the fourth quarter.
Whitney Curtis/Getty Images
Washington lost another key player to their offense today. Things are not looking good for the Redskins, who just a few weeks ago were considered to be the top team in the NFC East.
Tim Hightower left the field with what appeared to be a serious knee injury. He needed assistance from teammates and eventually was carted off the field and taken to the lockerroom.
Hightower was having an excellent day, rushing for 88 yards on 17 carries.
Santana Moss, the team's leading receiver, left the game earlier with a hand injury.
Washington is now without their two best offensive weapons with John Beck starting his first game at quarterback.
The Redskins are trailing 1-5 Carolina 23-13.
If Hightower's injury is long term the Redskins could quickly suffer and fall back into mediocrity.
Kevin C. Cox/Getty Images
Matt Ryan apparently suffered a knee injury when he went down earlier against the Detroit Lions.
Ryan, who was 11-of-19 passing in the game, walked off the field under his own power and was taken back to the locker room.
He just jogged back onto the field and appears to be ready to go back into the game.
The faster Ryan gets back onto the field, the better, because Atlanta's offense lacks a potent no-huddle attack with him off the field.
UPDATE
Ryan just came back into the game and completed a long third-down pass to Harry Douglas. It's now evident he was not injured nearly as bad as it seemed initially.
Leon Halip/Getty Images
The Atlanta Falcons might have just taken a major hit today.
Starting quarterback Matt Ryan, who had led the team to a 17-6 lead over the Lions, just went down in the third quarter against Detroit with an apparent ankle or knee injury.
Ryan was stepped on by his own lineman and went down on a third down play.
He immediately indicated he was in serious pain, but he did find a way to limp off the field under his own power.
If the Falcons lose Ryan they will have to rely on Chris Redman to lead the charge. Redman has proven to be a pretty solid back up in action with the Falcons in the past few years.
Al Bello/Getty Images
The Jets defense has become somewhat depleted.
Linebacker David Harris and rookie defensive tackle Kenrick Ellis have left the field and are tabbed as questionable to return to action.
Both players suffered apparent ankle injuries in the first half of action.
Harris came into the game with 33 tackles and two sacks.
Ellis, on the other hand, has not been existent for the Jets defense and his loss should not hurt the team much.
New York needs all of the help on defense they can get, however. The Jets are currently in a 21-10 hole at home against the Chargers.
Thomas B. Shea/Getty Images
So much for Houston struggling today through the air.
Even without Andre Johnson, the Texans have found a passing game via the hands of their star tailback, Arian Foster.
Foster has cleaned up with five catches for 119 yards and a long touchdown reception.
Matt Schaub is 13-of-18 passing for 220 yards and two touchdown passes.
Patrick McDermott/Getty Images
The Washington Redskins, starting a new quarterback in John Beck this week in Carolina, have lost arguably their best team weapon and team leader.
Santana Moss has left the game with an apparent hand injury and may or may not return to play against the Panthers.
Moss had two catches for 17 yards before leaving action. He is the team's leading receiver, entering the game with 23 catches for 284 yards and two touchdown receptions.
Washington's next man in line at receiver is Jabar Gaffney. Gaffney has been quiet so far this season.
Beck might not enjoy the absence of Moss, either. He has thrown for just 53 yards so far for the Redskins offense.
Donald Miralle/Getty Images
San Diego Chargers tailback Ryan Matthews might not return to game action today against the New York Jets.
Matthews has left the game with a thumb injury and is questionable to return.
He had five carries for 20 yards before leaving the field.
Mike Tolbert, who entered the game averaging less than three yards per carry, has actually been impressive.
Tolbert has carried five times for 48 yards so far.
The Chargers offense doesn't need a heavy dose of a running game with the passing style they prefer.
As long as Tolbert can move the pile forward every once in a while San Diego shouldn't miss Matthews too much, even against the Jets defense.
Al Messerschmidt/Getty Images
Tampa Bay is in trouble now.
Earnest Graham has been declared out out of the game against Chicago with an ankle injury.
Tampa Bay will now rely on the legs of Kregg Lumpkin. Lumpkin is experiencing his first regular season as an NFL tailback seeing in-game action.
Graham went down, untouched, after receiving a pass from Buccaneer quarterback Josh Freeman.
Graham had to be helped off the field, so this injury could be somewhat serious.
LeGarrette Blount's knee injury could also keep him off the field next week.
The Buccaneer's offense, as of right now, appears to be very depleted.
Ezra Shaw/Getty Images
Tampa Bay is also struggling on the ground without their star tailback.
The Buccaneer's leading rusher, LeGerrette Blount, is inactive today as the team takes on the Chicago Bears in London.
The versatile Earnest Graham, who started at tailback with great success in the past for Tampa Bay, has moved from his regular hybrid role into the tailback role.
He's carried twice for 13 yards today. Regular tailback Kregg Lumpkin has four carries for just seven yards.
Sure, Chicago has an aggressive defense, but neither of these tailbacks posses the imposing physicality that Blount does.
Tampa Bay's offense has produced just 60 yards so far today.
Thomas B. Shea/Getty Images
Houston's offensive struggles appear to be continuing with the absence of their all-world receiver, Andre Johnson.
Tailback Arian Foster is currently leading the team in receiving, and Matt Schaub has struggled to a degree so far against Tennessee's defense.
Last week, without Johnson, Houston only passed for 200 total yards in a 29-14 loss to Baltimore.
Their leading receiver, Jacoby Jones, has one catch on three targets.
Matt Schaub was still efficient last week, but this offense doesn't have the firepower it has when Johnson is on the field. The defense just isn't pressured as much.
Mike Stobe/Getty Images
Seattle just took another hit to their offense today.
Tailback Marshawn Lynch has been declared out-for-the-game with an apparent back injury.
Lynch entered the game as the primary weapon for an already depleted Seahawks team, playing without their starting quarterback Tarvaris Jackson.
Lynch had struggled with consistent production so far this year, but his talents are no secret and he had been averaging a solid 4.1 yards-per-carry.
Without Lynch in the game, Seattle will rely on Leon Washington for offensive production. Lynch hasn't been much of a fantasy start either, so there likely aren't many disappointed owners out there right now.
Leon Halip/Getty Images
Jahvid Best's injury could have a significant impact today in Detroit.
Matthew Stafford has already been sacked twice by the Falcons defense. In Detroit's first two possessions they went three-and-out and got sacked twice.
Atlanta has had a pretty stout run defense in the first-half of games this season, and Detroit evidently doesn't think they are going to get production from Maurice Morris.
Atlanta has brought pass pressure so far and it has worked.
If the Lions can't commit to a running game they could be in some trouble today.
Mike Stobe/Getty Images
Don't expect a very exciting game to be played in Cleveland today.
Both the Seahawks and Browns have major injuries to their best players. Seahawks quarterback Tarvaris Jackson, who has been surprisingly efficient so far this year, is conceding his starting role to Charlie Whitehurst.
Whitehurst was actually considered to be the future at quarterback for Seattle as recent as last season, so a productive day from him could still possibly shake up the quarterback situation despite Jackson's improvements.
Cleveland's tailback Peyton Hillis, hands down their best player, is also out with a hamstring injury.
It will be interesting to see if the Browns offense can find any type of rhythm without a solidified running game.
Montario Hardesty will get his second straight start at tailback for the Browns.
Hardesty has averaged 3.6 yards per carry for the Browns on 40 attempts this season.
Scott Cunningham/Getty Images
For the second week in a row the Falcons will play without starting rookie receiver Julio Jones.
Atlanta will need all of the offense they can get today as they take on a Detroit Lions team that has one of the most potent attacks in the league.
Although the Falcons entered the year wanting to be more explosive, Julio Jone's injury had an apparently positive effect on Atlanta's offense last weekend.
Atlanta threw the ball significantly less against Carolina last Sunday, and their offense had its best offensive game of the year.
Michael Turner should become more of a factor in the Falcons offense, but fantasy owners of Matt Ryan might be disappointed today. Ryan's production dropped drastically last weekend, despite a Falcons win.
This article is
What is the duplicate article?
Why is this article offensive?
Where is this article plagiarized from?
Why is this article poorly edited?