NFL Week 7 Picks: Score Predictions for Every Game on the Schedule
October 23, 2011
Bart Young/Getty Images
Trying to predict scores is like trying to predict the stock market: you can try to be as much of an expert as possible, but sometimes it takes pure dumb luck to get it right. This holds true in NFL predictions.
So let's get right to it, shall we?
San Diego 27 @ New York Jets 17
Have you seen that Jets offense? It's atrocious. I remember watching the Texans defense in 2010 and hoping that they don't come on the field that much. I assume Jets fans feel similar things about that offense.
Chicago 31 @ Tampa Bay 17
After watching this team last week, I can't predict good things for the Bucs. They had to play lights out to beat a tired Saints team by six at home. Still, they looked sloppy, but the Saints looked more sloppy. Expect the Bears to keep to their form of giving Forte the ball and making defenses look silly.
Seattle 14 @ Cleveland 17
I used to have a rule to never bet on Buffalo. After they won against the Patriots, I changed it to the Chiefs...who then started winning again. Changed it again to the Seahawks...who have been winning. I'm about to do the same to teams I root for instead to see if I can change their misfortunes.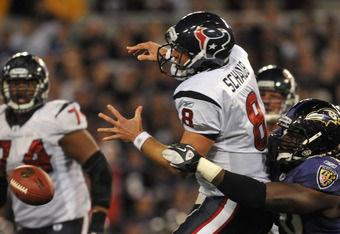 Larry French/Getty Images
Atlanta 21 @ Detroit 24
Detroit lost for the first time last week. It was bound to happen after that emotional win over the Bears. Look for them to bounce back
Houston 27 @ Titans 24
Houston is the better team on paper, on the computer, on TV and everywhere else I can think of. Yet they won't show it.
Washington 17 @ Carolina 20
Cam gets a victory at home.
Denver 14 @ Miami 17
Miami gets their first win! Too bad for Sparano that it will come too late.
Pittsburgh 28 @ Arizona 17
These teams are the same and different a few years removed from their Super Bowl game. One team is mostly the same except older, the other has replaced a few key parts. The older team, is still the better one.
Kansas City 24 @ Oakland 30
Even without Palmer, McFadden is a force to be reckoned with.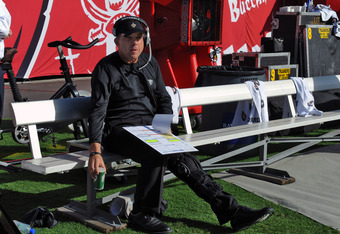 Al Messerschmidt/Getty Images
Green Bay 42 @ Minnesota 14
Can you say blowout?
St. Louis 17 @ Dallas 28
I really feel too generous to St. Louis.
Indianapolis 17 @ New Orleans 42
I really feel too generous to Indianapolis.
Baltimore 38 @ Jacksonville 9
Blowout on MNF!