WWE: Who Had the Better WWE Career, Brock Lesnar or Goldberg?
October 23, 2011
Let me take you back, if I may, to WrestleMania XX. One of the matches that would now be viewed as a dream match turned out to be a complete debacle just a few short years ago.
In what was widely viewed as one of the worst worked and slow moving matches in wrestling history, Bill Goldberg took on Brock Lesnar. Two larger-than-life figures in wrestling history were both on the way out of WWE after that day, and the fans were not shy in letting each man know how they felt about their departures.
This must have been quite a blow to Vince McMahon, since both men had his ideal look.Big, strong and muscular guys.
Looking back in both men's careers, they've both had a lot of success in a number of avenues. Goldberg playing in the NFL for multiple teams as well as making his name in wrestling via WCW; and Lesnar setting atop the UFC for quite some time as their heavyweight champion.
Another similarity among the two is that, in their short time in WWE, both men had a measure of success in the company. Which begs the question, which man had the better career of the two?
That's what we will explore in the 6th edition of "A or B?", courtesy of a suggestion from reader Wade Barret.
Brock Lesnar began his WWE career the night after WrestleMania X8. His association in the beginning with Paul Heyman kind of made him a big star by association, since Heyman had such good will among wrestling fans.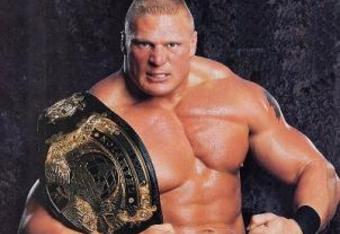 His first night had him come through the crowd to attack some lower card superstars. His first official feud was with the Hardy Boyz, which he came out on top of multiple times.
After this feud, it was a rocket ship to the top for Lesnar—winning 2002's King of the Ring Tournament, defeating Hulk Hogan and heading into SummerSlam with a WWE Undisputed Title shot against The Rock. He would defeat Rocky, and become the youngest WWE Champion of that time at age 25.
This indirectly led to the WWE Undisputed Championship once again being split into two belts, since Lesnar's contract stated (kayfabe of course) that he only had to defend the WWE title on SmackDown, thus forcing Eric Bischoff to re-debut the Big Gold Belt as Raw's heavyweight title.
In Lesnar's first reign as champion, he would defeat WWE mainstays such as The Undertaker and Edge, before finally losing the title to The Big Show due to a betrayal from Heyman. After this turn of events, Lesnar would go on to win 2003's Royal Rumble event, and subsequently win his second WWE title from Kurt Angle at WrestleMania XIX.
In the following year, he would go over John Cena and The Big Show before losing his second title back to Kurt Angle. He would also win his third WWE title back from Angle in an Iron Man match on SmackDown!.
The remainder of his time in WWE saw Lesnar win over The Undertaker, Chris Benoit and Hardcore Holly before beginning his feud with Goldberg.
Bill Goldberg started his WWE career coming off his success in the NFL and WCW. It's no secret among wrestling fans that Goldberg was WCW's hottest commodity when the company went under.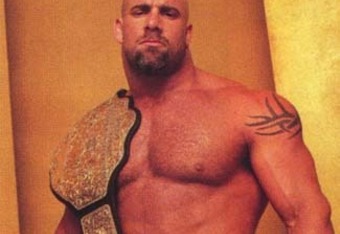 He began in WWE the night after WrestleMania XIX (a year after Lesnar), entering a feud with The Rock. This was a statement unto itself, being that Vince must have known Goldberg's popularity in WCW, as well as having faith in Goldberg's drawing power, to have him work with The Rock on day one. He subsequently came out on top of their feud.
After this he was put into a feud with another WCW alum in Chris Jericho. Jericho was another man who was very over with the fans and had heat with Goldberg since their WCW days to begin with. He would emerge victorious in this feud as well.
In the following months, Goldberg would go on to feud with Triple H over the World Heavyweight Championship, eventually capturing the title at the 2003 Unforgiven pay-per-view. During his tenure as champion, he worked with top WWE stars such as Shawn Michaels, Randy Orton, Batista, Rob Van Dam and Kane, before the aforementioned feud with Lesnar.
Ultimately, the man who had the better career—hands down—was Brock Lesnar. The man was a "Paul Heyman guy" as CM Punk puts it, was pushed to the moon from day one, held more titles than Goldberg and had great matches with many of WWE's top stars of the day.
He not only came up through the WWE (which may have helped him since Vince is known to bury creations that aren't his own), but actually seemed to have passion for what he was doing before leaving due to the hectic road schedule.
Since it's been said that Goldberg is notoriously hard to work with (see his time in WCW with Chris Jericho), and seemed to not want to lose, coupled with the fact that he only signed a one-year deal with the WWE, gives Lesnar the landslide victory in my eyes.
So what do you guys think? Which big man is the better man? Brock Lesnar, or Bill Goldberg?
Until next time, I'm Merlot Williams, and that's my opinion.
Remember guys, if you want to see an A or B? Series on a particular topic, just drop me a line on my writer's page or in the comments section! Thanks for reading!