Breaking Down the 2012 Yankee Player Contracts
October 23, 2011
Jim McIsaac/Getty Images
It's a lot easier to predict a team's offseason once you figure out who's leaving and what the manager expects of the players who are currently on the roster. Plus, knowing how much the team has left to spend is a huge help. After the Yankees lost George Steinbrenner to a heart attack, his two sons, Hal and Hank, have taken over their late father's role as the team's co-owners.
However, the boys have made it clear that they are trying to cut pay roll and would like to keep it under $200 million, a tough task for any baseball team (I kid). We learned last year that exceeding that number was a possibility as the Yankees pushed hard to acquire Cliff Lee.
It's safe to say pitching is a top priority again this offseason as the Bombers will lose two starters, and possibly a third, to free agency once the offseason officially begins. Here is a look at who has a guaranteed contract next year, which players will become free agents, and who is holding an option or opt out cause, etc.
*I'm using Cots Baseball Contracts to do this, so I could be off a few million here of there.
Money Coming off the Books ($23M): Jorge Posada ($13M), Kei Igawa ($4M), Eric Chavez ($1.5M), Andruw Jones ($1.5M), Freddy Garcia ($1.5M), Bartolo Colon ($0.90M), Luis Ayala ($0.65M)
Roughly $23 million is coming off the books this year, all of which will probably be used again this offseason. As a life-long Yankees fan, it will be sad to see Posada go but baseball is a business and its time to part ways with one of the greatest Yankee catchers of all time. Furthermore, I'm sure it brings a big smile to all Yankee fans to see that Kei Igawa is finally a free agent. I remember reading an interview on a Yankees Triple-A blog, when Igawa became the Scranton/Wilkes Barre Yankees all time wins leaders; talking about how hard he's working to get back into the major leagues. Unfortunately for Igawa and the Yankees it never worked out. Hard to image that Colon and Garcia only cost the Yankees close to $2.5 million this season, although Garcia made close to $3-4M if you include incentives. Can't see the Yankees landing two reliable arms for that price again any time soon.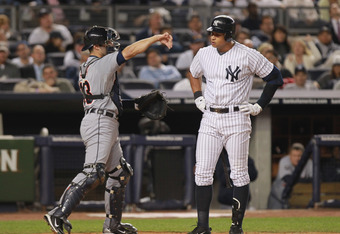 Nick Laham/Getty Images
Guaranteed Contract ($125.625M): Alex Rodriguez ($30M), Mark Teixeira ($23.125M), A.J. Burnett ($16.5M), Derek Jeter (16M), Mariano Rivera ($15M), Rafael Soriano ($11M), Curtis Granderson (10M), Pedro Feliciano ($4M)
That's kind of a lot of money to pay eight players! Looking at this list I think only three, maybe four, are worth the money. Since day one I've always thought the Soriano signing was a stupid one and sadly the Yankees GM Brain Cashman did too. Soriano is not worth $35 million and a draft pick, then again relievers rarely are. The Yankees owe A-Rod $30 million next year, which is actually the most money he'll get for the remainder of his contract. Unfortunately, it looks like the slugger is on the decline rather than just hitting his peak. To go along with Rivera and Granderson, Teixeira is one of the three players on the list that is actually earning his money the right way. He is a MVP candidate almost every year and, in my opinion, the best defensive first basemen in baseball. He bails out A-Rod and Jeter almost every night on those tough throws across the diamond. Although nearly $24 million is a ton of money, it's less than what Ryan Howard will be making after his latest contract extension and what Albert Pujols and Price Fielder are set to get this offseason.
Team Options ($24.5M): Robinson Cano ($14M), Nick Swisher ($10.25), Damaso Marte (0.25M)
Letting Marte walk was an easy choice. The southpaw only managed to pitch 49.1 innings in the little over three seasons with New York. Marte hasn't pitched since July 2010, and holds an ERA over six while wearing pinstripes. Therefore, paying him the $250,000 buy out clause was the right move. The other two will likely be back in New York next season. $14 million for Cano is a steal. He won the gold glove and silver slugger last year, as well as the home run derby this year. There's no doubt the second basemen is getting ready to cash in big time next offseason. On the open market, Swisher would likely make more than the $10.25 million. The Yankees will pay him if they choose to bring him back. He is slightly above average defensively, and knows how to get on base. Not sure the Yankees can find a player of his talent at that price over the winter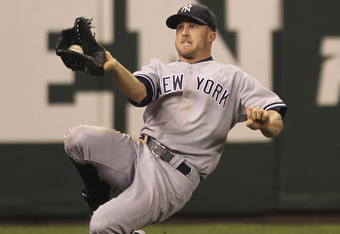 Otto Greule Jr/Getty Images
Arbitration Eligibles (Around $18.5M): Joba Chamberlain, Brett Gardner, Phil Hughes, Boone Logan, Russell Martin, and David Robertson.
Martin is likely to make the most from this group. He was brought in at $4 million this past season and exceeded expectations. He'll get a raise of around $1 million. This will be both Robertson and Gardner's first year as arbitration eligible players. Gardner should cash in around $3 million as the Yankees everyday left fielder. As a reliever Robertson will likely get only half of what Gardner will get. Both Chamberlain and Logan will get in the $1.5-2 million dollar range, and my guess on Hughes is about $3.5 million
Non-Arbitration Eligible's ($10M):
There are eighteen players on the 40-man roster who are not arbitration eligible quite yet, plus a few other players that will be added to the roster to avoid being drafted in the winter's Rule V Draft.  The average amount a non-arbitration eligible player makes is around $500,000. Add in Andrew Brackman, who was signed to a major league deal when he was drafted, and that's another, say, $1.5 million and a total $10 million in the books. 
TOTAL: ($178.625M):
This means the Yankees have around $20-25 million dollars to kick around, most of which will end up in CC Sabathia's bank account. Assuming he throws out the Cliff Lee card and says if the Yankees were willing to offer $25 million to Cliff Lee, then why not me, then I'm sure the Yankees will budge and offer him something close to that number. That leaves New York with not much to fill their other holes. They do have in-house options to fill most if not all those spots, but do they trust their youngsters? They have trusted young starting pitchers in recent years (Ivan Nova in 2011, Phil Hughes in 2010, and Joba Chamberlain in 2009). So why not let Hector Nosei start next year? This is something the Yankees will strongly consider this offseason. Maybe Sabathia will be willing to take a pay cut his first year. That is one of the many options the Yankee will think about this winter.