USC vs. Notre Dame: 5 Things We Learned About Trojans Win over Fighting Irish
October 23, 2011
Jonathan Daniel/Getty Images
The USC Trojans (6-1) beat the nine-point favorite Notre Dame Fighting Irish (4-3) 31-17 in South Bend for a record fifth-consecutive time.
Very few thought the Trojans would win this game and those who predicted a win felt it would be a close game.
Notre Dame had about 20 top recruits, including some of the USC recruits, at the game and this was not the show that the Irish were expecting them to see.
USC dominated the stats with 443-267 advantage in total yards and a balanced attack with 219 yards rushing to only 41 for Notre Dame. The Trojans had a 39:41 to 20:41 advantage in time of possession and benefitted from three Irish turnovers. USC also had only two penalties.
What are the five things the Trojans learned?
1. When the luck of the Trojans trumps the luck of the Irish, you can usually expect a USC win. Several Notre Dame turnovers required some USC luck and it would have been a much closer game without them. The Dayne Crist fumble at the USC one-yard line and TD return by Jawanza Starling represented a 14-point swing in the game. A missed pass to Cierre Wood that was ruled a lateral at the Notre Dame 20 and recovered by Chris Galippo at the 18-yard line resulted in another USC TD.
2. A balanced USC offense was a pleasant surprise, as was the overall play calling. Running backs Curtis McNeal (24 carries for 118 yards) and Marc Tyler (13 carries for 67 yards after a dislocated shoulder last week) and the offensive line deserve the credit against a Notre Dame defense that was expected to have a very good front seven led by junior linebacker Manti Te'o.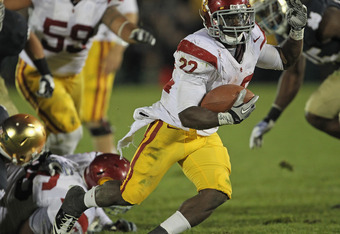 Jonathan Daniel/Getty Images
3. USC QB Matt Barkley (24-of-35 for 224 yards, three TDs, and no INTs) showed his leadership and maturity with no mistakes and running for three important first downs. The Irish defensive strategy was to pressure him all night and he handled it very well.
4. WR Robert Woods (12 receptions for 119 yards and two TDs) continues to be a remarkable football player in spite of double-coverage. Marqise Lee (2 receptions for 36 yards) played tough after a shoulder sprain in the Cal game that would have kept most receivers out of the game and was able to create some diversions for Woods.
5. The USC defense played aggressive most of the game, but was ineffective when resorting to a soft defense. Notre Dame came into the game ranked in the national Top 30 in rushing, passing and total offense and No. 37 nationally in scoring, averaging 32.3 points per game. The Trojan defense held the Irish to 17 points including one special teams kickoff return and only 267 yards, while also scoring a defensive touchdown. Sophomore 5'8" CB Nickell Robey shut down 6'3" WR Mike Floyd and got a pick tonight.
Here are video game highlights courtesy of T-Wire.
Of course, the same people who said Notre Dame would easily beat the Trojans will probably now say they are not a good team.
Here are grades from ESPNLA's Pedro Moura. It was nice to see an "A" grade for Coaching for the first time this season.
The Trojans play the No. 8* Stanford Cardinal (7-0) on October 29 in Los Angeles and host the ESPN's College GameDay. Stanford beat the No. 25* Washington Huskies 65-21 so they will be heavily favored.
*Week 8 BCS poll