Tim Tebow: The World Has Challenged You, How Will You Respond?
October 23, 2011
Doug Pensinger/Getty Images
Tim Tebow finally has his chance in 2011.
After the Denver Broncos' faithful was sure that Tebow had the starting job in training camp, it was "ripped away" before the first preseason game.
Kyle Orton was expected to be traded to the Miami Dolphins before the players even walked onto the field in the summer of 2011, but it never happened.
Eight weeks later, at the start of the season and after a very confusing—and widely talked about—preseason, Orton was indeed the starter and had the support of the entire organization.
It's Week 7, and the Denver Broncos and its coaching staff have lost faith in Orton and made the move to the league's most talked about first-round draft pick—other than Andrew Luck in 2012.
No other backup quarterback in this league has ever been covered the way Tebow has. And it may very well be for good reason.
Tebow has been set back by critic after critic that continuously diminished the size and power of his throwing arm.
He's been ridiculed by his elongated throwing motion.
He's had scores of fans—including myself—speculate that he does not possess the skills required to command an offense at a pro level.
On Sunday, October 23rd, more than any other day that he has participated as a Bronco, Tebow will have the opportunity to lay his attackers to waste.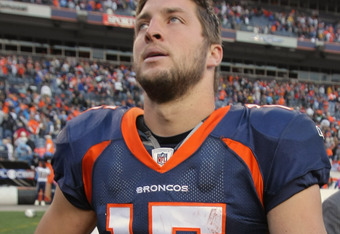 Doug Pensinger/Getty Images
And prove to everyone—including the most skeptical of skeptics—that he can break the mold and form an entirely new one in his own form.
There's been plenty of players in the league that skipped the notion of becoming what they were supposed to be and became what they envisioned themselves as—playmakers and game factors.
The national spotlight is on Tebow again. Every person that watches the NFL has a vested interest in Tebow's success.
Whether it be due to endless support in Tim's favor, or an immediate claim to his failure, fans of every team have an opinion of Tebow in the professional league.
Tim, it's time for you to prove to the legions of followers that you command that you can take this team—which has been criticized endlessly by those in the position to do so—and run with it. Literally.
It's time for you to take the reins and embody all that your most loyal fans proclaim you to be.
There's no room for failure.
There's no room for mistakes.
There's no margin for error when you face the winless Dolphins on what is basically a home field.
It's Tebow Time in Denver, Miami and all across the nation on Sunday.
The world is watching, Tim. How will you respond?