San Diego Chargers an Evil Organization? Antonio Cromartie Sheds Some Light
October 22, 2011
Stephen Dunn/Getty Images
I am notorious (in my own mind) for taking the San Diego Chargers' side over any player, because I'm a fan of the team and not individual players. 
However, New York Jets cornerback Antonio Cromartie dropped a bombshell on my brain when I performed a Google search on his name and the following quote came up:
"They were hiding my injury," Cromartie said of the San Diego Chargers' team doctors, "They just told me I had a strained hip flexor. I played the whole entire year with a fractured hip."
If that is actually true, that is far too shady to be excused.
I started thinking about past events and I am really starting to get something that was told to me when I was a teenager by an ex-NFL head coach.
The Chargers ruined their relationship with LaDainian Tomlinson by throwing him under the bus for revealing the extent of an injury going into their 2008 playoff game with the Indianapolis Colts. The Chargers wanted the Colts to be unaware that Tomlinson was hurt going into that game.
Why would LT do such a thing?
The Chargers also threw him under the bus in 2007 when they told the media that LT was questionable to return to the AFC Championship Game, instead of out.
Even though anyone with common sense knew LT shouldn't have been active in the first place, the media doesn't work on common sense. They unfairly ripped LT and exalted Philip Rivers for playing injured, even though Rivers was about as effective as LT.
Not at all. 
Who can blame Tomlinson for revealing the full extent of his injury after that mess?
The word is the Chargers also refused to allow their most decorated player in team history to hold his exit press conference at their facility. How do you treat LT like that?
If true, that is absurd. At least the Chargers refused to further insult LT by releasing him instead of trading him like the did San Diego legendary linebacker Junior Seau (for a fifth-round pick).
One also can't help but remember that Drew Brees refused to allow team doctors to operate on his injured shoulder, before undergoing arthroscopic surgery, performed by Dr. James Andrews, to repair the torn labrum in his right (throwing) shoulder.
Seems like that was wise decision, because Brees went on to win a Super Bowl with the New Orleans Saints, when playing better than ever.
The team also tossed its all time greatest safety Rodney Harrison under the bus after he played 2002 injured and had a down year. The Chargers claimed Harrison lost a step and released him. Harrison nearly signed with the Oakland Raiders before signing with the New England Patriots and winning two Super Bowls (and losing another).
Six more productive years after leaving the Bolts proved the Chargers wrong.
Thinking about these scenarios has me wondering how the team could be so irresponsible as to allow Philip Rivers to play injured in the 2007 AFC Championship Game.
Yes, Rivers proved he was a tough guy, but he could have seriously damaged his career playing on not one, but two bad knees.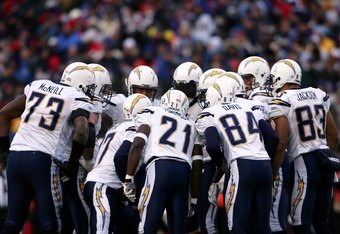 Chris McGrath/Getty Images
Cromartie is the last guy I would side with when criticizing the Chargers, but the team's past history leads me to believe that he's probably telling the truth—and that is despicable.
When I was a teenager, I fired off an e-mail to Buddy Ryan who had recently been the head coach of the Arizona Cardinals but at the time was working for AOL Sports. I blasted and taunted Ryan for being biased against the Chargers due to the fact he had been beat in their last meeting.
Ryan refused to shake Bobby Ross' hand after Ross' Chargers defeated Ryan's Cardinals.
Feeling good about myself for "schooling" the old coach, I logged into AOL to find that Ryan dedicated his whole article to respond to my insults, after insisting the Chargers had gotten lucky due to a kickoff return for a touchdown to start the second half.
However, his most memorable comment was, "The Chargers will never win a championship until they start treating people better."
I didn't understand the quote at the time, but now I'm beginning to wonder. The fact the Chargers somehow didn't win a Super Bowl sometime between '04 and '09 period is mind-boggling to me.
The team flat-out wasn't as good as the Pittsburgh Steelers in 2008, but aside from that game, the other team was more lucky than good in every other playoff flop.
Nate Kaeding's missed field goals against the New York Jets and New England Patriots aided in three (way too) early playoff exits and a comical amount of injuries (every All-Pro and nearly every Pro Bowl player was injured) in 2007 helped do them against the Patriots who were primed and ready to get beat.
Those losses almost seem magical, especially the 2006 and 2007 debacles. Is it the Chargers' karma coming back to haunt them?
San Diego Chargers, please do like Rex's dad says and start treating people better. Sheesh!
Sorry for such a negative article Charger fans. Similar to George Bush in the Harold and Kumar movie (I'll let YOU Google that), Cromartie "just blew my mind" with that quote.