Oklahoma Sooners vs. Texas Tech Raiders: Live Blog, Analysis and Reaction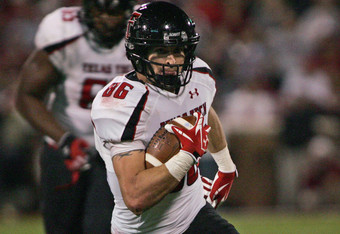 Brett Deering/Getty Images
Defense looks like it will be optional tonight in Norman, Oklahoma.
The Sooners are fourth in the country in total offense and sixth in scoring offense. Despite the fact that four times last week Oklahoma had to settle for field goals, the Sooners have a wide receiver in Ryan Broyles who few teams can match.
While no one is giving Texas Tech much of a chance in this one, the Red Raiders have an offense that can keep pace with the No. 3 team in the country.
Given all the emphasis on the SEC in college football, Oklahoma looks to make a statement tonight and solidify its chances of making the BCS Championship game by season's end.
Will the Sooners continue to roll with the longest winning streak at home in the country or will Texas Tech provide some BCS chaos?
A missed field goal and Oklahoma is doomed.
The Sooners are down ten point with only 2:52 to go and the other two-thirds of the crowd can go home.
The placekicker Hunneycutt has now missed two field goals in the game after missing only one leading up to the contest.
It would have been a miracle to come back even with the kick but give credit to Texas Tech.
Seth Doege picked apart the Oklahoma defense, even without his starting center.
The 39-game winning streak and the Sooner dreams of a BCS title are history.
Well apparently there is a reason why Bob Stoops is Oklahoma's coach and not me.
Instead of settling for the field goal, Stoops goes for it on fourth down and converts.
With 3:07 that will all be moot if they cannot get a touchdown here.
The Sooners only have two timeouts because they burned one earlier to avoid a delay of game.
I warned it could come back to bite them.
Oklahoma cannot stand prosperity, with the ball in Texas Tech territory they have a third and 12 situation.
Nevertheless, Landry Jones is able to move around long enough for a receiver to get open and now the Sooners are in business.
With 3:38 to go, Oklahoma is at the 23-yard line. If they cannot get the first down then they must go for the field goal and hope for one more stop.
Would it be too much to ask for a blocked punt?
Probably but Oklahoma fans would gladly take it here with less than six minutes to go, down by 10.
That is if there are any Oklahoma fans left, looks like a third of them decided to beat the traffic.
Tsk, tsk, you might live to regret that.
Landry Jones showed his toughness, running for a first down on fourth and three.
He then proceeds to find Jaz Reynolds for a touchdown and Oklahoma still has a chance.
Oklahoma narrows the gap to 41-31 with 6:45 to go in the game.
Texas Tech has suffered two heart breaking losses the past two games but this one would be by far the worst.
Can Oklahoma put together enough big plays to do it though?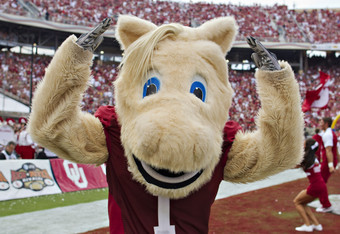 Uh oh Oklahoma fans, the BCS dreams are slowly dying now.
Texas Tech looks to be assured at least three points here now that they are inside the Oklahoma red zone.
Two big catches from the Red Raiders simply because of height has now led to a touchdown that will be reviewed but upheld.
Texas Tech now leads 41-24 and Oklahoma only has 7:38 remaining in the game.
What does this mean for the Sooners, the Big 12 and all of college football?
My apologies folks, my computer literally broke down.
Oklahoma's defense broke a little too.
After finally proving the doubters wrong and punching in a third touchdown via a short pass by Landry Jones, Texas Tech battled back from off the mat to give themselves a ten-point cushion with a field goal here in the fourth quarter.
Oklahoma went three and out for the sixth time this game and it will once again be on the Sooner defense to try and slow down one of the more prolific offenses in the country.
A big third down here with around nine minutes to go for both teams and there will be a pass interference call.
That call looks like it will take the energy out of the electrified crowd that had to wait over 90 minutes because of a lightning storm.
Will we see some flashes of brilliance late?
Oklahoma's defense stands tall with an amazing three-and-out.
Red Raider quarterback Seth Doege had his pass deflected on third down and finally Oklahoma has woken up.
The Sooners are starting to believe and Texas Tech shockingly responds with a fake punt that did not get the first down.
Now momentum has completely shifted into the Oklahoma camp and with 1:55 left in the third quarter, it's game on!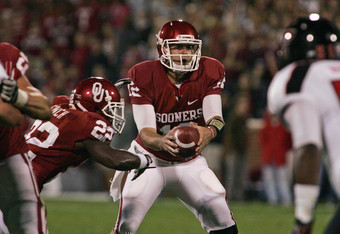 Despite making it to the one-yard line, Oklahoma does what it has done all season, fail to put it in from a goal-to-go situation.
A bizarre fumble was ensnared by Landry Jones off the bounce which prevented a true disaster but the Sooners must settle for a field goal.
With the score 31-17, the Sooner defense finally got some rest, how will that impact their next possession?
Oklahoma has to call a timeout to avoid a delay of game penalty inside Texas Tech territory.
A mistake like that when you are trailing by 17 can really come back to burn you late.
Still, the Sooners are in good position with 4:42 remaining in the third quarter to make a score and narrow the gap.
A screen pass gives Oklahoma first and goal.
Oklahoma opens the playbook with a flea flicker that draws a pass interference and a roughing the passer penalty from the referees.
The fans are doing all they can to will their Sooners back into the game. Their energy has clearly lifted the spirits of the downtrotten Oklahoma players.
Can this momentum result in points however? Jones has been facing pressure all night long and the last time he had major heat he threw up an interception.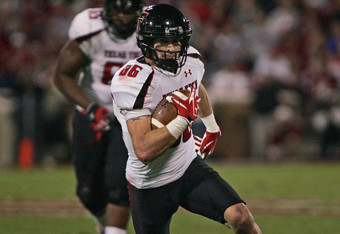 Considering that Oklahoma's two touchdowns have both been less than 90 seconds long, the Sooners have not done a good job at balancing the time of possession.
If Texas Tech can continue to pick apart the Sooner defense, their high-temp offense could actually salt away the game.
Red Raider quarterback Seth Doege finally felt pressure on third down and could only throw it away.
Oklahoma is getting the ball back, keeping their dream season hopes alive...for now.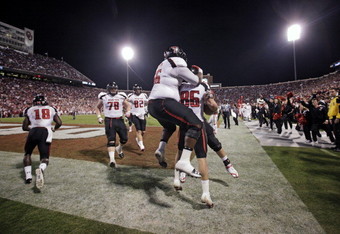 Oklahoma breaks through the line and gets an absolutely huge defensive stop.
With 8:14 to go in the third quarter it is a 17-point lead an Oklahoma will look to make it back-to-back touchdowns.
Two more runs have given the Sooners a first down, this will continue to widen the field and allow quarterback Landry Jones to get into a rhythm.
However, just when I was about to ask if Texas Tech would live to regret their decision to go for it, the Red Raiders intercept Jones. Stealing the ball away from Kenny Stills could dash the BCS hopes of Oklahoma.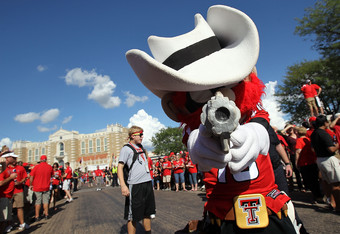 Oklahoma cornerback Gabe Lynn is getting absolutely owned.
Texas Tech quarterback Seth Doege has punished Lynn in the second half, burning him twice for big gains and once for a touchdown.
Oklahoma cannot try to outscore Texas Tech when they are already trailing by 17.
The Sooners were able to keep all the passes underneath in the first half but Doege is taking some long shots down field now.
Just shy of the five yard line, Oklahoma makes a stop on third down. While the Red Raiders lined up to go for it, they instead called timeout in an attempt to bait the Sooners into a penalty.
While Texas Tech has been prolific on offense, a stop defensively would be a huge lift for the Oklahoma defense.
What should the Red Raiders do?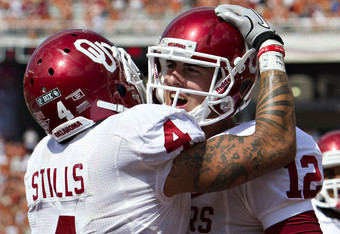 Oklahoma goes to the running game and gets it first first down since 1:00 was left in the first quarter.
Clearly the Sooners are missing Dom Whaley, the third leading rusher in the Big 12, with a stomach virus.
It looks like the run game was what the doctor ordered cause it allowed Kenny Stills to get wide open for a big reception and a touchdown to ignite the crowd and jumpstart the Sooner offense.
In just 1:41 seconds, Oklahoma is on the board and making some noise. They still trail however, 31-14.
Can the defense respond, something it has not done lately, and get a big stop for the No. 3 team in the country?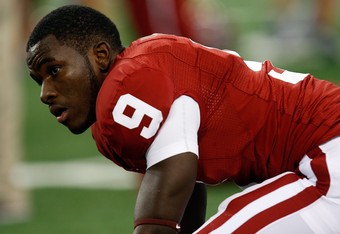 A punishing hit by Gabe Lynn is going to result in a 15-yard penalty for a helmet-to-helmet collision.
Can anything go right for Oklahoma right now?
With a starting cornerback out, a linebacking corps that cannot defend the slant and a defensive line that cannot get pressure, Oklahoma fans do not have a great deal to be confident in.
Texas Tech is in the red zone once more and just made a dramatic catch for a touchdown.
31-7 Red Raiders and the crowd in Norman, Oklahoma is absolutely silent.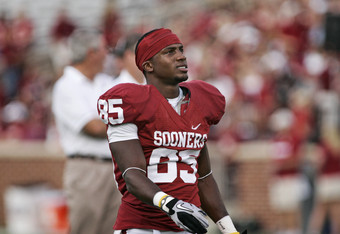 Another three-and-out for Oklahoma and even Ryan Broyles cannot make the big catch for the Sooners.
It has now been 17 minutes of game time since Oklahoma made a first down and their defense cannot be relied upon to stop Texas Tech too many times.
If the Sooners do not get a turnover to change the momentum, this game could quickly get out of reach. Even for the second highest scoring offense in the Big 12.
Key numbers so far this game.
5: Oklahoma has five punts already this game. They have only had 23 the entire season through six games.
24: Only one team has scored more than 24 points against Oklahoma all season and Texas Tech did it in the first half.
44: The number of career touchdowns for wide receiver Ryan Broyles. He has four receptions but zero touchdowns so far.
1996: The last time Oklahoma lost to Texas Tech at home.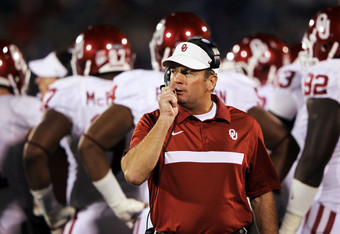 The lack of timing has taken its toll on quarterback Landry Jones.
To end the half, Jones threw a pass short, saw another dropped and almost saw another picked off.
Texas Tech may not be in perfect rhythm but they are looking like a well-oiled machine in comparison to Oklahoma and the Sooner faithful are shocked and angry.
The Red Raiders controlled around 18 minutes of that first half. The defense is getting tired and desperation is kicking in. Texas Tech already has 33 more passing yards than Oklahoma has been averaging to opponents all season.
Oklahoma will get the ball first to start the half and the Sooners will need to find their groove. Running the ball will be critical as well as avoiding mistakes.
During the half, check out Wisconsin and Michigan State. The teams seem destined for overtime.
Imagine how good Texas Tech could be playing if their center would actually snap the ball correctly to quarterback Seth Doege.
Oklahoma made the stop on third down by double covering Red Raider wide receiver Eric Ward.
Texas Tech makes the field goal and now leads 24-7 with 1:26 to go in the half.
The Sooners have not trailed by this much in a long time, how will this team respond?
Outside of one big play in the first possession, Oklahoma has eight rushing yards tonight and has failed to make a first down in three of its six possessions.
The Sooners simply do not look ready to play, the receivers are dropping passes, they have made a couple of penalties and they are unable to finish off the Red Raiders went the put them in adverse situations.
With the first half coming to an end, Oklahoma cannot make their 21-7 deficit any worse.
That will be easier said than done.
Suffice it to say that after a bad offensive possession, Oklahoma needs a turnover.
Now.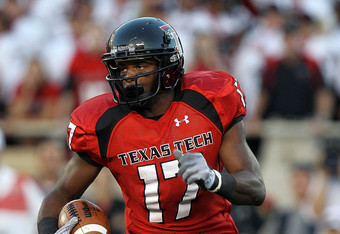 Every time you want to count Texas Tech out, they go and do something crazy.
Third and long, the Red Raiders are converting it.
Fourth and goal, they are going to convert it.
Second and 21, Texas Tech scores a touchdown to take a 21-7 lead. Now a team that has experienced heart break the past two weeks is dishing out the pain to the Sooner faithful.
Sooner quarterback Landry Jones and wide receiver Ryan Broyles will need to earn their Heisman cred on the next drive.
A huge turnover for Oklahoma.
A completed pass turns into disaster for the Sooners as the ball is knocked out and recovered by Texas Tech.
At home, the last thing Oklahoma wanted was to give Texas Tech more opportunities to let their high-powered offense score.
With a big third down conversion, the Red Raiders are now in enemy territory and look to extend their lead and keep Sooner quarterback Landry Jones off the field.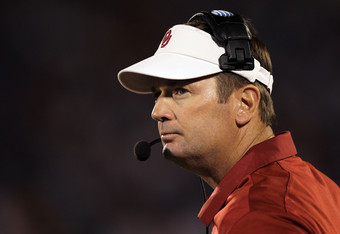 A huge fourth down coming up for both teams.
The Red Raiders almost went three-and-out but a wide open slant pass helped Texas Tech march its way down the field and all the way to the one-yard line.
Oklahoma stepped up and stuffed the run on third down but can they keep their opponent at bay one more time?
The answer was no. Texas Tech puts it in to take the 14-7 lead with a 10-play scoring drive and the Sooners are officially on upset alert!
This article is
What is the duplicate article?
Why is this article offensive?
Where is this article plagiarized from?
Why is this article poorly edited?

Oklahoma Sooners Football: Like this team?