College Football Uniforms: Too Much Change, Not Enough Tradition
October 22, 2011
Jamie Squire/Getty Images
Today the LSU Tigers walked out onto the field against Auburn in their second implementation of Nike's Pro Combat uniform line.
The fresh, new threads featured white helmets, Vegas gold accents, and sublimated tiger stripes on the helmet and numbers.
Despite those neat features, the uniforms also had just as many atrocities. The "armpit stain" has become one of Nike's most head-scratching design elements that has been used in their equipment in the past few years.
Also, Nike's puzzling and apparently "performance enhancing" flywire seems to be much more of an aesthetic distraction than a functional improvement. 
Many would argue that Nike's Pro Combat uniforms have been more directed towards highlighting their own design features, as opposed to capitalizing on the opportunity to correctly put a new spin on teams' identities.
Their Pro Combat line has continued to look more and more neglected when it comes to team identity. For instance, each of their latest Pro Combat uniforms have highlighted the flywire area on the collar of the jerseys.
From an aesthetic standpoint it looks absolutely awful, yet Nike continues to do it. Why? Because it highlights a Nike specific element. Yet, the uniforms themselves make zero sense on most occasions.
Why did Michigan State combine dark green with black? Why did Georgia wear a two-toned facemask? Why does Oregon have black names on black jerseys?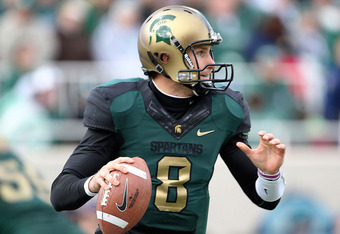 Leon Halip/Getty Images
That only scratches the surface of a slew of inept design decisions that have been made within the realm of seemingly promotional uniforms.
It's also a sign that individual schools seem to have a lack of interest, or no interest at all in holding onto their school's visual identities.
This could not have been more evident when Washington State unveiled new uniforms this summer.
According to Nike, Washington State's uniforms had been redesigned to enhance the team's visual brand. If you asked a Washington State football fan about the problem, before the unveiling of the new threads, they would tell you the excess of different helmets were the issue.
So, naturally, everyone expected a more concrete and limited identity from Washington State. Everyone was wrong.
The team unveiled a uniform that still featured a grey helmet and a cherry helmet, which was already enough to trump the claim. But, the team also introduced two shades of grey and a surplus of uniform combinations.
Their latest dud was an all-grey uniform set they wore against Stanford last Saturday. It looked absolutely awful.
Nike tells us the uniforms enhanced the teams' identity? They went completely in the wrong direction.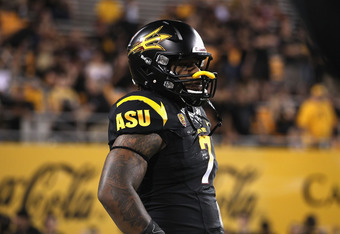 Christian Petersen/Getty Images
What this really said, in hindsight, is that Washington State did not have enough interest in their own identity. Instead of actually finding a solution, Nike used Washington State to continue to market their new, spiffy designs.
This lack of internal interest, and apparent ignorance within institutions regarding their own identities, is what has brought college football to a merchandise-driven era which highlights the interests of Nike instead of the school's.
When a team runs onto the field in a new uniform, fans aren't saying, "Hey! Look at what Maryland did today."
Instead, fans are saying, "Hey! Look at what Under Armour did."
Is this good for the sport?
One thing is for sure, it's not good for the eyes or for tradition. Without scoreboard bugs we might not be able to visually identify teams anymore.
Just about every college football team has experimented with new additions to their wardrobe in the past few years.
White helmets, black helmets, matte finishes, black jerseys, and questionable additions of grey and silver have all become the norm. In fact, it seems that these days a surprise is when teams don't change their uniform on a weekly basis.
Look at Florida, Alabama, and Clemson, for example. All three of those schools wear Nike's latest equipment, but their uniforms have not been compromised. They all experimented with Nike's latest "Pro Combat" uniforms last year, but looked terrible and scrapped the threads in favor of their traditional uniforms this year.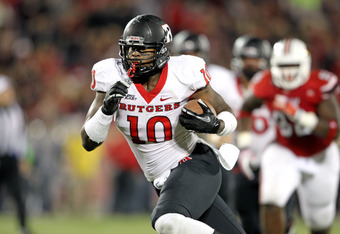 Andy Lyons/Getty Images
Even though these teams' identities aren't switching on a pivot every week, they still have a strong brand. Alabama has the numbered helmets. Florida has their unique striping system. Clemson has the Tiger Paw.
Simple, yet effective.
These are teams that have institutional control over their own visual identity. They tell the manufacturer what's theirs and what isn't. 
But, in the majority of the college football landscape, teams are letting the manufacturer dictate their identities—with awful results.
Georgia's Pro Combat uniforms, worn against Boise State in the season opener, had nothing to do with Georgia's real personality. Nothing in the uniform featured an element that was relevant to Georgia's history. Instead, the designers simply filled in specific areas with certain colors, used generic fonts, and made up a bunch of fluffy excuses for why the uniforms were relevant.
And, because Georgia's football program obviously didn't have any invested interest in their identity either, they approved the design.
Head coach Mark Richt himself made it public that he really had no interest in the new threads, claiming he wanted to show them off early to get all of the fan complaints out of the way.
If you know your fans aren't going to like it, isn't that an obvious sign that it should stop? Nope—Georgia gave it a go, because it was a promotional ploy for Nike.
Manufacturers are proving that their design teams and collaboration with people involved with the schools are not competent enough to hold the glue of branding together.
We would see less change and optimal branding if each individual school made a real effort to create an internal brand that could be represented on the field.
But, instead, we are seeing constant change and little branding.
How many teams have worn all white? How many teams have worn all black? How many teams are stooping low enough to add black jerseys for no reason? 
There's even a rumor that Northwestern will wear silver helmets tonight against Penn State. When will this madness stop?
Teams that keep falling for the "cool, new uniform" trick need to get a grip on what makes them, them. 
The integrity of athletic aesthetics would go a long way.