Illinois vs Purdue: Fighting Illini Drop Second Straight
October 23, 2011
The Illinois Fighting Illini appeared to be on their way to one of the best seasons in school history after six games. Their 6-0 record marked the Illini's best start since the 1951 squad started 7-0. Two weeks later, Illinois is sitting at 6-2 (2-2 Big Ten) with their chances at a conference championship and major bowl bid starting to diminish.
The Purdue Boilermakers (4-3, 2-1 Big Ten) handed No. 23 Illinois their second loss in as many weeks, today. With both of Illinois' losses coming against unranked opponents, the Illini will undoubtedly fall from the Top 25 when the new rankings come out on Sunday.
The first half belonged to the Boilermakers as they raced out to a comfortable 21-0 halftime lead, outgaining the Illini 229-128 in total yardage. The third Purdue touchdown came after Illinois Punter Justin DeVernois failed to get off a punt. He was dropped for a loss of 10 at the Illinois 14 yard line, setting up a Purdue score just moments later. The Illini did manage to get a drive going late in the first half but it was cut short when Reilly O'Toole's pass was intercepted by Ricardo Allen on the Purdue seven yard line.
For the second consecutive week, the powerful offense showcased by Illinois during the first six games failed to reach the end zone before the fourth quarter. The Illini defense kept them in the game late, however, holding Purdue to a mere 75 yards and four first-downs in the second half.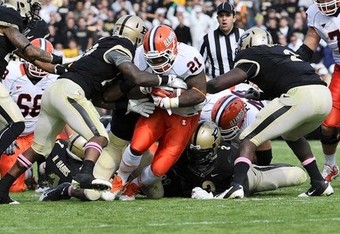 Illinois finally got on the board with a 16-yard touchdown run by Running Back Jason Ford with 8:12 remaining in the game. Later, Quarterback Nathan Scheelhaase finished off a 90-yard drive with a two-yard touchdown run. It was too little, too late though as Scheelhaase's touchdown came with only 54 seconds remaining. Illinois attempted an onside kick but it was recovered by Purdue, allowing the Boilermakers to run out the clock for the win.
The Illini outgained Purdue in total yardage (366-304) and first downs (21-15) but just couldn't move the ball and put points on the board when it counted.
Jason Ford was efficient for the Illini, rushing for 83 yards and a touchdown on just 10 carries. Ford also caught five pass for 69 yards.
Nathan Scheelhaase finished the game 22-35 for 217 yards. Scheelhaase's go-to receiver A.J. Jenkins caught eight passes for 92 yards. Spencer Harris added six catches for 39 yards.
Illinois will travel to Happy Valley next week to square off with Big Ten Leaders Division frontrunner Penn State. With Michigan and Wisconsin still on the schedule following Penn State, Illinois needs to gel fast. They need to revive the Illinois team that found ways to win those close games early in the year.
There is still a lot of football to be played and Illinois' season is far from over. However, if they don't come together and start playing four quarters, their dream season may just turn into a nightmare.