Mike Shanahan's Future with Redskins: Messy QB Controversy Won't Help
October 22, 2011
Grant Halverson/Getty Images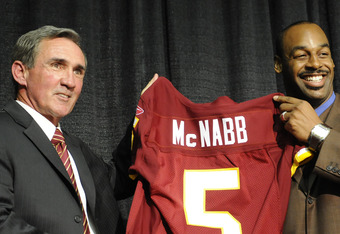 Mitchell Layton/Getty Images
I don't know what Washington Redskins Coach Mike Shanahan is thinking. Why didn't he just go out and get a quality quarterback when he signed on with the Burgundy and Gold? Now, two quarterbacks later he's back where he started.
A series of calculated and interesting moves brought Shanahan to where he is today, with a signal caller who hasn't started a NFL regular season game in several years. Are you telling me John Beck is the future of this legendary franchise?
I'm still trying to figure out what Shanahan and son Kyle were thinking when they signed an aging Donovan McNabb last year.
Didn't a red flag go up when it seemed that your division rival Philadelphia Eagles didn't care they were trading him to a team they face twice a year? Anyone?
I mean Shanahan gave up money and draft picks to make this happen. It got good press, but deep down inside a lot of people were still wondering if McNabb had anything left in the tank.
Shanahan looked great standing up there with McNabb, holding the No. 5 jersey, cameras rolling. A big splash. Headlines and blog discussions for days. What happened? We all remember that fiasco.
Donovan can't run the two-minute drill after many, many years as a starter in the NFL. Offensive coordinator Kyle felt a change was needed. All of a sudden the guy you signed to be the savior is dropped on the bench.
One could argue that was Shanahan's first mistake. But actually, it was his second.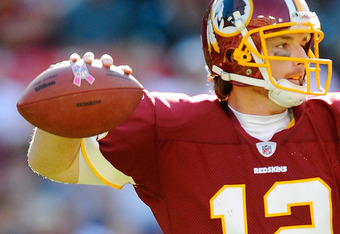 Patrick McDermott/Getty Images
His first blunder was not drafting or trading for a young hot stud quarterback. He may not have had a high-enough draft pick, but that's what draft day is all about—making deals.
He should have found a way to trade up or swing a deal that would've landed him a young QB. He chose not to, and now they have no future at this position.
If you have a kid on the roster, he can learn and watch. Perhaps in a year or two he's ready to go. The 'Skins don't have that option. It feels like they're flying by the seat of their pants with this position. Let's throw the next guy in there! He can play! Let's go!
Well, not quite.
The Donovan circus was predictable. He has a little left in the tank, but not that much No. 5 can still play if he stands behind a massive offensive line with plenty of time to throw. Hopefully Shanahan and 'Skins fans have the patience of watching him struggle in the red zone.
Quite frankly, a veteran coach like Shanahan should have known better, and tying his future to a quarterback like McNabb seems to be a risky career move.
Not to be outdone, Shanahan was pushing Beck on the media during the offseason. He liked what Beck brought to the table. Implied the job was his and he was gonna have a great year. Maybe it's me, but I haven't seen Beck do a darn thing in the NFL so far.
The name sounds familiar, but I can't recall a single play with Beck in a single game. Why?  Because the dude hasn't played. So I ask you: Do you give the keys to the team to a guy who hasn't done anything in this league? I know he's a young 30 because his body hasn't been beat up on a regular basis, but seriously?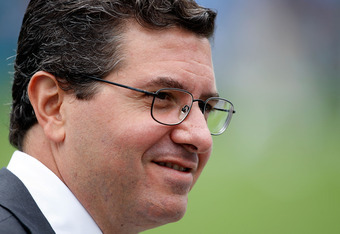 Streeter Lecka/Getty Images
But lo and behold, Beck didn't win the job in training camp. It went to none other than Rex Grossman. Now before you start swiping at me, I understand he had a great career at the University of Florida under the tutelage of Steve "Ole Ball Coach" Spurrier.
He took the Bears to the Super Bowl, although they lost. Good guy. Good quarterback. But not the kind of starter you want if you're trying to hoist the Lombardi Trophy. You know?
Grossman, at best, holds the job until the young franchise quarterback is ready. But the 'Skins don't have a a young franchise kid waiting in the wings because Shanahan and Kyle didn't feel it necessary to go out and get one. Remember, they wanted McNabb instead. How's that working out for ya?
So, Grossman starts being Grossman. The critics pull out their claws and fangs. Grossman doesn't help himself with his shaky play. And all of sudden, the guy who won the job in training camp loses the job. And the guy who coaches implied was gonna be the starter, but was beat out in the preseason, is now the starter. Got all of that?
Now, Beck is the starting quarterback for the Washington Redskins. A virtual unknown. Unproven. Untested. Not his fault, because he hasn't played. But one has to wonder why? Perhaps he's a late bloomer.
Will he have a great career after sitting on the bench for several years? Perhaps. Maybe.
Is Beck the quarterback of the future for the Washington Redskins. I'm not a betting man, but I'd have to say no. As was the case with Grossman, Beck can "hold" the job for the franchise guy, when the 'Skins get one.
And don't get it twisted. Quarterbacks like Beck and Grossman can "hold" the job for a year or two. It happens all the time in the NFL. But does Shanahan have a year or two? I'm guessing this latest "bump in the road" at Redskins Park won't earn Shanahan any brownie points.
The little guy in the big office is always watching from above. Dan Snyder wants an NFL Championship. He wanted it yesterday.
He's never had that feeling—unlike his friendly nemesis and chief ego-competitor Jerry Jones of the Dallas Cowboys.
Shanahan was brought here because he owns two Vince Lombardi Trophies from his days with the Denver Broncos and retired Superstar John Elway. He wasn't brought to the Redskins to fight publicly with former players Albert Haynesworth and Donovan McNabb.
He was brought here to win the Super Bowl, and it's unlikely he has a quarterback to do that.
Next year will be his third year at the helm, and he'll likely start it the same way he started the first two: Without a solid signal caller.
You can't get another Lombardi Trophy doing that, and Snyder knows it.