Juventus Ties Genoa 2-2: Giorgio Chiellini Falls Flat at Left Back
October 22, 2011
Claudio Villa/Getty Images
Following a big win over Milan and a tortuously long international break, Juventus drew Chievo Verona 0-0 last week. The home side (Chievo) benefited from tight, hard working team that did not back down against the league leaders Juventus. While disappointing, the draw was mostly due to Chievo's quality performance.
This week, things were a bit different. Juventus began the game clearly in control, with the Goldenboy Alessandro Matri scoring against his old side Genoa within the first few minutes of play. This goal led to a short term break down in Genoa's play, as Juventus totally controlled the game and Genoa fouled Juventus players like it was going out of style. After a few yellow cards, the Genoa squad calmed down and began to challenge Juventus.
The game shifted for a bit to favor Genoa, and they capitalized on the shift with Marco Rossi's equalizing goal in the thirty first minute.
This brings me to a quick diversion. Ignoring the result of this game, Juve's play after this goal marked a clear difference between the teams of the last few years and the current squad. Last year, that goal probably would have stifled Juventus for the rest of the match. This year, the players kept their heads up and grinded on, trying to get the winning goal.
Now, back to business. That goal went through partially due to Giorgio Chiellini (who has been playing left back recently, in lieu of the injured Paolo De Ceglie) being out of position. He strayed from where he should have been, and left a hole open which was exposed by Genoa. The same thing had happened a few minutes before the goal but luckily for Juventus that play did not end in a goal. These mistakes were the first of a few that Chiellini made which would seriously harm Juve's chances.
With Paolo De Ceglie out for a few more weeks, coach Antonio Conte will have to make do with youth players and Fabio Grosso to fill the hole at the left back position. Giorgio Chiellini, for all his dominance as a center back, is actively hurting the team as a left back. It's too bad Conte shipped off Reto Ziegler to Turkey, because the team could use him right now.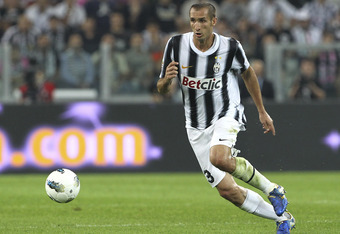 Marco Luzzani/Getty Images
That said, Chiellini also made his fair share of tackles and stops. These are the types of things he's good at, and the type of things he would do primarily when playing with a centerback. As a left back, he's not having any trouble helping out offensively (he had one headed effort that almost scored and was involved in numerous other promising attacking moves), but he is having difficulty staying in position and marking his man consistently.
Juventus came out at half time and took control of the game, much as they had at the start. In the fifty eighth minute, Alessandro Matri scored once more, completing a brace. Coincidentally, the young man also scored the last time Juventus played Genoa, back in April of this year.
One thing that Juventus fans can definitely be glad about is the performance of young winger Marcelo Estigarribia. He made a few decisions that were short-sighted, a few passes that weren't the best ones he could have made, however, he certainly played better and better as the game went on. He showed many flashes of great promise. I was far more excited about his play today than I have been about Milos Krasic's play so far this season.
Speaking of Krasic, he subbed in and failed to really make an impact. He had a few runs that fizzled out, more so due to lack of passing opportunities. With rumors buzzing about a possible departure (today I heard an unconfirmed rumor about a possible Walcott and Krasic swap, probably total BS but it was an interesting thought nonetheless) Krasic must surely be feeling the pressure. Hopefully the Krasic of old, the one with supreme pace and targeting, will return from his long hibernation. Otherwise, there are quite a few talented wingers in Turin right now (Pepe, Giaccherrini, Estigarribia and Elia) who would love to take his spot.
Genoa equalized for the final time in the eighty fifth minute, with a goal from Andrea Caracciolo. Again, this was partially the fault of Giorgio Chiellini. Caracciolo scored by volleying in a headed effort from a teammate. This header was won against Giorgio Chiellini, and the pass was one that Chiellini should have easily intercepted or deflected. Instead, Genoa scored.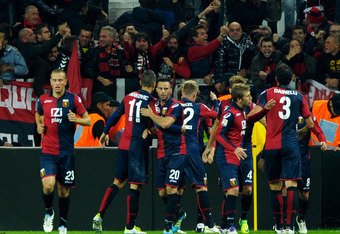 Claudio Villa/Getty Images
Chiellini's defensive counterparts - Leonardo Bonucci (starting at centerback, something that has been unfortunately rare this season), Andrea Barzagli, and Stephan Lichtsteiner- all had fine games. Indeed, ignoring recent mishaps (which are really due to De Ceglie being injured) the Juventus defense has been remarkably solid. Still, today the team let up more goals than they should have.
After the equalizer, Alessandro Del Piero was subbed in as a last ditch effort to score. I was hoping that he would provide we fans with a storybook winning goal, to help offset the devastating news of his retirement which was announced quite unceremoniously. Sadly, much like his retirement announcement, his performance today was rather plain. Of course, he only played for about nine minutes, so it's really not fair to judge his performance at all. He wasn't provided enough opportunities to make a difference.
Del Piero's striking comrade, Mirko Vucinic, will be kicking himself for missing a breakaway shot on goal. After excellently picking out a pass deep in Genoa's half, Vucinic made a break for the goal and got a nice shot off, but it was parried away by Sebastian Frey.
There were large portions of this match where Juventus were in total control. Had it not been for a few mistakes, they probably would have won. Juventus face Fiorentina, who are only four points behind Juventus in the league table. It will be a challenge for Juventus, but it's a game that they can definitely win. I'm very interested to see what happens with the left back situation. It's still possible that Conte keeps Chiellini playing as a left back, just as a stopgap while Paolo De Ceglie is injured.
However, if Chiellini performs like he did today, than Juventus will probably not be coming out of the Fiorentina game with a victory.