Virginia Cavaliers vs. North Carolina State: Live Blog, Analysis and Reaction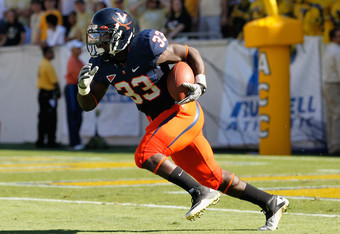 Kevin C. Cox/Getty Images
Welcome to the live blog of Virginia's game against the North Carolina State Wolfpack. How will Virginia respond to the big victory it had last week against the Georgia Tech Yellow Jackets?
Can Virginia continue its strong running game?
How will Mike Glennon do in Charlottesville?
We're moments away from finding out.
Virginia did what many of its fans feared it would do.
With an injured team playing in Charlottesville, the Cavaliers simply did not look like they were interested in playing.
The offense that had been clicking for most of the season looked completely inept today.
The quarterback situation which had been hanging around like an albatross finally came to cost Virginia a victory.
The Cavaliers simply could not complete pass with either David Watford or Michael Rocco. That allowed the Wolfpack to stack the box and slow the Virginia running game down to the point of making the Cavalier offense impotent.
Coach Mike London has made too many bad decisions with the quarterback carousel and needs to end it once and for all. This game, as painful as it was, may finally have done that.
Despite Watford's mistakes, his big touchdown pass to Tim Smith may have cemented him as the new starter for the Cavaliers.
The extended reps in practice may help him find a rhythm and allow Virginia to move on to their future. After all, if he is playing this much as a true freshmen, it s only a matter of time before he surpasses Rocco as the starter.
The Cavaliers have a short week, playing at Miami against a team that just took down North Carolina and Georgia Tech in successive weeks.
When you add in the fact that the Hurricanes narrowly lost to Virginia Tech and will be motivated by a bad loss last year to the Cavaliers, Virginia will have a tall task in front of them before a national audience.
At 4-3, the Cavalier bowl hopes remain alive but the quarterback question will continue to haunt Virginia fans until a resolution is made.
Early Happy Halloween boys and girls.
Trivia time: In 2007, Virginia helped what program win its first ACC game of the season late in October?
Answer: North Carolina State.
If the Cavaliers could have the same end result, a trip to the Gator Bowl, I will be okay with this moment of history repeating.
However, I somehow doubt that will happen this time around in 2011.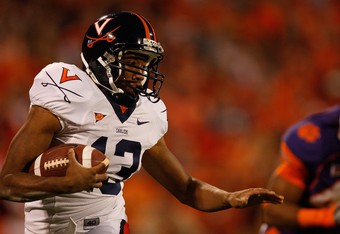 In the comedy of errors that has been this game, Virginia muffs the punt and North Carolina State recovers.
The Cavaliers need to put someone else in the backfield to return punts but coach Mike London's reliance on the freshmen has been a detriment to the program.
I think we all know the truth, the more we see cornerback Chase Minnifield the better.
In fact, I wonder if we could make him a starting quarterback too.
I will make sure to memo that to coach London.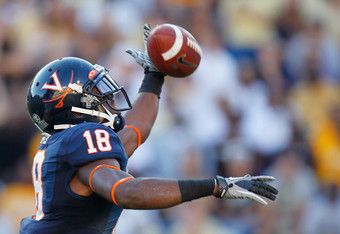 On fourth and short, Virginia decides in its infinite wisdom to throw the ball with a quarterback who was 3-of-11 with two interceptions.
Not shockingly, wide receiver Kris Burd cannot corral the long pass and it is tipped into the hands of a Wolfpack defender.
If I were at the game, I would probably be heading towards The Corner to grab some consolation beer myself.
The Cavaliers have once again squandered an opportunity but give credit to North Carolina State. Despite all the injuries and bad luck of this season, the Wolfpack are going to pick up a road win and keep their slim bowl chances alive.
Virginia, on the other hand, will have to continue to figure out where those two magical wins for a bowl game will come from.
The last thing Virginia fans need is to be lectured by Pam Ward and Dan Hawkins of ESPNU.
While I am not condoning leaving a game early, I do not exactly blame them.
Virginia has created plenty of their own problems. They have produced a product that is almost unwatchable and has created its own bugaboo by not choosing a quarterback and sticking with them through thick and thin.
Virginia fans have suffered more heart break than either of these two people can understand and they certainly do not need their worthless advice.
The Cavaliers could win the game, but are we really going to punish a fan base for being frustrated with this level of performance after beating the 12th ranked team in the country?
I certainly would not be that arrogant.
Virginia's Tim Smith had a reception but his bobble led to an interception and touchdown for the Wolfpack.
David Amerson had silenced the Cavalier faithful and with 6:08 to go Virginia is going to need a mini-miracle to pull this one out.
I think I speak for all Virginia fans when I say the following...
An absolutely huge stop on defense for the Cavaliers.
Virginia lucked out with State's Mike Glennon throwing the ball over his intended receiver on third down. However, a brilliant punt has pinned Virginia deep in its own territory with 6:19 to go in the game.
With the Cavaliers down a touchdown and a combined 8-of-25 throwing the ball, Virginia is going to have to find some mojo if they want to "matriculate their way down the field" and tie this ball game.
Give credit to the Wolfpack defense for shutting down the running game of Virginia.
What can offensive coordinator Bill Lazor draw up for Virginia with the game on the line?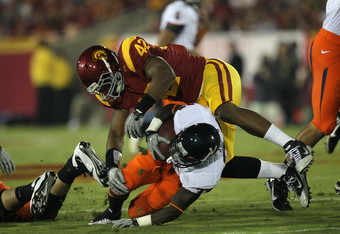 With the ball at the Wolfpack 33, coach Mike London decides to go for it on 4th and 3 but quarterback David Watford cannot connect the pass with running back Perry Jones.
Jones is the second leading receiver on the team but he could not handle that throw by Watford and North Carolina State survives a bad interception by their quarterback Mike Glennon.
How many opportunities can Virginia afford to squander before it costs them the game?
With 9:46 to go, a score by the Wolfpack would essentially end the game.
As I expected, Glennon looked for Wolfpack wide receiver T.J. Graham and overthrew him.
On third down, safety Corey Mosley stepped up and picked off the pass to give Virginia the ball in Wolfpack territory.
Quarterback Mike Glennon made a terrible decision to throw in double coverage but the North Carolina State defense has bailed him out before.
Can Virginia make him pay?
The tenacity of freshman Kevin Parks could go a long way in answering that question.
A good start to the quarter with a strong run followed by an impressive quarterback keeper.
Virginia had more first downs on that drive than the entire third quarter. However, the Cavaliers failed to score and the punt went in the end zone to give the Wolfpack the ball at the 20-yard line with 12:36 to play and a 21-14 lead.
The Cavaliers need their defense to step up yet again and that could be asking too much.
Wolfpack wide receiver T.J. Graham has been a non-factor for the most part since he entered the game in the second half. Look for more Mike Glennon to target him more as quarterback, even if he dropped a key pass earlier in the half.
Virginia could really use a turnover but a three-and-out should give them favorable field position with a chance to tie the game in the fourth quarter.
Suddenly, this game has a bit of excitement in it!
Virginia has an absolutely tremendous defensive stand thanks to a big play by the maligned Steve Greer.
The Cavaliers finally have momentum and the crowd is up.
How will Watford do after his huge touchdown pass to Tim Smith to make the score 21-14 North Carolina State?
More importantly, will this open holes for Perry Jones, Kevin Parks and the dynamic rushing attack of Virginia?
We have one quarter to go in Charlottesville.
Virginia may be down, but after a huge play by Watford and a good start on the following possession, they are far from out.
I guess my desire for a big play came back to bite me as North Carolina State had a huge play with Bryan Underwood tip-toeing the sideline towards a 79-yard touchdown reception.
Virginia had played brilliantly defensively for almost the entire quarter, putting pressure on quarterback Mike Glennon and keeping the field position edge on the Cavalier side.
However, that play has completely put Virginia behind the eight ball. Now they will have to complete some passes if they hope to win anything.
Fortunately, if the Wolfpack make dumb mistakes like kicking the kickoff out of bounds, the job becomes easier.
The Cavaliers just made a touchdown pass to Tim Smith as I was writing and I am beside myself.
Someone turned the light switch on in Charlotteville.
Loud noises!
With 4:20 left in the third quarter, these two teams have combined for one first down.
Is there a way for both teams to lose this game because that is probably what they both deserve.
Virginia has David Watford under center as quarterback and the Wolfpack will keep bringing pressure until the Cavaliers prove that they can throw the ball.
In other words, they will be blitzing until the end of time.
Thanks for sticking with me loyal reader, you must be a masochist too.
I wonder if the head coaches, Mike London and Tom O'Brien, are going to have to write a letter of apology to the NCAA for setting college football back 10 years.
Virginia has four yards in three possessions this half.
Quarterback David Watford is in which means it is time for even worse throws than what we have been seeing with Michael Rocco.
On the plus side, maybe the rushing average will go up and Virginia can take advantage of the good field position.
Maybe it makes sense that this game is being played so close to Halloween.
If I had to describe this game so far I am pretty sure it would go something like this...
The first half flew by but the second half is already dragging. With three possessions in less than five minutes, the defenses have responded.
Virginia has to do something this possession to wake up the crowd.
If they can control the clock, maybe they can take control of this game?
Of course, in order to have a successful drive it may require catching a pass.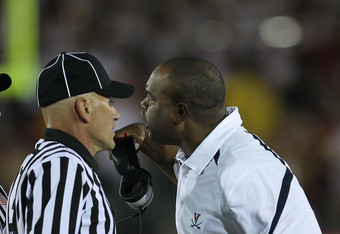 Virginia claims that a North Carolina State blocker touched the punt and made it a live ball. The referees do not seem to agree.
We only had one quick replay but that was not enough for me to tell at first glance. The Cavaliers could really use that momentum shift, maybe they will review it.
Nevertheless, Virginia's offense has fallen back to the days of Mike Groh as offensive coordinator. The Cavaliers cannot get a first down to save their life and the "boo" birds are out in Charlottesville.
Do you blame them?
Rodney McLeod makes a huge play on defense, not to mention an acrobatic one.
Between his physical play last week against Georgia Tech and his play right there, McLeod is making a move towards the best Virginia player of October.
Too bad that Kevin Parks cannot catch a five yard pass from quarterback Michael Rocco, how on Earth is Virginia going to jump start their offense?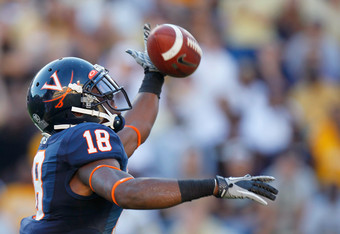 Virginia says anything you can do, I can do better. Not only do they have a three-and-out but they also feature a ridiculous dropped ball on third down by Cavalier wide receiver Tim Smith.
Smith has been a non-factor yet again so far in this critical game. I know that the quarterback shuffle cannot help him but this is inexcusable.
Let us see if Virginia's defense will be lucky or good on this next possession.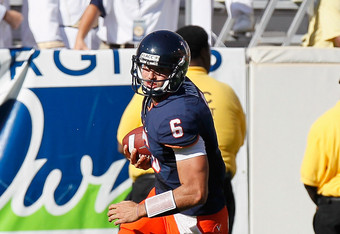 Virginia gets a three-and-out on defense because of the fourth dropped pass by North Carolina State.
The Cavaliers dodge a major bullet and have nice field position to start the second half.
They could not possibly blow this opportunity, right? Right?
Random thoughts since this is the longest halftime in the history of football.
1. How bad must Ross Metheny be that he never sees any time as Virginia quarterback?
2. TheACC.com has opened up its vaults to watch old ACC football games. Virginia has several clips on there, but only one is a win (1995 vs. Florida State). Typical.
3. Virginia Tech finally took the lead against Boston College. It was fun while it lasted.
4. Duke may have lost but their comeback impressed me. Virginia could really lose that game for the fourth straight year.
5. Let's play football!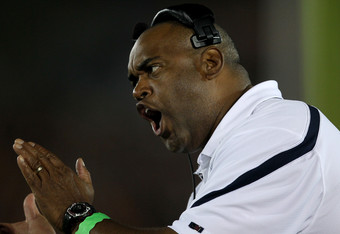 Virginia coach Mike London does many things right. He is a wonderful motivator, recruiter and positive role model for the University.
His job as an in-game manager though has been highly suspect yet again.
After quarterback Michael Rocco led Virginia down the field for a touchdown, he was pulled for a true freshman who threw an interception that has put the Cavaliers in this 14-7 hole.
Sure, the players are not executing like they should and London cannot run the plays for them but it is his responsibility to not let this lackadaisical approach happen.
All week long, the players and coaching staff said the right thing. They knew they had to build on last week's big win against Georgia Tech and yet the teams look like it is going through the motions.
The quarterback musical chairs has not helped and the fans are angry. If Virginia is trailing now, what will happen when the man with the second highest all-puropose yards in college football enters the game for the opposition.
Virginia had to avoid a let down and it fell into a similar pattern of mediocrity yet again. The Wolfpack have dared the Cavaliers to throw and with wide receiver Matt Snyder's injury that task has become even taller.
The Cavaliers need a halftime adjustment badly on both sides of the ball. However, adjustments have not been Virginia's forte under London.
What will happen next?
The field goal is short and left for the Virginia Cavaliers.
That kick really signifies the effort of the boys in blue and orange today; weak.
Virginia has looked shaky in just about all aspects and are trailing against a team that is full of injuries and suspensions.
How confident must the team be feeling right now?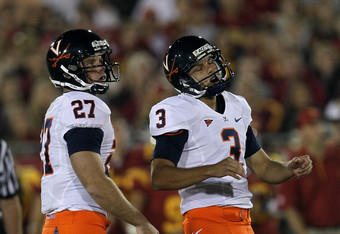 Two bad passes by Michael Rocco have put Virginia in that questionable field territory.
A long field goal seems like a fool's errand but going for it will not be easy.
Possible fake?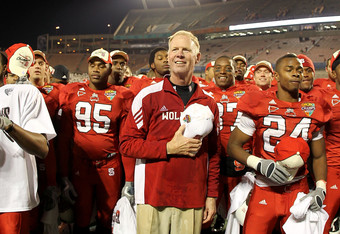 Gut check time for the Cavaliers after North Carolina State quarterback Mike Glennon connects with the redeemed Brian Underwood.
Virginia had a similar lull in the second quarter last week against the Georgia Tech Yellow Jackets where a Michael Rocco interception was returned for a touchdown to tie the score at 14-14.
This week, an interception by David Watford resulted in a one-play touchdown to make the score 14-7 North Carolina State.
The Cavaliers surprised many by responding to the adversity and making the score 24-14 at half. Can they dust themselves off and put on a similar performance this time around?
If they do, who will be the signal-caller under center to help do it?
This article is
What is the duplicate article?
Why is this article offensive?
Where is this article plagiarized from?
Why is this article poorly edited?