Manchester United vs. Manchester City: 8 Things That'll Happen at Old Trafford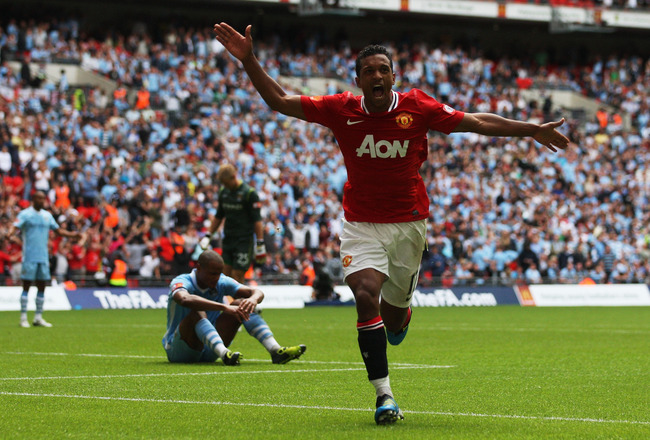 Nani Scoring At Wembley Against Manchester City
Ian Walton/Getty Images
In a Premier League game as big as Manchester United vs. Manchester City at Old Trafford, anything can happen.
From a big brawl and flurry of cards to a moment of magic from a talisman like Wayne Rooney, anything goes in derby matches, especially the highly-anticipated, hotly-disputed, very publicised matches like the Manchester derby.
And in the ultimate preview, here are eight things which are most likely to happen at Old Trafford on Sunday.
Take them into consideration, then come up with a scoreline prediction in the comment threads below.
Both Teams Will Score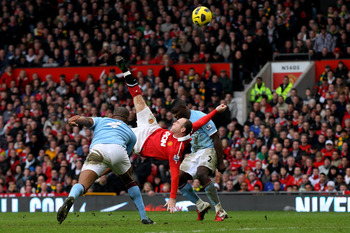 Alex Livesey/Getty Images
If there's one thing guaranteed in this game, it's goals.
In the Premier League this season, Manchester United have scored 16 goals at home at an average of two per game.
Away in the Premier League this season, Manchester City have scored 14 goals at an average of 1.75 per game.
Both teams also have the two best performing strikers in their ranks, with Wayne Rooney scoring nine league goals for United, while Sergio Aguero has eight for City.
Wayne Rooney Will Score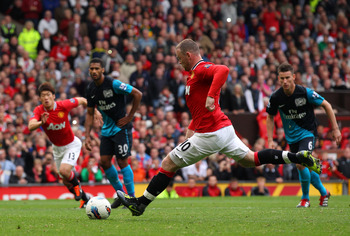 Alex Livesey/Getty Images
If there's one person who's almost guaranteed to score, it's Wayne Rooney, and not just because of his incredible goal scoring ratio.
At home in the league, United have on average 22 shots per game, with a quarter of them on average coming from Rooney.
He scores on average once every four attempts on goal he has, and while Joe Hart in the Manchester City goal has a good saves to shots ratio, he doesn't have the ratio in theory to keep out Rooney.
Javier Hernandez Will Score a Header If He Plays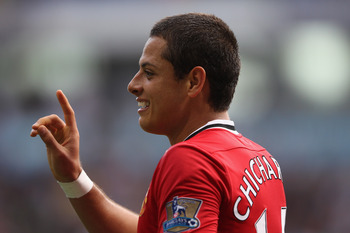 Michael Steele/Getty Images
If he plays at any reasonable point during the game, the chances are Manchester United striker Javier 'Chicharito' Hernandez will score, and it'll be a header.
He's done quite well this season scoring three league goals in four starts, and against Manchester City's defenders he has all the attributes to be a goal threat.
City's tall defenders like Vincent Kompany and Joleon Lescott aren't troubled by much, apart from small, speedy strikers who are a nightmare to man-mark, and that's exactly what Chicharito is.
He'll most likely take up positions between defenders to try and get a free header, which almost half his goals for United have been.
And considering United's main wingers, Ashley Young and Nani, have eight assists between them and together make five key passes and put in three accurate crosses per game, it should be easy enough for the young Mexican to get the right service.
Sergio Aguero Will Score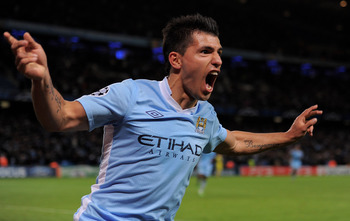 Michael Regan/Getty Images
Chances are, Sergio Aguero will also find the net if he plays for Manchester City in the game at Old Trafford.
On average in the Premier League away from home, City have 19 shots, with over 20 percent coming from Aguero, who has around four shots per match.
And considering he scores once in every three attempts on goal, with David De Gea statistically not having a good enough saves to shots ratio (despite having the best in the Premier League), the odds are that the diminutive Argentine will bag a goal or two if he's on the pitch for the Eastlands club.
Aguero's Goal Will Be a One-on-One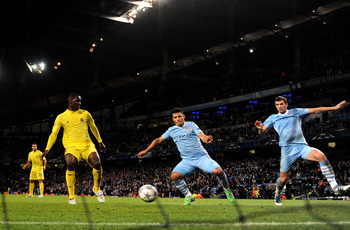 Michael Regan/Getty Images
And if he does score, it's most likely that Sergio Aguero's goal will be a one-on-one.
As Chelsea proved with Fernando Torres (despite his subsequent shocking miss), even at home Manchester United aren't the best at making key interceptions in central defence and are prone to letting through a few deleterious through-balls which create one-on-one situations.
And unlike Chelsea, Manchester City are more capable of threading in through balls, with David Silva, Samir Nasri, Yaya Toure and Adam Johnson between them making on average two through balls per game, which is significantly greater than the 0.8 per game created by United.
And also unlike Torres and his Blues, Aguero is a more in-form striker with better proven ability at finishing one-on-ones.
Manchester City Will Have Slightly More Possession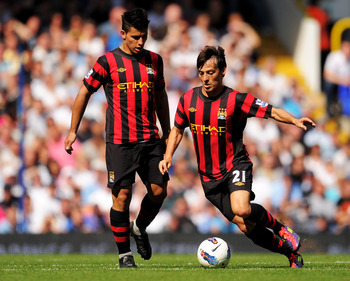 Michael Regan/Getty Images
At home in the Premier League, Manchester United have on average 58 percent possession.
Away in the Premier League, Manchester City have on average 61 percent possession.
City have also completed more successful passes than United this season with 3989 for City compared to 3341 for United, meaning it's more likely that the Citizens will have better possession.
Yaya Toure Will Be Most Marked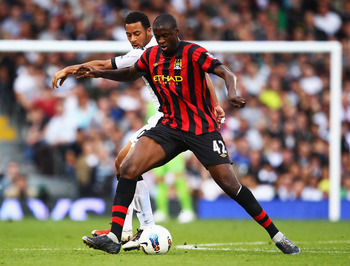 Julian Finney/Getty Images
Forget Sergio Aguero, David Silva, Samir Nasri or the like, the Manchester City player who will be marked the most and closed down the quickest is Yaya Toure, the former FC Barcelona man.
Because after all, most of City's play goes through him, as proven by the fact he's the best passer in the Premier League at the moment, successfully completing more passes than any other player with 581 and has the best relative pass success rate with 90 percent.
And considering he's also made three assists and the fact that City's attackers are more pacey than United's defenders, expect the home team to try and cut the central supply line directly.
David De Gea Will Be Beaten by a Wonderstrike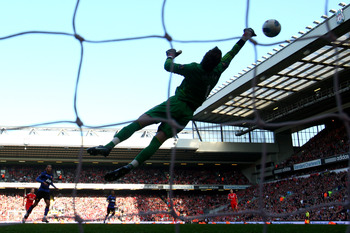 Clive Brunskill/Getty Images
Having become more adapted to English football, the chances of David De Gea conceding a goal from a set-piece played into the penalty area are very low, especially considering the Spaniard has a 100 percent aerial duel success rate.
Therefore, it seems more likely that Manchester City boss Roberto Mancini will instruct his players to try their luck from distance if they get a chance, just like Kenny Dalglish did with his Liverpool team at Anfield last weekend, with the picture showing De Gea spectacularly saving a long-range effort from Jordan Henderson.
And considering City have within their ranks many players with proven ability to score from long-range, namely Aguero, Silva, Nasri, Toure and Mario Balotelli, it could well be the case that De Gea is beaten by a long-range wonderstrike.
Keep Reading

Manchester United: Like this team?