Matthew Harding: 15 Years On, Remembering a True Chelsea Icon
October 22, 2011
On October 22nd of 1996, Chelsea Football Club suffered a terrible loss when club vice-chairman Matthew Harding perished in a tragic helicopter crash as he returned home, having watched his beloved club play an away fixture at Bolton.
It was a loss that shook the club to its very foundation and no doubt shaped the future of the club in a way few could have imagined at the time.
Harding was born in Haywards Heath in West Sussex in 1953 and as a young boy fell in love with Chelsea Football Club. It was a love affair that would continue until his untimely passing, but it was also one that captured nationwide attention.
Harding made a vast fortune in the insurance industry and by the late 1980s he was one of the richest men in Britain. With his beloved Blues struggling both on and off the field, Harding decided that there was no better way to use his millions than by investing in the club he had always loved.
When then Chelsea owner Ken Bates called for investment in 1994, Harding saw this as the chance of a lifetime and immediately invested over £26million in the club. In exchange for this amount he was granted a place on the board. 
Harding's time on the board saw a public feud develop between him and Bates as they argued over the direction of the club's future. While Harding remained dignified, Bates slung mud. Bates was scared that Harding was going to try and oust him and take control of the club, in truth Harding simply wanted what was best for the club.
It became something of a national pastime to follow the dispute at Chelsea with Harding cast in the role of the exiled martyr and Bates, of course, playing the pantomime villain.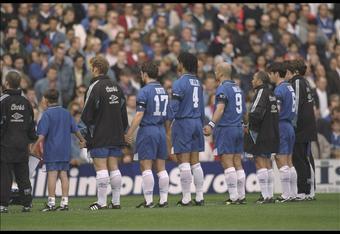 Ben Radford/Getty Images
When Bates had Harding banned from the Chelsea boardroom it set in motion a chain of events that saw many fans turn against him, and Harding become "The People's Chairman." While Bates would sit in his director's box surrounded by his millionaire friends, Harding sat in the stands surrounded by the fans.
His popularity was on the rise while Bates' slumped massively. Bates continued to use the national media as a means of publicly attacking Harding but conveniently forgot to mention that it was Harding's money that had allowed Chelsea to buy a number of players and rebuild the North Stand (now called the Matthew Harding stand in his honour).
Unlike Bates, who rarely spoke to the majority of the players, Harding was a true fan. In his obituary John Coldman describes how Harding would "relish the opportunity to travel on the team bus and displayed, with boyish glee, an autograph or memento from many an admired player." Take a moment and think on that. He was asking players that were, in theory, his employees for an autograph.
Imagine going to work on Monday and having your boss ask for your autograph. You'd find it a bit strange, because it would be a bit strange. And maybe a bit contrived. With Harding, though, it wasn't strange or contrived. It was endearing because of his genuine affection for the club, and the sport in general.
I can remember there being talk of Harding launching a takeover bid during the summer of 1996. England was in the midst of football euphoria as their national team marched towards what seemed like destiny in Euro 1996 and Harding was rumoured to be putting together a group of investors to buy Chelsea and remove Ken Bates from office.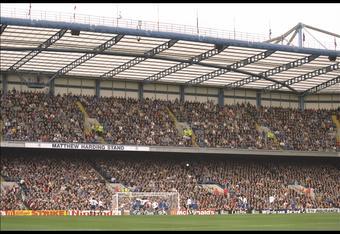 Ben Radford/Getty Images
What a summer that would have been, national glory and the removal of one of the most despised men in football. All was good in the game. But it never came to pass.
Unfortunately, like England's "destiny," Harding's goal never came to fruition. Although, unlike England's chance of winning a major competition, Harding's ambition of owning Chelsea outright still seemed like a strong possibility. Until a faithful night in October.
Harding had traveled to Bolton to watch his team lose a Carling Cup tie against the Wanderers and was returning home in the company of journalist John Bauldie and close friends Tony Burridge and Raymond Deane in a chartered helicopter when the pilot lost control.
The formal inquest into the accident found that the pilot, Michael Goss, did not have the correct qualifications to be operating the helicopter in adverse weather conditions and that he had made fundamental mistakes.
The loss of Harding stunned Chelsea and was a loss that it really did not recover from until Roman Abramovich arrived with his billions in tow. Without Harding to keep him in line, Bates spent millions that the club could not afford and had brought Chelsea to the verge of bankruptcy.
It has been speculated that Chelsea were only days from going out of business when Abramovich bought the club for cents on the dollar. Regardless of what minor success Bates had brought to the club, it is never acceptable for a major club to be in such financial difficulty.
I think it is fair to say that had Harding still been around that Chelsea's finances would never have become such a mess but that he still could have brought just as much, if not more, success to the club through his own investments and those he would have brought to the club.
The impossible question to answer is whether or not Chelsea would ever have been taken over by Roman Abramovich. Abramovich was attracted to Chelsea as much because of their low asking price as anything else and without the debt that Bates had built up they would have been worth an awful lot more. Might he have looked elsewhere? 
You can never be certain. One thing we can be certain of, though, is that football is a lot worse off without Matthew Harding. The game needs more people like him.