Nebraska vs. Minnesota: Live Score, Analysis, and Highlights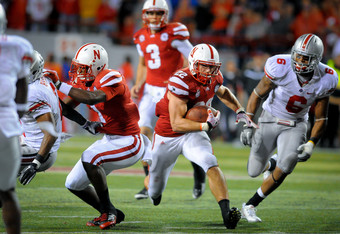 Eric Francis/Getty Images
Nebraska heads to the Twin Cities to face Minnesota coming off a bye week and two wildly different results. In the Cornhuskers' conference opener, they were embarrassed by Wisconsin, 48-17. The following week, Nebraska was down 27-6 to Ohio State in the third quarter, and things were looking bleak for Bo Pelini's team.
But Nebraska pulled off the biggest comeback in school history, defeating the Buckeyes 34-27 to the delight of the Homecoming crowd in Lincoln. Now, with a week of rest, they face a Minnesota team that has struggled mightily after a close loss to USC in the season opener.
Nebraska has home games against Michigan State and Northwestern upcoming, but they have to take care of business against the Gophers on Saturday.
Follow along here for score updates, analysis, and highlights of the game. And if you'd like to follow some game updates on Twitter, or if you'd like to chime on the game, comment here or you can follow me @patrickrunge.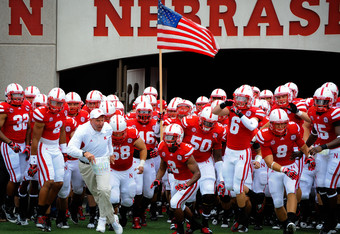 Nebraska 41, Minnesota 14 -- final score
Here are the quick takeaways from Nebraska's mauling of Minnesota.
- The game wasn't as close as the score. Nebraska was up 34-0 at halftime and could have scored triple digits if they hadn't called the dogs off and started to experiment.
- Tim Beck has figured out an identity, and figured out that he's got to get the ball to his playmakers.
- The tackling problem has improved, but it hasn't been fixed.
More analysis to come later. Thanks for following along with what turned into a traditional NU yawner.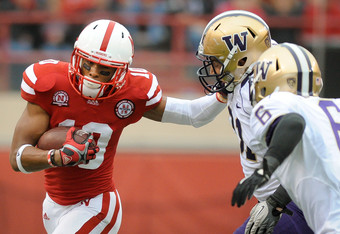 Nebraska 41, Minnesota 14 -- 1:41 left, fourth quarter
Well, now it's a ball game.
Sorry, had to take the obvious one. With a whole bunch of backups in the game (and Sean Fisher), Minnesota puts a second touchdown on the board when Duane Bennett runs in from six yards. Getting disturbingly close to the point spread, which is about the only thing left at issue in the contest. Still, good to see that Brion Carnes will get another series. Probably.
Nebraska 41, Minnesota 7 -- 9:49 left, fourth quarter
Brion Carnes finally comes in to relieve Taylor Martinez and leads Nebraska inside Gopher territory before a delay of game penalty stops NU's momentum and forces a punt. For the first time in recent memory against a conference opponent, Nebraska is completely in scrimmage mode. Heck, Chattanooga put up more of a fight than Minnesota has this afternoon.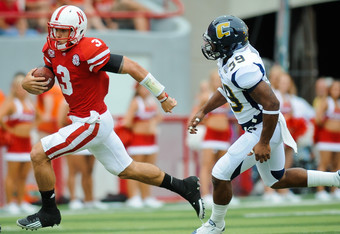 Nebraska 41, Minnesota 7 -- 0:39 left in the third quarter
Aaron Green finishes off a 17-play, 91-yard drive with a touchdown run. But it was pretty clear in the course of the drive that Tim Beck wanted to give Taylor Martinez and the Nebraska offense some work throwing the ball, as Martinez had the ball in the air on numerous occasions. While the execution from both Martinez and his receivers wasn't perfect, it got the job done on the drive. You have to think that's the last we'll see the offensive starters. Rex Burkhead has already been put back into the barn, and I can't see any reason to allow Martinez to be put at risk.
Also, just file this away, but Nebraska has been making a lot of hay with the inside screen today. Something to watch for next week against an aggressive Michigan State defense.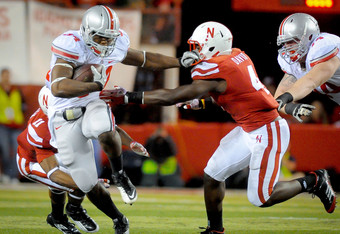 Nebraska 34, Minnesota 7 -- 6:45 left, third quarter
Minnesota's defense stops Nebraska twice, including a partially blocked punt setting up the Gophers in good field position. A flea flicker burns NU deep, and Marquies Gray punches the ball into the end zone after a fumbled snap. The donut is gone and, pretty clearly, Nebraska's intensity level has dropped two or three notches after thoroughly dominating Minnesota in the first half. That score probably delays the backups coming in for at least a series or two.
Nebraska 34, Minnesota 0 -- 12:00 left, third quarter
Nebraska took the opening kickoff and moved the ball down to the Minnesota 38, although it needed to convert a fourth down to get there. NU then took three deep shots, with two overthrows and one drop from Jamal Turner. Clearly, we've reached the stage where Nebraska is just "working on things" rather than maximizing points. Unless something dramatic happens, the second half will be a scrimmage for NU.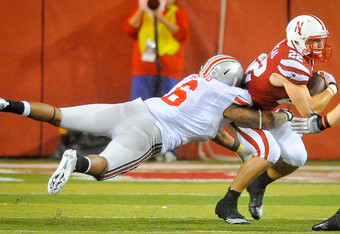 Nebraska 34, Minnesota 0 -- 0:34 left, second quarter
So much for the "struggles in the red zone" meme. On fourth and one from the three, Rex Burkhead runs off tackle into the end zone. NU mixes in a lot of Ameer Abdullah and bubble screens to Kenny Bell and Jamal Turner to score. At this point, the question becomes when Taylor Martinez will see the bench in favor of backup Brion Carnes.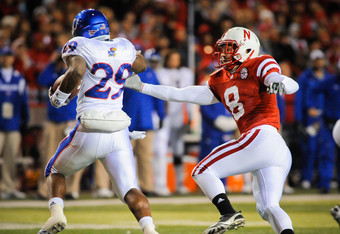 Nebraska 27, Minnesota 0 -- 9:34 left, second quarter
Minnesota's quarterback, Marqueis Gray, puts the ball on the ground trying to run an option, and Austin Cassidy scoops it up and stumbles his way into the end zone. After the play, Chase Rome (the guy who started in place of Jared Crick) put a late hit on a Gopher and gave Minnesota a yardage advantage.
If Nebraska hadn't thrown a knockout punch to this point, Cassidy's touchdown might have done the trick.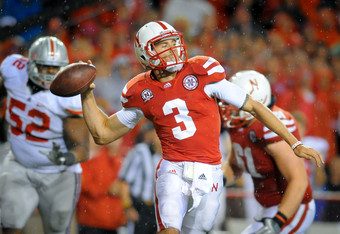 Nebraska 20, Minnesota 0 -- 10:36 left, second quarter
Once again, Nebraska bogs down in the red zone and is forced to take a field goal rather than a touchdown. The drive was keyed by an inside screen to Brandon Kinnie that took the ball inside the 5 yard line. But on third and goal, the "bad" Taylor Martinez resurfaced, trying a improvised pitch to an unsuspecting Rex Burkhead that almost cost NU any points at all.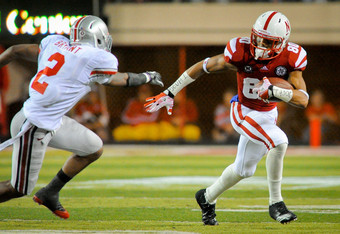 Nebraska 17, Minnesota 0 -- 14:38 left, second quarter
Well, shoot, I didn't even have a chance to post the end-of-quarter update before Nebraska struck again. On the first play of the second half, Nebraska runs a reverse to Kenny Bell who scampers 82 yards down the sideline for a touchdown. It's great to see offensive coordinator Tim Beck get the ball into the hands of his playmakers like Bell. Encouraging, to be sure.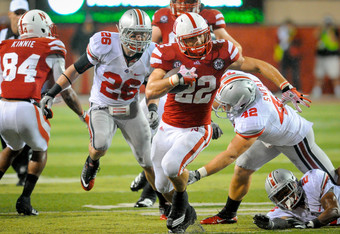 Nebraska 10, Minnesota 0 -- end of first quarter
Nebraska's offense looks good between the 20s, but has struggled a little once the field got short. Defensively, a solid performance keeping Minnesota's offense in check, with a significant rotation at defensive line to cover for Jared Crick's injury.
Nebraska's offense is definitely run-heavy, with more throwing toward the end of the quarter. Nebraska already is in position to throw a knockout punch.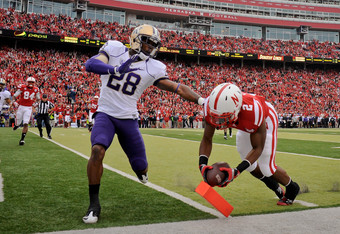 Nebraska 10, Minnesota 0 -- 3:42 left, first quarter
Minnesota stiffens inside the 20, but Taylor Martinez hits a pass to Tyler Legate for a touchdown pass. But the play of the drive was a fourth-and-one. Nebraska came out in a diamond formation, but Aaron Green mishandled the pitch and fumbled the ball out of bounds. Drive over, right?
Try again. Apparently, on a backward pass, the offensive team gets a fumble where it goes out of bounds, rather than where it was fumbled. As a result, first down Nebraska.
Backward-pass-rooski, anyone?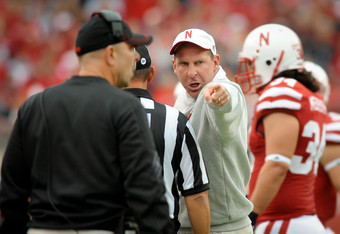 Nebraska 3, Minnesota 0 -- 8:00 minutes left, first quarter
Nebraska took advantage of two special teams miscues and a poorly-timed penalty to drive the ball inside the Minnesota 5 yard line. But Minnesota diagnosed a Nebraska option to keep NU out of the end zone.
Nebraska's defense played well enough against Minnesota on the first possession, although missed tackling still seemed to be an issue. On offense, it appears at the start of the game that NU is going to go run-heavy to attack the Gophers.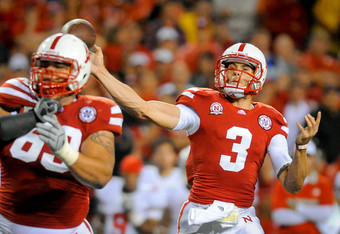 Nebraska takes the field in white shirts and red pants, while Minnesota comes out in maroon helmets, maroon shirts, and gold pants.
Here's a few key things to watch:
- How will Nebraska replace Jared Crick at defensive tackle? Chase Rome, Thaddeus Randle, and Jay Guy will all factor into the mix.
- How will Stanley Jean-Baptiste, a kid who was a receiver a month ago, stand up as a starting cornerback?
- Will Tim Beck lean on the power running game, or will he let Taylor Martinez air it out against a suspect Minnesota defense?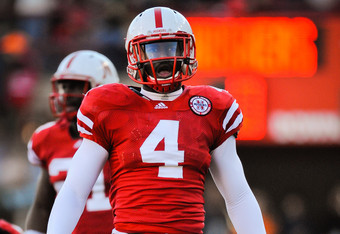 Eric Francis/Getty Images
For Nebraska to be successful against Minnesota, NU will have to contain dual-threat quarterback Marqueis Grey. Nebraska has struggled against mobile quarterbacks all season, and Minnesota's upset hopes hinge on NU continue to be unable to play 11-on-11 and stop an running threat at signal-caller.
But Minnesota's season has fallen through a trap door after a promising start. Last week, Minnesota lost to also-struggling Purdue 45-17, in a game that wasn't as close as the score indicated. While Minnesota's last two losses have been on the road, it's not like coming home to TCF Bank Stadium holds good memories for the Gophers. Minnesota's last home game was a loss to North Dakota State, 37-24.
The most interesting thing to watch in this game may be the performance of the Nebraska defense. Bo Pelini has been very high on the performance his defensive squad has made during the bye week, hoping that the poor tackling that has plagued Nebraska in the first half of the season will improve. The first test of that will come against Minnesota.
Expect to see a defense playing with confidence and an offense that attempts to overpower Minnesota with a downhill running game. The score may stay down at the beginning, as Nebraska attempts to wear down a thin Minnesota defense, but should balloon to a comfortable margin at the end.
Fearless forecast: Nebraska 48, Minnesota 13
This article is
What is the duplicate article?
Why is this article offensive?
Where is this article plagiarized from?
Why is this article poorly edited?

Nebraska Huskers Football: Like this team?