Texans vs. Titans: Kevin Walter Got It Right in Analysis of Cortland Finnegan
October 21, 2011
Streeter Lecka/Getty Images
There has been bad blood between the division rival Houston Texans and Tennessee Titans for a while now, so the recent sound-bite from Texans receiver Kevin Walter shouldn't be that big of a shocker.
It's no secret that Titans cornerback Cortland Finnegan is somewhat of a chippy player.
He's been known to run his mouth on the field no matter the situation on the scoreboard, and every now and then he may throw in a cheap shot or two.
Consider the fact that he was able to instigate Texans wide receiver Andre Johnson—who is widely considered to be one of the most mild-mannered players in the NFL, mind you—into an on-field in-game fist fight, and you'll probably get a good feeling of the player that Finnegan is.
I'm not claiming to personally know Finnegan off the field, so for all I know he may be one of the nicest people on earth. But, from everything we have seen from him on the field, it's rather obvious that he has an attitude problem, at least while playing football.
That's not always a bad thing due to the fact that you have to be somewhat edgy and egotistical to succeed in the NFL, but Finnegan has crossed the line one to many times.
That's why Walter's quotes on him in a recent interview on "The Big Show" on 790 Houston aren't at all surprising.
Here are the quotes courtesy of Paul Kuharsky of the ESPN AFC South Blog:
"Even before last year, before the whole fight with him and Andre -- years before that -- he's been pushing people around. He's pushed me in the back. But you know what? He runs away, he'll run away from it. You go to talk to him, he'll kind of hide by his guys. Then after the game he talks to you like nothing's going on. Like. 'Hey man, how are you doing?' Seems like a nice guy after the game. 

"But he's the type of guy, you see him on film and you're like 'what is he doing, why is he playing like that?' But I would say it'd be pretty cool to have a guy like that on your team because he's busting his tail all the time. I'm not saying I like the guy, but he's going out there and giving his effort, giving his all. If he can be a [jerk] here and there, that's how he plays it."
People are going to go out and make this a much bigger deal than it really is, especially with the two teams meeting up in an important game this weekend.
I don't think Walter said anything that is that controversial though. In fact, I don't even think Finnegan would disagree with the quote.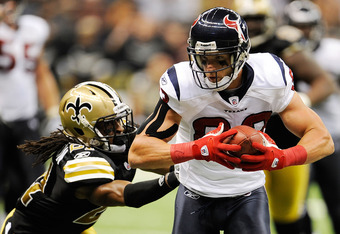 Stacy Revere/Getty Images
Taken out of context it would be easy to say that Walter called Finnegan out and called him a bad name, but if you read the full quote it's rather easy to see that Walter was just giving an honest assessment of the guy.
Sure, in his honesty he did openly call out one of Finnegan's lesser liked qualities, but he also did pay quite a compliment to the guy as well.
When all is said and done, this is not a big deal. 
We'll see if Finnegan takes the words to heart this weekend though, or if he lashes out on the Texans receiver.
Either way, it's just adding more fuel to the fire that is building between the Texans and Titans in the AFC South.