Air Force vs. Boise State: Live Score, Highlights and Analysis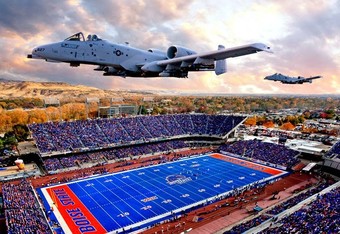 Air Force 26, Boise State 37; FINAL
The last time Boise State faced a strong running attack was against Nevada last season, and we all know how that game turned out. However, this is a more experienced Broncos defense, and Air Force's triple option will be more manageable than the Nevada Pistol offense.
Meanwhile, rumors continue to swirl as to whether one or both of these teams may be playing each other in the Big East Conference next year. However, the No. 5 Broncos are more concerned about racking up their 35th consecutive win at Bronco Stadium on Saturday and their chase for the National Championship than talk of conference realignment.
Boise State is coming off of two weeks of explosive performances where the Broncos have outscored their opponents 120-20. Against Colorado State, the Broncos were clicking in both the run and passing attacks, as both went for over 340 yards for the game.
On defense the Broncos have been an immovable force (thank you for that, Versus), allowing only 14.5 points per game. Most of the yards allowed were through the air, something Air Force is not known for, but the Broncos will have to be very disciplined in their responsibilities and tackling—things that have faltered on occasion this season.
The Falcons' defensive situation is complicated, to say the least. Not only do they have to get pressure on Heisman candidate Kellen Moore (who conveniently operates behind one of the best O-lines in the country) they also have to contain Doug Martin, the Broncos' hard hitting and speedy running back. Neither will be easy on their own, and both together will be virtually impossible.
Ethan Miller/Getty Images
The Air Force offense is no slouch either, with the third-best rushing attack in the FBS. Led by Senior QB Tim Jefferson, the Falcons have ran the ball for an average of 336 yards per game which happens to be third best in the country.
On a side note, I would like to express appreciation to Coach Chris Petersen for saying this:
"When Air Force comes into our stadium, we need to applaud those guys. No booing whatsoever," Petersen said Wednesday night on his weekly radio show that airs on KBOI 670 AM. "We need to salute them and we need to applaud them."
As a fellow service member currently serving in the Army I can tell you that we all appreciate your class, Pete.
Keep it right here on Bleacher Report for more live score updates, highlights and analysis.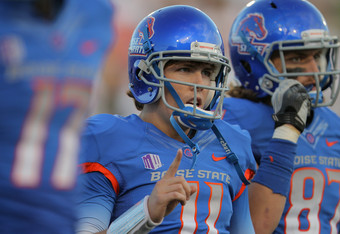 Boise State came into this game as 30 point favorites but Air Force made the game much much more uncomfortable then Bronco fans expected. There is a reason Air Force is the third best rushing offense in the country and the Bronco defense really did have their hands full.
Kudos to Air Force for essentially being the only team so far this season to make Boise State nervous. Next week Boise State returns to Las Vegas to face UNLV and Air Force moves on to face New Mexico at home.
Kellen Moore was definitely the offensive player of the game and Billy Winn the defensive player of the game.
Final Breakdown:
| | Air Force | Boise St |
| --- | --- | --- |
| 1st Downs | 23 | 23 |
| 3rd down efficiency | 9-19 | 5-8 |
| 4th down efficiency | 4-5 | 0-0 |
| Total Yards | 407 | 420 |
| Passing | 132 | 282 |
| Comp-Att | 6-15 | 23-29 |
| Yards per pass | 8.8 | 9.7 |
| Rushing | 275 | 138 |
| Rushing Attempts | 67 | 26 |
| Yards per rush | 4.1 | 5.3 |
| Penalties | 4-26 | 4-33 |
| Turnovers | 2 | 2 |
| Fumbles lost | 1 | 1 |
| Interceptions thrown | 1 | 1 |
| Possession | 36:18 | 23:42 |
This game was extremely close.
Air Force looking very good in this game. Much better then any previous game I have seen. Yet another touchdown for the Falcons as Boise State and Air Force keep trading points. Then a crazy blocked kick as apparently Boise State has been practicing lateraling and fumbling the ball after blocking the kick.
Really heads up play by Doug Martin watching for a block and then realizing that Moore doesn't have a receiver open so he turns up field for creating another open reciever for Moore on the touchdowns. Kellen Moore has had three passing touchdowns this game.
Drive info: 10 plays, 69 yds in 4:40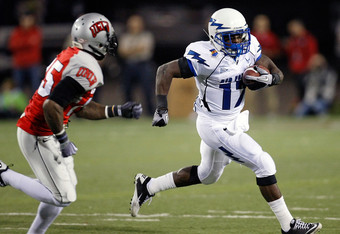 Boise State needs to quit trying to plug the middle as this extremely smart Air Force offense is just going to keep going to the outside. Two plays to the edge for a touchdown and once again Air Force pulls to within one. The corners are getting tired.
There is no way Army is going to even come close to beating Air Force and I say that as a Soldier in the Army. Sorry brothers Air Force is going to put at least 30 on you.
Boise State can run the ball too Air Force. Great run on the direct snap. Did anyone see that Kellen Moore was open on the play. They should have passed it to him and padded his Heisman stats.
Drive info: 11 plays, 72 yds in 5:00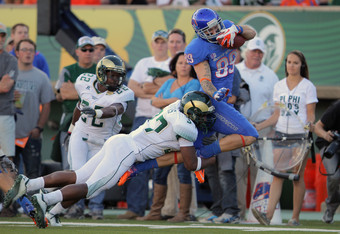 What is Boise State going to do when we don't have any more players to yell Shoeeeeee. They've had Shoemaker and Schuman in recent years. Coach Pete the Broncos need another person to yell shoeeeee at.
Boise State has to score a touchdown on this drive to keep Air Force at a distance. Turnovers are killing this Bronco offense. Boldwijn is taller and more athletic and he should have came down with the ball.
That is a touchdown and the Air Force defender stripped it. There is no way this is an interception. Even if it was he was out of bounds.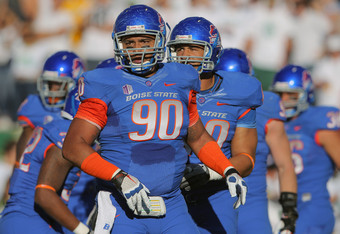 Ethan Miller/Getty Images
HALFTIME REPORT
In the first half, Boise State gave up a rare turnover on a Doug Martin fumble that lead to Air Force driving the ball down for touchdown. That being said I am not concerned the Bronco offense is looking very efficient both Martin and Moore are on gaining some major yardage.
The Air Force Triple Option is extremely effective with the Broncos defense having some trouble containing the myriad of plays that the Falcons use. However, I expected more points to be put on the board by Air Force as Boise State has never seen an offense like this. Credit has to go to Billy Winn in containing and disrupting Falcon QB Tim Jefferson. The Bronco defense has adapted well to one of the best rushing offenses in the country and even come up with some points.
For the Falcons to be successful they have to be more physical on defense. Something that may be tough as the Broncos are the larger team. The pass has been very successful for the Broncos and Kellen Moore is getting very comfortable in the pocket.
| | | |
| --- | --- | --- |
| | AF | BSU |
| 1st Downs | 12 | 11 |
| 3rd down efficiency | 4-9 | 1-3 |
| 4th down efficiency | 2-3 | 0-0 |
| Total Yards | 202 | 219 |
| Passing | 50 | 160 |
| Comp-Att | 2-7 | 11-13 |
| Yards per pass | 7.1 | 12.3 |
| Rushing | 152 | 59 |
| Rushing Attempts | 36 | 11 |
| Yards per rush | 4.2 | 5.4 |
| Penalties | 3-21 | 2-18 |
| Turnovers | 1 | 1 |
| Fumbles lost | 1 | 1 |
| Interceptions thrown | 0 | 0 |
| Possession | 19:55 | 10:05 |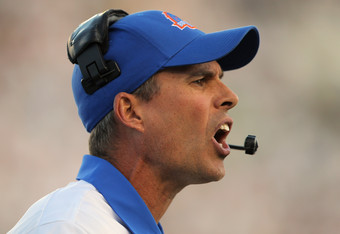 Yikes, Coach Petersen is pissed off about the fumble and the face mask which lead to a Air Force touchdown. He should be though. The Broncos are more disciplined then that. Credit goes to a very good rushing attack by Air Force.
Billy Winn is having a very good game. I have seen him in on at least five tackles, it has become obvious that his assignment was Air Force QB Tim Jefferesen.
Terrible decision on the fake punt. Boise State is the king of tricks and it came back and bit them.
Air Force was deep in their own territory and they had to go four yards and not only did they not get to the line of scrimmage the Bronco defense forced a fumble for a touchdown.
Bad call.
In completely opposite fashion Kellen Moore hastily drives Boise down field yet the kicking game is still bad. I've never seen a Boise State kicker have so many kicks blocked. Goodale really needs to elevate his kicks more. I miss Brotzman.
Drive info: 5 plays, 67 yds in 2:20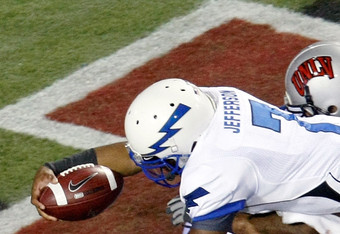 The last Air Force drive was 17 plays on 90 yds in and ate up 7:31 on the clock.
Air Forces ground attack seems to be rolling as the Falcons march down the field for a touchdown. That face mask call was the reason for this touchdown as the Bronco D had AF backing up.
But now Kellen Moore and company are well rested for the next drive and if BSU can keep from turning the ball over I expect a scoring drive here.
Jeez...do George Iloka's earrings get bigger every week? They are at least a half inch square.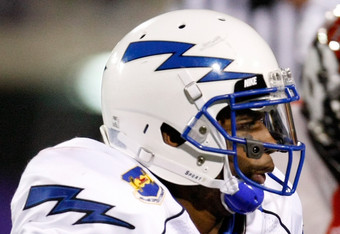 Well, I knew there would be a learning curve for Boise when facing the Air Force Triple Option but I didn't think BSU would get the stop right away.
Give credit to Air Force for being the first team to cross the 50-yard-line in the opening drive in the last 4 games.
After a second look I really don't think I like these Bronco uniforms. I would rather see the all orange uniforms then these really disgusting grey Boise State uniforms. I don't know why I liked them during the Virginia Tech game.
They don't seem to be deterring the Boise State offense as they just scored on a 24 yard touchdown pass from Moore to Shoemaker.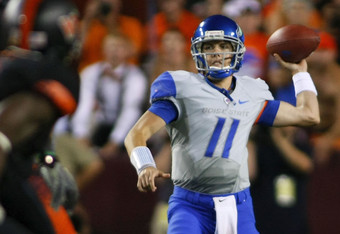 Boise State wearing their gray uniforms for the first time since defeating Virginia Tech in the opening game last year. This is the Broncos' first MWC home game where they are not allowed to wear their all blue uniforms.
Air Force will be wearing their white away uniforms and will actually have a fairly large following in Boise as their are two Air Force bases within 50 miles.
Both Gowen Field in Boise and Mountain Home, AFB in Mountain Home may bring a significant amount of Air Force fans and even a few academy graduate.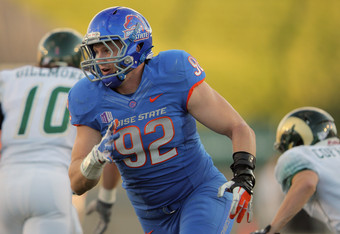 Players to watch in the game:
Boise State Offense: QB Kellen Moore, RB Doug Martin, WR Tyler Shoemaker, WR Matt Miller
Air Force Offense: QB Tim Jeffereson, RB Asher Clark
Boise State Defense: The whole D-Line
Air Force Defense: LB Jamil Cooks
Who: Air Force vs Boise State
When: 3:30 EDT, 1:30 MDT
Location: Bronco Stadium, Boise Idaho
Where to watch: Versus (Directv-603, DISH-151, Cable One Boise-326)
Weather: Hi 68, Lo 47 Partly Cloudy
Spread: Boise State by 30
Over/Under: 63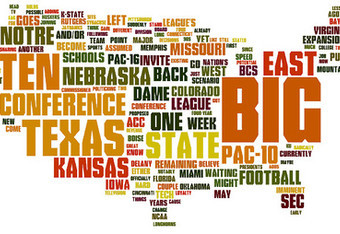 Currently there are no injuries or suspensions that will impact either team in today's game however some interesting conference realignment news has come out pertaining to both teams.
As you all know Boise State, Air Force, and a handful of other Non-AQ teams have been waiting for an invite to the Big East. A move that is potentially beneficial for both Air Force and Boise State but also will help the Big East to retain its BCS status. To counter this power play the Mountain West and Conference USA joined forces to creating a 22 team conference with championship game and a chance at AQ status.
Yet, no invite has come for the Broncos or Air Force from the Big East. That is because there is potentially something huge on the horizon.
The Boston Globe is reporting there are talks of all three conferences linking together to form a nationwide super conference consisting of 32 teams in four divisions leading to a 4 team playoff at the end of the year.
Under the plan, Super Mega Conference would consist of four divisions: West, Mountain, Central and the Big East.
With 32-teams, the West Division would consist of Boise State, Hawaii, UNLV, Nevada, Fresno State, San Diego State, Utah State and San Jose State.
The Mountain Division would have Air Force, Wyoming, Colorado State, New Mexico, UTEP, SMU, Tulsa and Houston.
The Central Division would be made up of Marshall, Memphis, Southern Mississippi, Tulane, UAB, Rice, Temple and Louisiana Tech.
And finally, the Big East Division would consist of Louisville, UConn, Rutgers, Cincinnati, South Florida, Central Florida, East Carolina and Navy. West Virginia is not included in this plan, as the Mountaineers would likely head to the Big 12 to replace a Missouri team that may end up in the SEC along with Texas A&M.
This would not effect Big East basketball and may be the main reason behind the delay in invitations. Either way a set-up like this would likely result in a BCS berth for the champion of the Eastern Big Mountain USA conference.
This article is
What is the duplicate article?
Why is this article offensive?
Where is this article plagiarized from?
Why is this article poorly edited?

Boise State Football: Like this team?