Air Force vs. Boise State: Live Score, Highlights and Analysis
October 21, 2011
Air Force 26, Boise State 37; FINAL
The last time Boise State faced a strong running attack was against Nevada last season, and we all know how that game turned out. However, this is a more experienced Broncos defense, and Air Force's triple option will be more manageable than the Nevada Pistol offense. 
Meanwhile, rumors continue to swirl as to whether one or both of these teams may be playing each other in the Big East Conference next year. However, the No. 5 Broncos are more concerned about racking up their 35th consecutive win at Bronco Stadium on Saturday and their chase for the National Championship than talk of conference realignment.
Boise State is coming off of two weeks of explosive performances where the Broncos have outscored their opponents 120-20. Against Colorado State, the Broncos were clicking in both the run and passing attacks, as both went for over 340 yards for the game. 
On defense the Broncos have been an immovable force (thank you for that, Versus), allowing only 14.5 points per game. Most of the yards allowed were through the air, something Air Force is not known for, but the Broncos will have to be very disciplined in their responsibilities and tackling—things that have faltered on occasion this season.   
The Falcons' defensive situation is complicated, to say the least. Not only do they have to get pressure on Heisman candidate Kellen Moore (who conveniently operates behind one of the best O-lines in the country) they also have to contain Doug Martin, the Broncos' hard hitting and speedy running back. Neither will be easy on their own, and both together will be virtually impossible.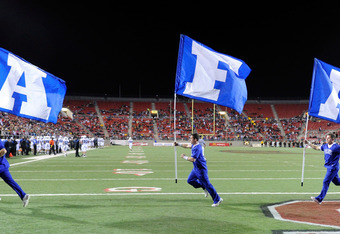 Ethan Miller/Getty Images
The Air Force offense is no slouch either, with the third-best rushing attack in the FBS. Led by Senior QB Tim Jefferson, the Falcons have ran the ball for an average of 336 yards per game which happens to be third best in the country.
On a side note, I would like to express appreciation to Coach Chris Petersen for saying this:
"When Air Force comes into our stadium, we need to applaud those guys. No booing whatsoever," Petersen said Wednesday night on his weekly radio show that airs on KBOI 670 AM. "We need to salute them and we need to applaud them."
As a fellow service member currently serving in the Army I can tell you that we all appreciate your class, Pete. 
Keep it right here on Bleacher Report for more live score updates, highlights and analysis.