2012 NBA Draft Big Board: Top 20 Players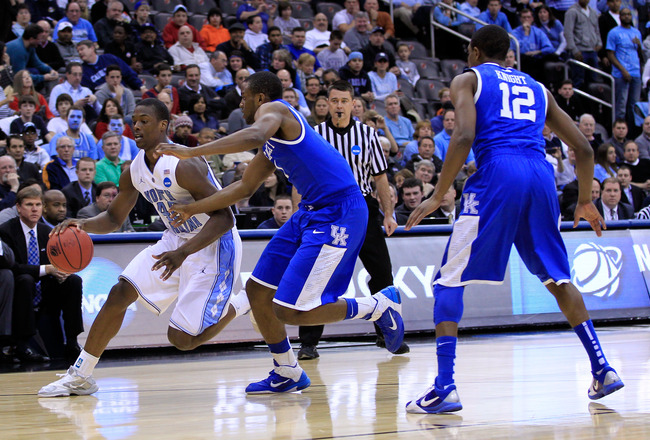 Chris Trotman/Getty Images
College basketball is right around the corner; if you're not excited, then you need to check your college hoops pulse.
There have been so many dominating freshmen that are returning to their respective teams, making this year a very special one in college basketball.
There will be plenty of great teams, and a good amount of good teams. Every game will determine each team's fate come March.
Speaking of March, this year's NCAA tourney should be one of the most exciting. Instead of one team dominating, there will be many teams with the ability to take home the prize.
Carolina and Kentucky are the front-runners to win it all this year, and should have a combined nine players taken in the first round with five possible lottery picks in the 2012 draft.
This year's draft class (unlike last year's) will be stacked full of talent at each position, and it will be one of the best and deepest draft classes the NBA has seen in a while.
1. Harrison Barnes, 6' 9" (UNC, SF)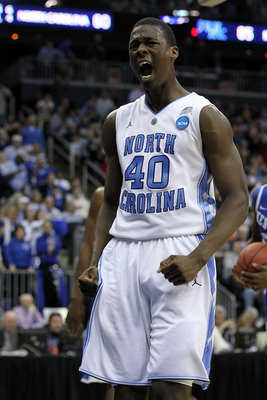 Nick Laham/Getty Images
Harrison Barnes is a beast, and from what I have heard coming out of summer camp, he has gotten much better and stronger.
Barnes struggled last year trying to live up to so many people's standards. But, once the Heels started ACC play, the young Barnes settled right into his game and became the most dominant player in the ACC and one of the most dominant players in the country.
Barnes averaged 16.7 points, 5.7 rebounds and 48 percent shooting. He also become the leading scorer in ACC tournament history for a freshman after a 40-point performance against Clemson.
Barnes has NBA scouts drooling at the mouth at his up-side and his potential.
He has the ability to put it on the floor and drive to the basket, and he can finish over bigger players at the rim. Barnes can get his own shot and is a clutch player.
2. Andre Drummond, 6' 10" (UConn, PF/C)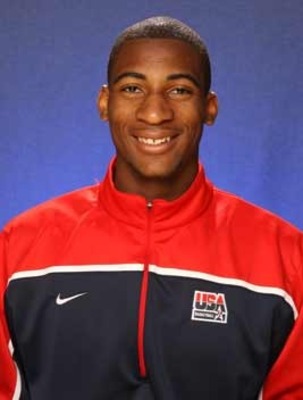 Andre Drummond has it all: He has great size, strength, length, athleticism and explosiveness like no other player in the country.
The only reason I have Barnes over Drummond is because Barnes, as of right now, is a more complete player and has more experience at the college level.
Drummond is a very strong player who uses his strength to punish his opponents on the inside. The man can take over games and get the defense to focus more on him due to his dominance in the middle.
3. James McAdoo, 6' 9" (UNC, PF)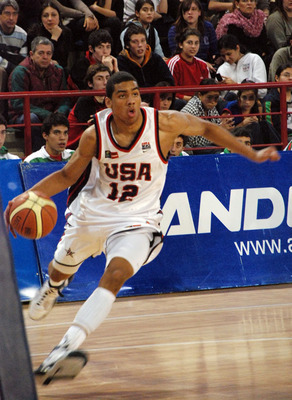 It's crazy that McAdoo is rated this high, yet he will be coming off the bench for the Tar Heels this season. This just shows how dominant the Heels could be this season.
McAdoo (or Macaroni, as the Heels call him) is the most versatile big man in the country. He can bang with the big boys down low, score over taller defenders or take defenders to the outside.
McAdoo has the ability to impact the game without having to have the ball in his hands at all times.
4. Anthony Davis, 6' 10" (Kentucky, PF)
Anthony Davis' eight-inch growth is what put him into the elite level. Formerly a point guard, Davis, now a power forward, will have to grow into becoming a dominant forward.
Davis is very versatile and creates mismatches across the board. Against small guards, he can can shoot over or drive and use his strength to finish above the rim.
Davis will be hard to guard, especially for other forwards. He has the ability to make forwards uncomfortable by moving them away from the basket to the perimeter.
5. Jared Sullinger, 6' 10" (Ohio State, PF/C)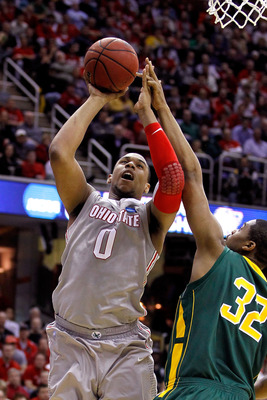 Gregory Shamus/Getty Images
Jared Sullinger is a man among boys when it comes to the low post. Sully was great last year for the Ohio State Buckeyes, and he should continue that dominance down low.
There is no one in the post that's as good as Sullinger.
Sullinger has advanced footwork and is really good at feeling out his opponent with his back to the basket. He is also extremely strong when attacking the basket.
Sully is the type of player that is a 20-10 guy every time he hits the court.
6. Jeremy Lamb, 6' 5" (UCONN, SG)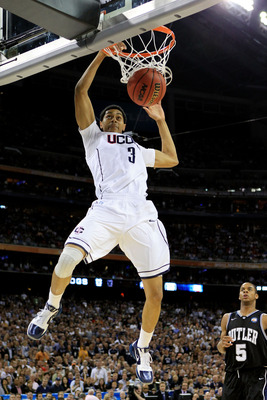 Streeter Lecka/Getty Images
Jeremy Lamb was the real key to UConn's success in March. He was incredible.
With Kemba Walker gone, Lamb should be UConn's No. 1 option.
Lamb has refined his game over the summer. Already a great slasher to the basket, Lamb took this summer to make his shot better and add a weapon to his arsenal, the pull-up shot.
Now, Lamb just needs to add some weight to that thin frame.
7. Michael "Kidd" Gilchrist, 6' 7" (Kentucky, SF)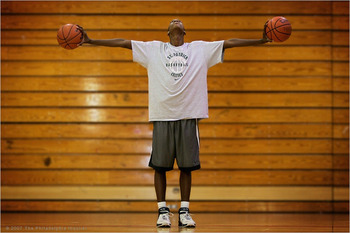 Michael "Kidd" Gilchrist is a great defender. At the college level, his role will be shutting down the best player on the opponent's team.
Gilchrist isn't the best player at creating his own shot or having a complete offensive explosion during a game, but he works hard, day in and day out.
He has great ball-handing skills and his good passing ability should get his teammates involved.
8. Marquis Teague, 6' 2" (Kentucky, PG)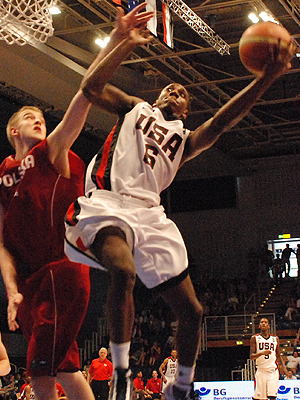 Marquis Teague, brother of Atlanta point guard Jeff Teague, is the top point guarding coming out of high school, bringing his talents to Lexington.
Teague has all the tools that a point guard should have. He has great size, elite speed, explosiveness and great ball-handling ability.
Teague is at his best when he can get out and run. He has the ability to score on a fast-break or put his teammates in a position to score.
NBA coaches love the point guard Teague has become.
9. Quincy Miller, 6' 9" (Baylor, PF)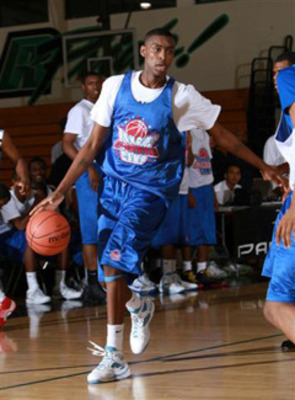 Quincy Miller is another one of those versatile forwards.
Miller has great size and the ability to back his defender into the post and score or take his opponent off the dribble.
Miller's only weakness is his shot. He has a hard time finding his shot, but if he fixes that, college should come easy for him.
10. Perry Jones, 6' 11" (Baylor, PF/C)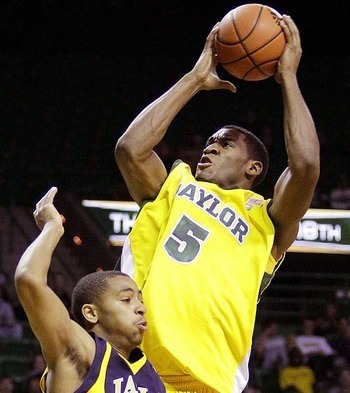 Perry Jones is yet another versatile big man that decided to return to school to up his game to the next level.
Jones has the ability to bang with the big guys down low and can also step away from the basket for a pick-and-pop style of play.
Jones has good speed for his size and is one of the best big men at running the floor.
All of these are tools that NBA scouts look for in big men.
11. Bradley Beal, 6' 4" (Florida, SG)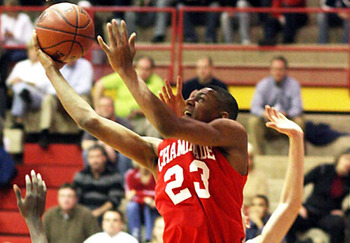 Bradley Beal is the top scorer going into the draft.
He is a little short for the position he plays, but he's a dominating scorer with the ball in his hands.
Beal can spot up, change directions, pull back and shoot off the dribble. He is a great ball-handler that has the ability to split double teams or spin away from pressure.
He has great scoring potential and a good defensive game.
12. John Henson, 6' 11" (UNC, PF)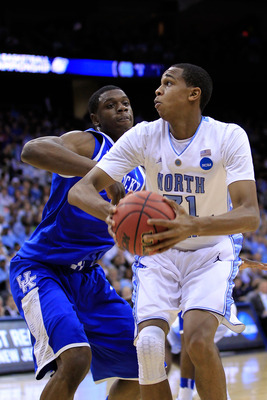 Chris Trotman/Getty Images
John Henson is a lengthy power forward at 6' 11". Henson is playing on a stacked Carolina team this year, predicted to go all the way in March.
He isn't the strongest guy on the floor, but he has some of the most finesse of any big man in the game.
Henson is tall enough and long enough that he can score over any big man. He has great shot-blocking ability, rebounding skills and is a great passer for a guy his size.
Henson is a Pau Gasol-type player.
13. Austin Rivers, 6' 4" (Duke, SG)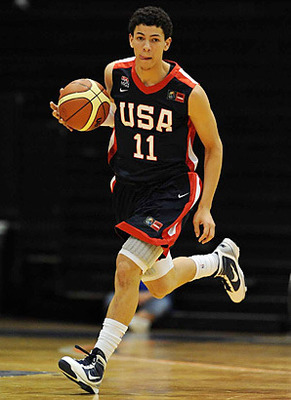 Austin Rivers has the ability to outscore a team by himself. He can score off the dribble or just shoot it from deep.
Rivers can pull the trigger from way beyond the three-point line. He is a streaky shooter, but once he gets on a roll, you better watch out.
Now that Rivers has joined a college team, especially one such as Duke, he will have to change his game mentality. Instead of becoming the next Kobe Bryant, he needs to play as part of the team.
14. Khris Middleton, 6' 7" (Texas A&M, SF)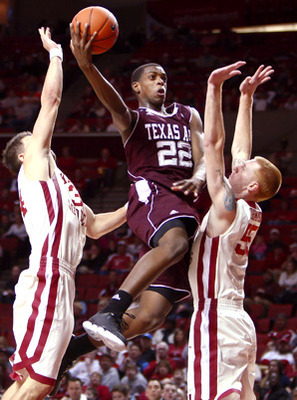 Khris Middleton is a great small forward prospect. He has great length and an automatic mid-range shot.
Middleton has been one of the most consistent players in college basketball as a sophomore, scoring double digits in 27 out of 33 contests.
He has mastered using his length to attack the basket and the 10-18 foot jump shot. Middleton still needs to develop his skills out to the three-point line.
15. Terrence Ross, 6' 6" (Washington, SG)
Kevin C. Cox/Getty Images
Terrence Ross hasn't gotten a lot of national attention, but he has the potential to be a Top-15 pick in the upcoming draft.
Ross has great size for a shooting guard, is deadly from beyond the three-point line and has NBA athleticism.
A lot of shooting guards aren't good without the ball in their hands, but Ross is an exception. He moves great without the basketball and has quickness, which allows him to beat players to the basket.
16. Josiah Turner, 6' 4" (Arizona, PG)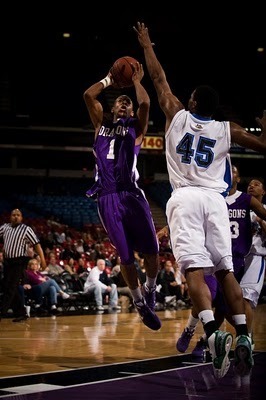 Turner has the potential to be one of the quickest guards in this draft. He has a wicked quick first step and the ability to get his shot off whenever he desires.
He gets great separation from opponents using a quick cross-over hesitation move that throws a lot of defenders off.
Turner has the ability to adjust in midair, which is great for the next level.
He also has the ability to be in a highlight reel whenever he touches the ball; this is going to be a fun guy to watch.
17. Doron Lamb, 6' 5" (Kentucky, SG)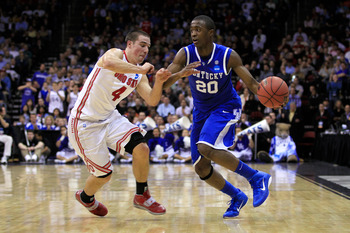 Chris Trotman/Getty Images
Doron Lamb is a great outside threat for Kentucky. As a freshman, he shot close to 50 percent from the three-point line.
Lamb should continue to grow from his success as a freshman and develop the rest of his game.
He is a combo guard, which is a great role at the next level.
18. Terrence Jones, 6' 9" (Kentucky, F)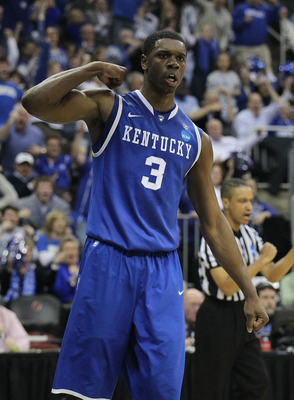 Nick Laham/Getty Images
Terrence Jones is a combo forward, meaning he can play both small and power forward. This is both good and bad for him.
When he goes up against a small forward, he is hard to guard because of his height. When he goes up against a big guy, he is outmatched in the post.
Jones, at 6' 9", has the ability to pull big men away from the basket and shoot the ball.
He needs to work on tuning up his game, and he needs to get more of an outside shot so he can make guys that outmatch him in the post feel nervous guarding him on the perimeter.
19. Kendall Marshall, 6' 3" (UNC, PG)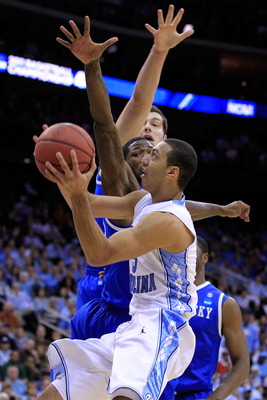 Chris Trotman/Getty Images
Kendall Marshall took over for the Heels about halfway through the season and completely turned the team around.
Before he took over, it looked like another disappointing season, but he completely changed the team's fate in Chapel Hill.
Marshall won't wow you with his blinding speed or make you jump out of your seat with his big dunk or flashy lay-up. To be honest, he is probably the most non-athletic point guard ever.
Marshall has his own game, and he is a pass-first kind of guard. He likes to get his teammates involved and puts the ball in spots where his teammates like it.
20. Tyler Zeller, 7' 0" (UNC, C)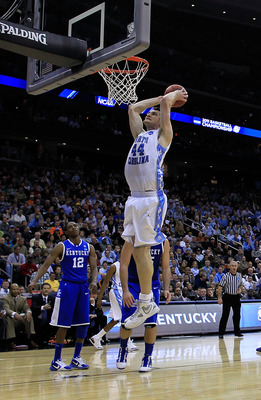 Chris Trotman/Getty Images
Tyler Zeller is a very underrated player.
He plays on a team where players like Barnes, Marshall, Henson and McAdoo get most the attention, but that is the way the seven-foot senior likes it.
Zeller is a great player. He has height, athletic ability and he can run the floor like a guard—scouts water at the mouth for a player like this.
He is a great finisher with both hands, has great strength and attacks the basket with a variety of post moves. Zeller should be a great center at the next level.
Keep Reading

UNC Basketball: Like this team?