Baby Penguins Banter: WBS Penguins News and Notes: Oct. 21, 2011
October 21, 2011
Tonight, the Wilkes-Barre/Scranton Penguins kick off a four-game road trip, their first extended journey of the season. They will start off in Springfield for a rematch of last Friday's game with the Falcons, then travel to Hershey and play the Bears on Saturday night.
Want to know what's going on with the AHL affiliate of the Pittsburgh Penguins? Look no further than this week's edition of Wilkes-Barre/Scranton Penguins News and Notes.
Home (Not So) Sweet Home
The Penguins are still looking for their first win at Mohegan Sun Arena at Casey Plaza.
After losing to the Bears and Connecticut Whale on opening weekend, the Penguins were blown out by a 7-4 score last Friday against the Falcons. Scott Munroe allowed five goals on 21 shots before being replaced by Brad Thiessen in the third period. Thiessen failed to do better, making three saves on five shots and allowing two goals on four shots.
The Pens were able to play close with the Falcons, tying the game at 2-2 and 3-3 before Springfield got two power-play goals 1:01 apart late in the second period. Bryan Lerg had two goals and Brian Strait had two assists.
Last Saturday night, the Penguins matched up with defending Calder Cup champions Binghamton Senators. Four different players (Lerg, Geoff Walker, Brandon DeFazio and Eric Tangradi) scored for Wilkes-Barre/Scranton, while Thiessen had 19 saves on 24 shots.
However, at 3:29 of overtime, Mark Parrish scored his second goal of the game to give the Senators their first win of the season.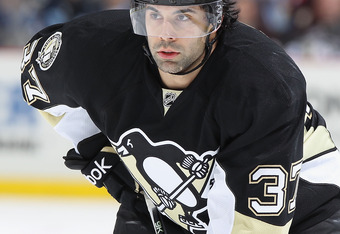 Christian Petersen/Getty Images
The Penguins are not home again until Nov. 4, when Hershey returns to Wilkes-Barre/Scranton.
Jason Williams to Make Penguins Debut
After missing the Penguins' first five games of the season with a groin injury, veteran forward Jason Williams will make his Wilkes-Barre/Scranton debut in tonight's game.
Williams has played over 400 NHL games with the Detroit Red Wings, Chicago Blackhawks, Atlanta Thrashers, Columbus Blue Jackets and Dallas Stars. Last season, he played in the AHL with the Whale and posted nine points. He also has AHL stints with the Grand Rapids Griffins and the Cincinnati Mighty Ducks.
Petersen Takes His Lumps
Last Saturday night, forward Nick Petersen made his season debut after missing the team's first three games with a concussion.
In the first period of the game with the Senators, a deflected puck hit Petersen in the face while he was sitting on the bench. He went down on impact, but returned later in the game despite swelling in his cheek and a black eye.
WBS Penguins Injury Update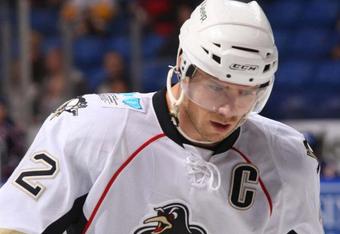 Like their parent club, the AHL Penguins are seeing their fair share of injured players. Here are the latest updates from Jonathan Bombulie of The Citizens Voice:
Team captain Ryan Craig underwent arthroscopic knee surgery and will miss two to two and a half weeks of play.
Defenseman Robert Bortuzzo has been working out in practice with contact after sustaining a knee injury in September's rookie tournament. He could return to the lineup next weekend.
Forward Ben Street, who has been on the shelf with a lower body injury, has been practicing with contact as well. He could be ready for this weekend, although Bombulie was not 100 percent certain.
Defenseman Brian Strait, who was called up to Pittsburgh to replace a suspended Kris Letang, was injured in Tuesday's game with the Minnesota Wild. It is believed that he has a hyper-extended elbow, but it is too early to tell if he will need surgery or how long he'll be out (Note: Strait injury update is from the Pittsburgh Penguins website). 
Keven Veilleux is out for six months after injuring his knee in a preseason game and needing surgery.
Newcomer Matt Rust broke his hand last weekend and is expected to miss three weeks.
Brian Day had groin surgery and is expected to miss about a month of action.
Penguins Fans Raise Money for Prostate Cancer Awareness
At last weekend's home games, the Penguins had containers out for fans to donate money to the American Cancer Society for prostate cancer education and research. Each container was labeled with the name of a Penguins player who was willing to grow a mustache for "Mo'vember," a prostate cancer awareness initiative. The players involved were Craig, Strait Tangradi, Colin McDonald and Zach Sill.  
After the money was counted, Sill had the most money in his jar and will grow a mustache with Penguins defenseman Joey Mormina next month. Mormina is participating in Mo'vember because his father-in-law is battling the disease.
The Penguins will continue to accept donations during November home games. For the month of October, fans contributed nearly $426.00 to the American Cancer Society.
Current Record and Upcoming Schedule
WBS currently has a record of 1-2-1-1 for four points and fifth place in the AHL's East Division.

The Penguins' next five games are as follows:
Oct. 21, Friday: at Springfield (7 p.m.)
Oct. 22, Saturday: at Hershey (7 p.m.)
Oct. 28, Friday: at Syracuse Crunch (7:30 p.m.)
Oct. 29, Saturday: at Manchester Monarchs (7 p.m.)
Nov. 4, Friday: Hershey (7:05 p.m.)
The games can be heard on 102 the Mountain, the Penguins' flagship radio station. Play-by-play announcer Tom Grace and color commentator Mike O'Brien will call the action and break down every play.
There is also an option to watch on AHL Live, and the cost is $6 per game. A variety of season packages are available.
This article can also be found on Bottom Line Hockey.