Why the San Francisco 49ers Should Sign Terrell Owens
October 22, 2011
Is it possible? Could Terrell Owens end his career in the city that he literally left in shambles? It was just eight years ago that Owens was manning the field for your San Francisco 49ers as one of the most dynamic receivers in the entire league.
Following the 2003 season, Owens had a fallout with the "powers to be" in San Francisco and was traded to the Philadelphia Eagles for Brandon Whiting—yes, that Brandon Whiting. The unfortunate end of Owens' career in San Francisco left a lot of fans and people within the organization bitter. A bitterness that many still feel today.
Still, there is no doubting the fact that No. 81 has been one of the most productive receivers in the NFL over the last decade. During that time, Owens has caught 110 touchdown passes and has seven 1,000-yard seasons. Additionally, he has matured over the duration of the last couple seasons with the Buffalo Bills and Cincinnati Bengals. It might have taken him to hit the mid-30s before acting like a consenting adult, but it finally happened.
Many people have come to the conclusion that Owens' career might be over, but that couldn't be further from the truth. He was on pace for over 1,000 yards last season with a struggling Cincinnati Bengals offense before missing the final couple games due to injury. In 2009, Owens had over 800 receiving yards for the Buffalo Bills, representing just less than one-third of the Bills' total passing yards that season.
Owens stays in shape because he is a workout warrior who spends hours upon hours attempting to keep his aging body in shape. This is something that he learned from the venerable Jerry Rice and has passed on to the likes of Chad Ochocinco and even Miles Austin throughout the years. He has a passion and commitment for the game that many of us wish every single San Francisco 49ers player would have.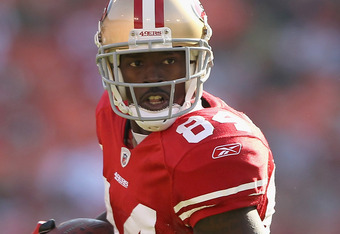 Ezra Shaw/Getty Images
Why would he fit in San Francisco right now?
The loss of Joshua Morgan to a season-ending injury a couple weeks ago really hurt the 49ers' receiving corps—over half of Alex Smith's targets went to Michael Crabtree against Detroit last week. While the former first-round pick stepped up to make nine catches, this isn't a sustainable situation on the outside.
Braylon Edwards will be returning following the bye this week, but we have no idea how he is going to fit into the offense at this point. I remain optimistic that Edwards will pick it up and become an important member of the offense, but that isn't a given at this point.
Terrell Owens would probably come on at the veteran minimum, meaning that it would be a low risk, high reward proposition. If it doesn't work out there is no further obligation to keep him on the roster. He wouldn't come in as a starting receiver, rather Owens would become the 49ers' slot receiver, replacing Joshua Morgan. This would create a ton of coverage problems for opposing defenses, considering his physical play at the line and that he will be lining up against nickel corners or starting safeties.
Just imagine a passing offense that consists of an improving Michael Crabtree, Braylon Edwards, Vernon Davis, Delanie Walker and Owens. That is enough to scare the living crap out of opposing defensive coordinators.
It is surprising that I can come to the following conclusion. Owens would be a good "mentor" to Michael Crabtree and other young 49ers receivers. He shows excellent route-running skills on the field and is probably one of the biggest advocates of off-field workout programs and keeping his body as fit as possible. This is something that people have questioned in regards to Crabtree: his work ethic.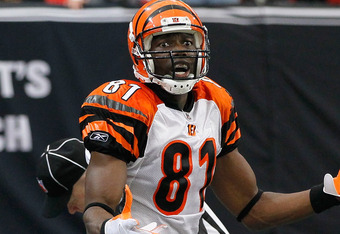 Kevin C. Cox/Getty Images
Why he wouldn't fit in San Francisco right now?
While I am advocating that the 49ers sign Owens, I am not oblivious to certain issues that bringing him in would cause. First, he has a reputation for being a cancer in the locker room. Right now, the 49ers have a good thing going in regards to chemistry, and his signing could mar that a little bit.
Secondly, there is no given that Owens would actually be able to contribute this season. He does have a tremendous history of coming back from injury, but at 37 years old, there remains questions as to whether his body can actually come back from a devastating ACL injury.
Finally, it remains to be seen if either side would be open for a return of Owens to the Bay Area. He may still hold a grudge in regards to how his stint with the team ended eight seasons ago. Also, it is common knowledge that 49ers fans are still upset by how Owens set this franchise back with his attitude and actions early in the century.
I have no idea how Jim Harbaugh and Trent Baalke feel about it. Neither have been willing to comment on Owens specifically, instead saying they are continually looking to improve at every position, including wide receiver.
Will it happen? A conclusion
The chances that Owens returns to San Francisco is unlikely at this point. The 49ers' chemistry appears to be at an all-time high, and his addition could harm that. I have reached out to Owens to get a comment about a possible return to Northern California. Not surprisingly, he refuses to comment on specifics.
By advocating the return of Owens to San Francisco, I may be subject to some criticism; however, his addition would make the team better on the field and create a lot of mismatches for opposing defenses. I still can't get over the possibility of Owens lining up in the slot next to Vernon Davis with Edwards and Crabtree on the outside.
This is probably wishful thinking, as I would put the percentage of Owens returning to San Francisco at under 10 percent.