Jets vs. Chargers: Week 7 Preview, 4 Things To Watch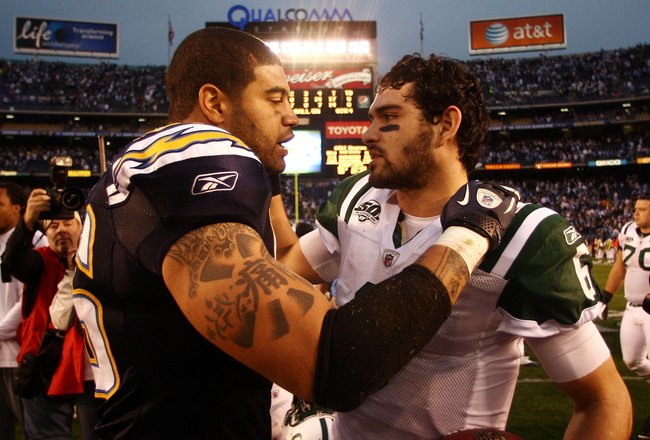 Donald Miralle/Getty Images
The San Diego Chargers will travel to MetLife Stadium to take on the New York Jets in a critical Week 7 showdown on Sunday.
The Jets (3-3) come into this game off a 24-6 win on Monday night against the Miami Dolphins, though the game was closer than the score says.
Meanwhile, the Chargers (4-1) are fresh off a bye and are riding a three-game winning streak.
This game is seen as a "must-win" for the Jets, who find themselves looking up at both the Buffalo Bills and New England Patriots in the standings in the AFC East.
Here is what to watch for as these two playoff-caliber teams square off on Sunday.
Turnover Battle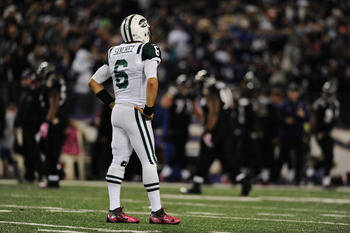 Patrick Smith/Getty Images
Turnovers play a critical role in every game, but they will take on an even bigger role in Sunday's matchup. As usual, Mark Sanchez needs to worry about protecting the ball, but he isn't the only one.
Philip Rivers has thrown seven interceptions so far this season, which is more than Sanchez and Sanchez has also played in one fewer game. Both of these teams have turned the ball over at least 10 times.
Facing a New York Jets secondary that is tied for third in the league in interceptions won't help Rivers. In a game featuring two evenly matched teams, the one who makes fewer mistakes is likely to emerge victorious.
Ex-Chargers Against Familiar Faces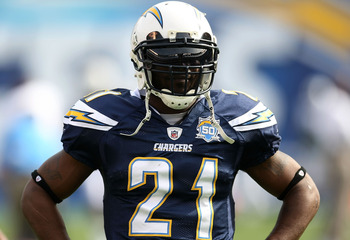 Stephen Dunn/Getty Images
The New York Jets have two former San Diego Chargers who will be playing their former team for the first time on Sunday.
Most notably, LaDainian Tomlinson will face the team with which he spent the first nine years of his career and set NFL records. With that in mind, Rex Ryan announced Tomlinson would start against his former team.
Whether he sees a larger role than normal remains to be seen, though he should be playing with extra motivation this week.
Antonio Cromartie will also make his first appearance against the team that traded him in 2009. Cromartie is a streaky player and you never know if your going to get the good Cromartie or the bad one. Perhaps, we will see the good Cromarite as he tries to stick it to his former team. We could also see the bad Cromartie as he tries too hard to make an impression.
Can the Jets Stop the Run?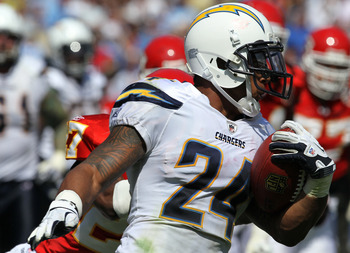 Stephen Dunn/Getty Images
The normally stout New York Jets run defense has been a shade of its former self and through six games resides in the bottom five of the league.
It doesn't get any easier as the Jets face Ryan Mathews this week. After struggling in his rookie season, Mathews looks like a new runner this season and is finally living up the hype that made him the 12th overall pick in the 2010 NFL draft.
It will be tough for the Jets to shut down Mathews, but if they can contain him and not allow any big runs that will be considered a success. They might want to consider giving Kenrick Ellis some more playing time after the rookie made a few nice plays in his season debut last week.
How Will Antonio Gates Play?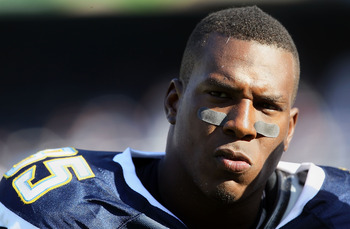 Jeff Gross/Getty Images
Antonio Gates is set to play for the first time since Week 2 on Sunday against the New York Jets.
Gates has been battling a foot injury and still isn't 100 percent, so it will be interesting to see how effective he is.
If he is the regular Antonio Gates, that means big trouble for the Jets. The Jets have had problems covering tight ends for the past couple years and Gates is as big and athletic as they get. Also he will be a big help to Philip Rivers in the red zone, as the Chargers have had problems scoring touchdowns down there without him.
If Gates is hobbled and not his regular self, then the Jets will catch a major break. They can afford to single-cover Gates while putting more attention on Vincent Jackson and stopping the run.
Keep Reading

New York Jets: Like this team?