Toronto Raptors: Top 5 Point Guards in Franchise History
Robert Skeoch/Getty Images
If the 2011-2012 season eventually happens, it will be the 17th season in Toronto Raptors franchise history.
The Raptors have had some very good point guards over the years—some have been scorers, some have been defensive stoppers and some have been playmakers. This offseason hasn't had much for Raptors fans to discuss, so why don't we take a look at their top five point guards ever?
Keep in mind that this is not a list of the best point guards that have ever worn a Raptor uniform. If that was the case, Chauncey Billups and Mark Jackson would obviously deserve to be included.
This is a list of the point guards who have shined the most as a Raptor.
As is often the case with lists like these, there will probably be disagreement from some of you. If you don't think that these rankings are perfect, feel free to provide your own in the comments section.
Here are the top five point guards in Raptors franchise history.
5. Rafer Alston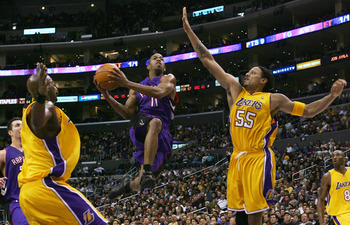 Lisa Blumenfeld/Getty Images
Rafer "Skip to My Lou" Alston came into the NBA as a streetball superstar, as it was his impressive ball-handling skills in his AND1 mixtapes that prompted the Raptors to sign him.
Admittedly, Alston never reached his full potential with the Raptors, and was involved in drama during both of his Raptors stints, including a fight that almost occurred between Alston and then-head coach Sam Mitchell.
Still, Alston showed on many occasions how good he could be during the 2004-2005 season, when he averaged 6.4 assists, 1.5 steals and 14.2 points per game.
For some, Alston's inclusion on this list may come as a surprise, but he gets the nod due to his court vision and ability to move the ball.
4. T.J. Ford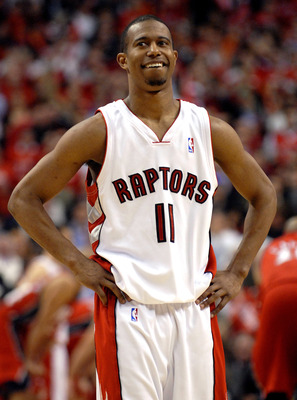 Dave Abel/Getty Images
T.J. Ford is one of the best scoring point guards the Raptors have ever had.
Acquired in 2006 from the Milwaukee Bucks in exchange for Charlie Villanueva in a highly contested trade amongst Raptor fans, Ford was brought in to be the starting point guard, but ended up playing in tandem with Jose Calderon.
As a Raptor, he averaged 7.1 assists and 13.2 points per game and led the franchise to its first and only Atlantic Division title.
Unfortunately, the two-headed point guard scenario with Calderon did not work, as both players wanted more playing time, so Ford was traded to the Indiana Pacers in 2008.
Ford was known mainly for his quickness and his ability to score in the clutch, as he helped to bail out the team in several late-game situations.
3. Alvin Williams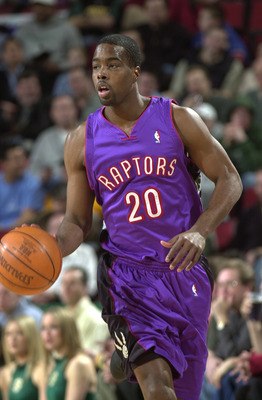 Otto Greule Jr/Getty Images
Alvin Williams was the point guard during the most successful period in Raptors franchise history.
Williams' contributions to those first few playoff teams largely went unnoticed, due to the fact that superstars like Vince Carter and Tracy McGrady were also on those teams.
He was a steady hand on the floor who knew how to find those talented teammates. He was also unafraid to drive to the bucket himself, which made him a significant weapon on those teams.
Although his playing career was prematurely cut short by a knee injury, he has managed to stick with the franchise, as he is currently the director of player development for the Raptors.
2. Jose Calderon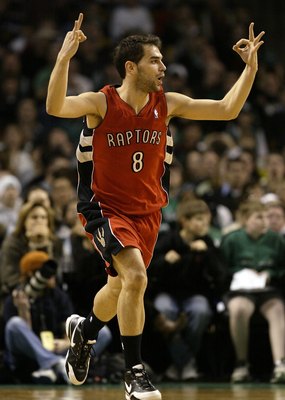 Elsa/Getty Images
Jose Calderon is the current starting point guard for the Raptors, and has done quite a bit over his career for an undrafted guard from Spain.
In the 2008-2009 season, Calderon set an all-time NBA record for free-throw percentage during a single season, as he made 98.05 percent of his free throws. That's no small feat, especially when one considers that Ray Allen placed fourth all-time in the same season with 95.18 percent.
He is also the franchise leader in assists (2,932) and assists in a single game (19 twice, once vs. Chicago and once vs. Minnesota).
Defensive liabilities aside, Calderon has been a vocal leader for the Raptors, and always seems to bring a positive attitude whenever he is on the floor. He also has a knack for finding his teammates without turning over the ball, which is an important skill for a point guard to have.
1. Damon Stoudamire
Damon Stoudamire, known affectionately as Mighty Mouse, was the first face of the franchise. Older fans will appreciate the Stoudamire commercial shown here (see left).
Drafted seventh overall, he was the second-lowest pick to ever win the Rookie of the Year award, which he received for the 1995-1996 season. Coincidentally, former Raptor Mark Jackson was the lowest (drafted 18th overall).
During that year, Stoudamire averaged 9.3 assists and 19.0 points per game, as well as four rebounds and 1.3 steals.
For an expansion team that was an underdog in every game they played, the short and plucky Stoudamire was the perfect leader, as he was a scrappy player that never gave up.
His teams did not have very much success, but he set a high standard for the point guard position that fans of the Raptors have never forgotten.
Keep Reading

Toronto Raptors: Like this team?