Colby Lewis: Poor Man's Cliff Lee Could Be 2011 World Series Hero
October 21, 2011
Ezra Shaw/Getty Images
When your team is down 1-0 in the World Series, it's definitely not time to push the panic button. However, if you're a Texas Rangers fan, and C.J. Wilson has just had his best start of the postseason and he pulled it off at Busch Stadium...it's okay to at least shatter the protective glass casing of said panic button.
Especially considering that the highly vaunted offense could only manage two runs against a less-than-perfect Chris Carpenter.
Not that the equally uber-publicized Cardinals offense has been much better. 
Who could have possibly predicted that two great offenses such as the St. Louis Cardinals' and the Texas Rangers', would have completed the first two games of the 2011 World Series with eight runs scored combined?
The Rangers scored nine runs in the Game 6 of the ALCS, in one inning. The Cardinals' potent attack plated 12 in their NLCS clincher.
And, starting pitching was supposed to be the key problem for both teams as they headed into the Fall Classic.
Go figure.
The Texas Rangers' key shutdown, slam-dunk reliever had been Alexi Ogando. Ogando boasted an ERA below one (0.87) this postseason coming into the Fall Classic.  Many wondered if he should be put back into the rotation. Nope, can't do that, because then who'd bail out the Rangers starters? Scott Feldman can't do it all by himself.
The St. Louis Cardinals' "closer" (parenthetical device used due to the fact that Tony LaRussa hasn't yet dubbed Jason Motte the man) was about as unhittable as you can get: in his prior 28 innings pitched—coming into Game 2—he'd surrendered exactly one base hit.  
Fast-forward to now.
Ogando has allowed the go-ahead inherited runner to score in both games. And both times the key hit off of Ogando was from pinch hitter Allen Craig.  
Motte surrendered two hits to back-to-back hitters in the ninth inning of Game 2, to single-handedly earn the loss and loosen the stranglehold the Cardinals could have had, if they held on.  When a team is down 0-2 in a seven game series, I refer to that precarious position as the "slow death."  
Down 0-2, sure, your team can comeback (since 1955, it's happened 10 times, most recently in 1996.) But it's not likely.  They can give you hope, win a game, even tie it up 2-2, but essentially—and statistically—it's a slow bleed-out as you prepare yourself for baseball's Grim Reaper: another title-less offseason.
In the Texas Rangers' 2-1 Game 2 victory amongst cold weather and frozen squirrel suits in Busch Stadium, the Rangers—thanks to Colby Lewis—have outlasted the "slow-death" and are now in a great position with the series coming back to their home, where it belongs, (no thanks to Bud Selig) in Arlington, TX.

All hail Colbyashi, the poor man's Cliff Lee
Let me be quite clear: Jaime Garcia, who was the first Mexican-born pitcher to start a World Series game since Fernando Valenzuela, was absolutely outstanding.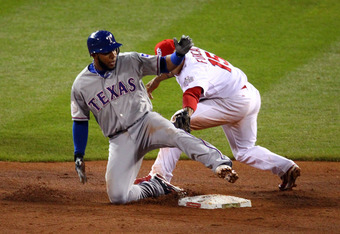 Dilip Vishwanat/Getty Images
It's a shame his bullpen couldn't close the door after such a strong outing.
But on this night, and with the Cardinals' offense supposedly licking their chops to get after the only right-handed starter they'll see this World Series, the night belongs to Lewis.
Over his six-and-two-thirds innings pitched he held the Cardinals to four hits, while striking out four and walking two. It's  hard to believe that after posting the American League's fifth-best ERA (3.79)—and Major League baseball's second most shutouts—that their first postseason quality start would come in Game 2 of the World Series.
Cliff Lee had a quality start (the term "quality" down plays its excellence quite a bit) in the 2010 Texas Rangers first game of the postseason, in the ALDS at Tampa Bay. 
However, Cliff Lee gave up six earned runs in his Game 1 World Series start last October versus the Giants. To Lee's credit, he was much better in Game 5 in Arlington, TX, as he surrendered just three earned.
Yet due in no small part to Lee's Game 1 struggles, the slow death had already crept in, and its prey was the Texas Rangers. The magic had vanished, and it was just a matter of time until their title hopes would vanish. 
Lee is now 2-2 in World Series starts, with a 4.55 ERA in his four games. He made $11 million last year, and got obliterated by the Cardinals in his only start this postseason.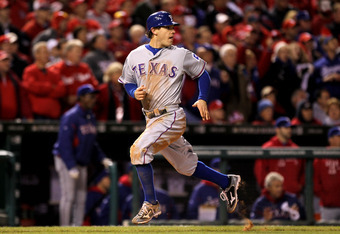 Ezra Shaw/Getty Images
The $11 million is more than twice what Lewis has earned over his two-year deal with Texas (he has a team option at $3.25 million that the Rangers need to jump on right now).
And the $11 million is getting off easy, as Lee's locked in to 2015 (with an 2016 option) and will cost the Phillies $120 million, total. In all likelihood, he'll be worth it.  
Lee stands a great chance of getting the Phillies into the World Series for years to come. But as of right now, this postseason...Lewis, the "Big Man from Bakersfield" is the poor man's Lee. And he need not be poor much longer.
The Texas Rangers should think about renegotiating "King Colbra's" contract—even before they talk cold hard cash with Mr. Wilson.
"Colbyashi" has saved his Texas Rangers from the almost-inevitable slow death of the dreaded 0-2 hole.
Lewis was the penicillin that the Rangers needed to ward off the nasty contagion, the time-honored tanking of an 0-2 World Series start. For Texas Rangers fans, Lewis is an early World Series hero.
Now with a sparkling 4-1 postseason record with an equally impressive 2.22 ERA, there's a new king in town. And unlike Clifton Phifer Lee, King Colbra is getting the job done on time, and under budget.

Follow Timothy on Twitter @TMurrayHowell—he follows back, but not in a creepy way. Or hit him up on Facebook—you know you have an account.