Liverpool FC Missing out on Champions League Makes Watching It More Enjoyable
October 21, 2011
Alex Livesey/Getty Images
Nothing would make me happier (save a Premier League trophy or Manchester United being relegated) than seeing Liverpool in the Champions League next season.
However, thinking back to some of the epic matches in the past decade—the pulsating quarter-final victory against Arsenal in 2008, that defensive master-class against Barcelona in 2007, and who could forget the miracle in Istanbul in 2005—the realisation has dawned this season that watching Champions League matches is infinitely more enjoyable when I don't have to worry about my team being eliminated.
Watching Liverpool on a regular basis is stressful enough. The 1-1 draw with United this Saturday was excruciating once we went ahead because nobody scores late goals better than Sir Alex Ferguson's team, as they once again underlined.
Every missed pass or yellow card feels like the onset of a migraine, any blown opportunity or contact with the woodwork is pure agony. This of course is balanced by a Liverpool goal, which when shared amongst 50 screaming Reds fans is pure ecstasy.
Tuesday I watched Manchester City's pitiful win over a spirited Villareal side thanks to a United-esque last minute winner from substitute Sergio Aguero. I could fully enjoy this spectacle as I was completely unconcerned with who won and therefore could watch stress-free.
Not having my team in the Champions League also allows me to cast my magnifying glass over teams I don't know much about in an effort to broaden my knowledge.
I have thoroughly enjoyed the exploits of Napoli, who gave City a lesson in tactics on the European stage through the creative vision of Marek Hamšík and deadly finishing of Edinson Cavani.
They are now my pick for the tournament and I will closely monitor their progress (although beating out City and Bayern Munich is a tough ask).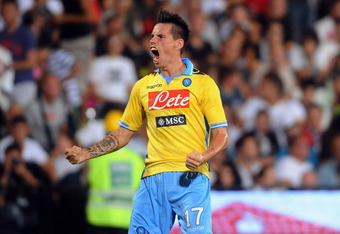 Mario Carlini / Iguana Press/Getty Images
It also has brought up little interesting facts that I may not have noticed before. Consider the case of United's opponents on Tuesday: last season's Romanian league champions Otelul Galati. Instead of hosting this lucrative tie in their home town Galati (Orelul translates to "steel", as the team was founded through Sidex, a steel factory now owned by Mittal), they played instead at the Stadionul National in Bucharest, a state-of-the-art facility which only opened its doors at the beginning of September.
Revenue gleaned from simply participating in the Champions League is a massive windfall for this "small" club, and will serve to strengthen their side in an effort to remain in Europe's premier club competition in future seasons. Simply put, if Liverpool had played yesterday I would have recognized United were playing some crap eastern European club and nothing more.
In the same vein, Arsenal faced Marseille Wednesday and it was the first time Arsene Wenger has been back to the French city since leaving Monaco in 1994. Nothing special on the surface here, but delving a little deeper reveals the intense rivalry between the two clubs.
In the early 1990s a scandal emerged revealing ex-Marseille president Bernard Tapie having bribed opposition players to take it easy on his team. Monaco were runners up to their bitter rivals, and although Marseille were stripped of their 1993 title that could have been another medal in Arsene Wenger's cabinet.
I could have even made an effort to watch Joe Cole attempt to help Lille overcome Inter Milan on Tuesday (which they didn't). The Englishman has been enjoying life on the continent so far this season. And despite providing Liverpool with very little value, he is now enjoying Champions League football alongside one of the hottest properties in the game in Edin Hazard.
Clive Rose/Getty Images
Kenny Dalglish as well as Liverpool fans in general have been keen to stress that not playing on the continent is actually a boon, allowing us to concentrate 100 percent on the league. It's a positive spin on a pretty depressing scenario, but we'll see in May whether or not skipping these mid-week matches will keep our players fresh for weekend clashes.
At the end of the day I really do miss those European ties, as it seems Anfield grows tenfold when welcoming in continental giants in the knock-out stages. The compassion on display when welcoming Juventus for the first time since the Heysel disaster was heartwarming. On the other hand, being able to witness my team hand out a lesson in football to the mighty Real Madrid (4-0 at Anfield in 2009) is something that I still think back on.
But at least I don't have to watch us paired with Chelsea in the knock-out stages. Again. And again.
Tuesdays and Wednesdays are now simply an opportunity to see teams I wouldn't otherwise watch, as well as throw my unconditional support behind any club playing against Manchester United.