NFL Week 7 Picks: Vegas Gets Denver Broncos vs. Miami Dolphins Wrong
October 21, 2011
Bart Young/Getty Images
On Sunday, October 23rd, the Denver Broncos will earn their first road win of the season at Sun Life Stadium against the Miami Dolphins.
Vegas has placed the Dolphins as high as a three-point favorite going into this Week 7 matchup.
Vegas is wrong.
The Dolphins are coming off of their ugliest loss of the season after losing starting quarterback Chad Henne.
Matt Moore played like a rookie indeed against the New York Jets on Monday Night Football.
When this Dolphins team had the chance to make a game of it after giving the ball away—and scoring Darell Revis a pick-six early on—they did exactly what they were expected to do.
They did nothing—all night.
Even after four straight three-and-outs from Mark Sanchez and the Jets offense to start the game, the Dolphins were still unable to gain any momentum or score anything more than two field goals.
Those two field goals would be the only points they would score all night as the Jets slowly added to their total score.
The Dolphins now come home, on a short week, to face the Broncos and Tim Tebow in what is basically a home game for Denver.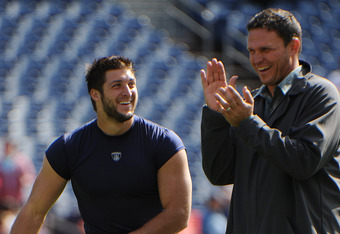 Bart Young/Getty Images
Tebow, and the 2008 Gators Reunion being held at Sun Life, are reportedly responsible for the sale of as much as 5000-7000 tickets since the August announcement of the event.
There's already too many Tebow jerseys in the stands at Denver's home games, but this road trip looks to be plastered with the number 15.
The excitement that Tebow brought to the field two weeks ago against the San Diego Chargers was almost enough to topple the division giant late in the fourth quarter.
Is it really anyone's opinion that the Dolphins, who couldn't win if they were being paid to—apparently they must not be—will stop the the spark that Tebow brings and score their first and what could very well be only win of the season?
I really doubt it.
Don't get me wrong, Tebow will most likely not be the deciding factor in this game. But he will contribute and his on-field energy will be the force that compels his team to play for the win.
Even Denver's defense was a new unit after Tim took the field two weeks ago, and it's hard to believe that they plan on slowing down against the only team they have a great chance of beating this year.
There is such a thing as a trap game in the NFL, but first you have to win some games.
Denver has failed to bring away a win for three weeks, so there's really nowhere to go but up from here.
Look for play-makers like Eric Decker and Von Miller to command both sides of the ball on Sunday.
And watch for the beginning of the resurgence of wide receiver Demaryius Thomas as he starts his trial toward proving himself to be more than just another Josh McDaniels draft bust.
Tebow will command control of the highlights of this game, the Tebowmaniac media will make sure of this, but the biggest contributors this week will be his supporting cast.
Denver's been a part of some very close games this year. They have won by two, and lost by three, three, and five points. Aside from one blow-out, there's not much keeping Denver from a great record, or a winless one.
This week the Broncos will participate in their first one-sided game this year—at least in their favor—as they topple the Dolphins and send them "Sucking for Luck" for at least one more week.
Denver 31, Miami 14—Don't pick Miami to even get close to making this spread.
P.S. Happy Birthday Willis McGahee.