Oklahoma State Cowboys vs. Missouri Tigers: BCS Impact and Prediction
October 21, 2011
Erich Schlegel/Getty Images
Oklahoma State is playing the best football in their program's history so far in 2011—but they're not going to be handed a victory vs. Missouri by any means. The Tigers have bean beaten down by a brutal schedule—and while they may not win this one, they haven't backed down to a single team on their schedule yet.
Oklahoma State has to take down Mizzou if they hope to remain in the top 10. With 10 undefeated teams remaining, even a minor slip-up would end the Cowboys' national championship dreams.
Missouri has hopes of reentering the top 25, and taking down a top-5 team would be a phenomenal start in doing so.
Let's take a closer look to see which of these talented teams is going to walk away with a victory.
Where: Faurot Field in Columbia, Missouri
When: Saturday, Oct. 22 at 12:00 p.m. EDT
Watch: FX National Broadcast
Listen: KOKB 1580 AM (Oklahoma State); KBXR-FM 102.3, KFRU-AM 1400
Betting Line: Oklahoma State (-7.5)
Who Might Not Play For Oklahoma State:
Jonathan Rush, OL, (Knee) Out for Season
Devin Hedgepeth, CB, (Achilles) Out for Season
Johnny Thomas, S, (Eligibility) Out for Season
Who Might Not Play for Missouri: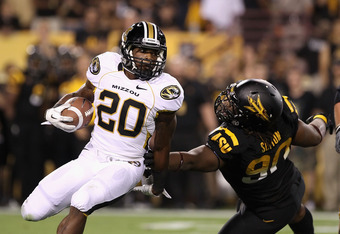 Christian Petersen/Getty Images
Will Ebner, LB, (Ankle) Questionable
Brandon Durant, LB, (Knee) Out for Season
Elvis Fisher, OL, (Knee) Out for Season
Marcus Murphy, RB, (Shoulder) Out
Key Storyline:
Is Oklahoma State a National Championship contender? The Cowboys have jumped out to a 6-0 start, but there are many who aren't sold on them being ranked above other unbeaten teams. Missouri is a promising squad and taking them down brings Oklahoma State one step closer to going into their game against the Sooners without a loss.
BCS Implications
A loss by Oklahoma State would send them plummeting in the rankings. Win and they should remain in the top 5 for at least another week.
Oklahoma State Player to Watch: Justin Blackmon
Justin Blackmon has fallen off considerably. He has been held under 100 yards in three of his last four games—highly uncharacteristic for Blackmon. If Oklahoma State is going to win the Big 12, they will need Blackmon to reassert himself as a dominant force.
Missouri Player to Watch: Henry Josey
Henry Josey has rushed for over 125 yards in three of his last four outings. He's averaging a ridiculous 9.7 YPC and has proven himself as a force out of the backfield. He rushed for 133 yards and a touchdown against Oklahoma and will make his presence felt early and often in this matchup.
Key Matchup: QB Brandon Weeden vs. QB James Franklin
Brandon Weeden is the heart and soul of Oklahoma State. He's thrown for over 2,000 yards already and the 28-year-old quarterback has also tossed eight touchdowns without an interception in his last three outings.
James Franklin has thrown for 1488 yards and ten touchdowns this season and will do his best to keep up with Weeden. Once Josey starts to take off, it will blow the field wide open for Franklin to carve up the Oklahoma State defense through the air.
Prediction: 
Take Missouri and the points. Missouri only lost by 10 to Oklahoma on the road and aren't going to back down in front of their home crowd. They may not have played anyone, but they're undefeated at home and itching for a signature victory.
Oklahoma State 44, Missouri 38