The 9-9-9 Challenge: 9 Hot Dogs, 9 Beers, 9 Innings
October 20, 2011
I don't remember the first time I heard about the 9-9-9 Challenge, but I knew that I had to at least try it. I told my friends, Mike Moriatis and Mike Traphagen, about it earlier this baseball season and the three of us were down to attempt the feat.
Rather than do it at a ballpark where it would cost close to $200, we decided to attempt it during Game 1 of the World Series. We have been planning this for months. So, I decided to write a running account of what happened on Wednesday night.
The 9-9-9 Challenge is simple: You eat nine hot dogs, drink nine beers and do it during a baseball game, so for nine innings. If the game goes extras, you don't need to continue playing. You can eat and drink ahead of the action if you so desire, as long as you go all 9 for 9.
There is a website dedicated to this (of course) so check out 999allstar.com where they have official rules, a Hall of Fame and gear.
The 9-9-9 Challenge is a ridiculous culinary feat that should be featured on Man Vs. Food, but only if the hot dogs were Dodger Dogs and the beers were from Stone Brewery. Since there are no official rules on the dogs or the beer we went with regular hot dogs and Bud Light.
Now, so everyone knows, we are not big Bud Light fans (drinking it only when it's over 100 degrees outside or when we're trying to get absolutely smashed) but for the sake of the evening this was the best beer to drink so it wouldn't completely weigh us down.
By the way, all photos are taken by Mike Moriatis, a hell of a good photographer. Check out his work here: unitstills.net)
Here is the running diary of the evening: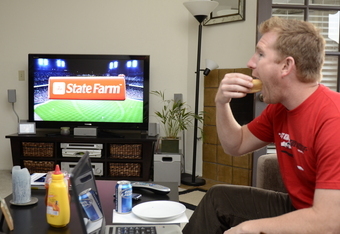 By the time Ian Kinsler was thrown out trying to steal second, I was done with my dog & halfway through my beer. Good start? Who knows?
A quick half inning is not a good start. At the commercial break I finish my beer. MM has about half left. Oh wait, now he doesn't.
By the way, we are all rooting for Texas.
MM: Did you see the kid who dressed up as Ron Washington?
Me: Yeah. I think he snorted coke just like Washington too.
It took five outs for us to bring up Tony LaRussa's shingles. Damn, those pictures are awful. But funny.
End of the first inning. "Two!" we yell.
Mike T. shows up at the start of the second inning because he couldn't break away from work early enough. Something about a writer not getting his facts right, claiming a man was dead when in fact he was still alive. Hmm, good research there, bud.
We have two dogs and two beers as soon as he walks in. He takes a pee break instead. Bad move. Never break the seal.
MM: Hey, are you purging before you even get started?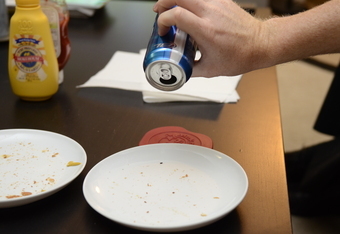 MT is through 1 dog when Nelson Cruz walks in the second. He is now 3/4 done with his second by the time it's 2-2 to Napoli. He is going far too fast. Kobayashi would be proud, but MT's stomach is probably not. Napoli just rolled into a double play, MT finishes his second dog during the Budwesier commercial. He is firing them down at a rapid pace.
Mike M. is a Cubs fan. He is wearing a Chicago road jersey with no name on the back. Mike T. brings up the fact that Albert Pujols might be going to Chicago as a free agent in the winter.
MM: Pujols, really?
Us: Yes.
MM: What happened to Derrek Lee?
Me: Gone.
MM: What about the other slugging first baseman?
Me: Carlos Pena?
MM: No.
MT: Leon Durham?
Mike M. is as much of a Cubs fan as Lindsay Lohan is a fan of sobriety.
The TV shows Mark McGwire.
MM: What's his role with them?
Me: Inject people.
Two outs in the bottom of the second and Mike T. is through 1 beer and has about a third left of his second. He had a bad day at work. I am through both my beer and hot dog. Mike M. just polished his second beer off. So far the 12 oz. beer is proving a tougher challenge than the dogs. I have a feeling that is going to change.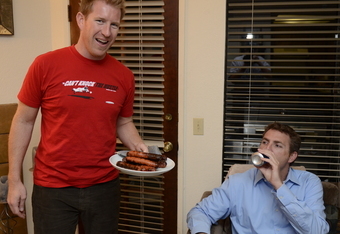 We all decide that Herman Cain's 9-9-9 plan is, in fact, this challenge.
Mike T: (After a picture is taken of him) With each inning I am going to undo a button on my shirt and by the ninth this thing will be around my head like the Taliban.
We start debating who the best-ever DH was. My choice was Harold Baines. Why? All he did was hit line drives all over the ballpark. We then settle on Jim Thome just because he's the only clean slugger since the 1970s.
All of a sudden I realize this game is going at a lightning-fast pace. We need a rally. Pronto.
Mike T. is preaching now about the Senators who asked the ballplayers to not using chewing tobacco on the field. This is crap. Stay off the field and fix the economy.  Ah, but what about smoking, why don't they allow people to smoke on the field? If they're dipping tobacco, Mike T. says, then how's that different than a guy taking the field with a heater in his mouth.
MM: Well, the Red Sox drank in the dugout.
Ken Rosenthal comes on to give some report.
MM: Why do f—ers still wear bow ties?
MT: It's like he's on CBS Sunday morning.
Geez, that had to have been the fastest three innings in playoff history. Joe Buck is excited because he hates baseball. Tim McCarver is sad because he likes to talk.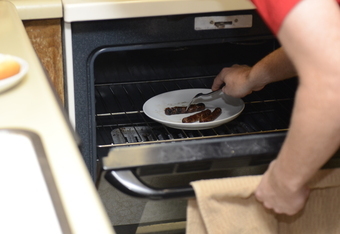 Right now, MM the bartender is getting lapped in beers by us. Well, MT and I usually show up to his bar and drink a lot. So, in a way its understandable.
MM: We're allowed to pee during this 9-9-9, right?
Me: Yeah, we're not racehorses.
MT: Or camels.
Ron Washington comes on the screen and two clubbies are sitting on the bench behind him.
Me: How awesome would it be if the guy in the red hoodie just started doing a keg stand and John Lackey and Jon Lester were holding his legs?
I pull away for a moment to make sure we have enough hot dogs. I have been keeping the grilled ones in the stove so they remain warm.
Me: Hey guys, what's 27 minus 12? (We're in the fourth. Oh, and math has never been my strong suit.)
MM: 25. (Or his strong suit.)
Pujols walks, Holliday doubles.
MT: We have a rally!!
Two runs score. Everyone is happy. We needed this. It is helping us a little.
Top 5. I have been at the grill. The rally killed the excited mood a little–or maybe it was the fact that we are now on five beers and five hot dogs–but it allowed us to regroup.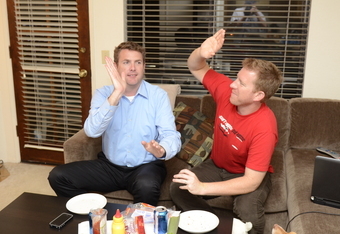 MM: I wonder if I should call the plumber now to have him come by tomorrow.
All hot dogs in the top of the fifth are gone. We all have about a half a beer left when Napoli homers. That's good because a tie game stretches it out just a little. More strategy.
After the homer, MT goes to the restroom. The seal is officially broken on all of us.
They show Pujols in the infrared camera.
MM: What the f— is the infrared camera? I have never seen that before and I hope to never see that again.
MT: So, fifth inning, this isn't so bad?
MH: Uh-oh.
MM: Oh no. Just wait until the seventh inning.
As a baseball fan he has to know not to talk about it. It's like Fight Club. Or a no-hitter. You just don't bring up anything about a challenge until the challenge is finished.
MM starts comparing this challenge to the Century Club (where you drink 100 ounces of beer in 100 minutes) and how it is different.
MM: See, the problem for me was that I had been drinking Boone's Farm before. You ever see what liver looks like? Well, that's what it looked like when I puked.
Dear Lord.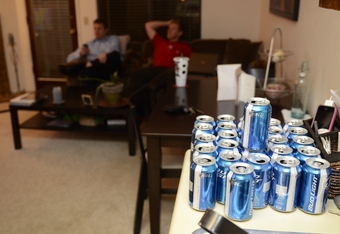 I have just turned off the grill. The dogs are done. The buns are ready. The beers are cooling. We are in the bottom of the fifth, 2-2. Game on.
Me: We are in the home stretch!!
Sixth inning. I just bring up the Honey Badger video. Neither of these guys have seen it. The game is on. But on mute. The Honey Badger has won out.
While Mike M. and I are watching the Honey Badger video, Mike T. puts his plate on the table and says "Um…"
He's done with hot dog number six before either of us has even taken a bite. Wow. He has lapped us, in a sense.
The camera shows McCarver and Buck in the booth. McCarver looks like death warmed over. The Grim Reaper is standing over him.
MT: What the hell is wrong with McCarver?
Me: He stopped dying his hair.
MT: Geez he looks old. And thin. Does he have cancer. God, man. He looks terrible.
He's right. McCarver does look like shit. That's how we feel.
At the commercial, as I'm typing this, MT says "To keep pace" and then repeats it for emphasis, "To keep pace, we have to finish our beer in the next three outs."
We do. At least Mike T. and I do. Mike M. just prayed that CJ Wilson would throw 100 pitches this inning. He is slowing down. Considerably.
Napoli just dropped a called strike. Buck and McCarver are incredulous. Hey, fellas, a strike is a strike, whether or not the ball is caught. Figure it out. McCarver used to be a catcher. Buck used to be good–when he was in his mother's womb.
The TV shows LaRussa again.
MM: I thought shingles was something else.
MH: No, it's adult chicken pox.
MM: I thought it was when you shit too hard.
MH: No. That's hemmorhoids.
MM: Like what George Brett had.
Mike T. just came back from the fridge with a beer. Might as well get started on number seven before the seventh. MT: "The last time I had this many wieners in me was when the tape was rolling in my uncle's basement."
Silence. Wow.
MM: Did you see in the ALS, no, wait, the ALCS. No, the ALS. I mean, the ALDS.
MT: No, the ALS is when no one catches the ball.
MM: F–k you. Nevermind.
The beer is settling in.
In the last 15 minutes there have been a rash of penis jokes that I don't want to include here, mainly because they are either not funny or offensive or both. That's what you get with wieners, beers and three guys.
At this point, Mike M. definitely has the meat sweats. He is breathing hard. Like labored breaths. I will not give him mouth to mouth. He is in so much pain. Kind of like around 8 p.m. on Thanksgiving night.
Note–before this next joke, just know that if Mike M. ran a block before this challenge even started he would probably have a heart attack.
MM: You know what this means (as he holds up his hot dog number seven which Mike T. and I have already finished). You guys are fat f—ing bastards.
MH: Yeah, and you are a beacon of health.
Mike M. is cheering for game breaks. "All I need is a half inning and a quarter." Which makes absolutely no sense. I swear he is having a heart attack like Chris Farley did in that SNL when they were the Bears fans and he coughs up the meat. He is breathing so heavily. I feel bad for his toilet.
He is cheering for pitching changes. When LaRussa goes to the mound to get Marc Rzepczynski, he is so elated. "Yes! A break! I need that."
His breathing slows. He is 20-1 odds right now to make it. Meanwhile, Mike T. and I are done with beer and dog number seven. We are in the home stretch. Neither of us feels so good, but we are troupers.
Something I just realized in this break in the action.
Me: You know what sucks that I just realized? There are starving children in the world.
Silence.
Laughter.
Me: Hooray capitalism!
Oddly enough, Rzepczynski just struck out two guys and now they are singing "God Bless America." Talk about timing.
Mike M. stands up and I realize that he doesn't have a player's name on the back of his jersey, which is good in a way because it never needs to be replaced. But it's bad because why buy a jersey without a player's name on it?
Me: You should put a player's name on that. If the Cubs sign Pujols, get his name and number sewn on.
MM: No, I want that one pitcher.
MT: Oh, yeah, that one.
MM: No, the one from the 80s.
Me: Rick Sutcliffe.
MM: No, the black guy.
After a few seconds of thinking, Mike T says: Lee Smith?
MM: Yeah, Lee Smith!
What a Cubs fan.
I tell them a story about Lee Smith and when I used to play basketball with him in spring training. A group of writer's and execs would play basketball a few nights a week in Scottsdale (some people you've heard of, too: Chris Ballard from Sports Illustrated, Tim Kurkjian from ESPN, Andrew Baggarly from the San Jose Mercury News, Josh Suchon, now a Los Angeles Dodgers broadcaster, Dan Hayes from the North County Times, Oakland A's assistant GM David Forst) and usually I would cover Lee Smith because I was one of the taller writers.
Smith could hardly jump, his knees were shot, but he was tall (6-foot-5) and he had long arms and could shoot OK. Well, every time he tried to get a rebound he'd yell at himself "Get up Smitty!" and when I tried to put a hand in his face or get a rebound from him, he'd say to me "Get up, short fry!" That was about all he'd say that was intelligible out there. He mumbled a lot to himself on the court.
Mike M. just went out for a smoke. He only smoked half. As he came down the stairs he exhaled heavily.
Me: You are in pain, my friend.
MM: I am in pain.
MT: You know, I don't really feel drunk. It's probably because I have all this bread and pig asshole in me.
MM: I need to go to the gym tomorrow.
Me: When was the last time you were in a gym?
MM: Two weeks ago.
MT: Was his name James?
Two outs now, top of the eighth. Mike M. has tapped out of hot dogs. He is still drinking, though. Well, kind of. He loses on this night because he doesn't even finish his beers.
I have finished my eighth inning requirement. I am playing with house money. I am set. Mike T. is halfway through his beer and dog. He is in good shape. Not physically, of course.
LaRussa runs out to pull Octavio Dotel from the game after getting two outs.
MT: He doesn't want anyone to know Octavio Dotel is in the World Series.
Bottom of the eighth. MT and I are on beer number nine. We are waiting on hot dog number nine, but are ready to put it away. Mike M. is still staying away from hot dogs. He is nursing his beer. He has been on the floor for the past four innings. Somehow, being on the floor and letting gravity work is easier for him. I almost feel bad for him, but at the same time he has decided his own fate. So, I just keep drinking.
In the ninth inning, I have a full dog and half a beer and Adrian Beltre is up.
Me: It's OK. I still have five more outs.
MT: No you don't. It's the top of the ninth. The Cards are winning. You have two outs.
As he says it, Beltre grounds out to third. Luckily, the ball goes off his foot. The umpire has ruled him out, Beltre is arguing.
MT: Argue for about five minutes.
I take this opportunity to try and finish. I take a huge bite of the hot dog. About half. I drain my beer.
Ron Washington comes out to argue. By the time he's done, I am done with my hot dog. I made it. The hiccups tell me so.
Thank goodness for the infrared replay to show us the ball going off Beltre's foot. It's better than the robot. But it still sucks.
Mike T. still has half a beer and a dog left. Mike M. is taking pictures.
Beltre is ruled out. Mike T. crushes half his dog in the next two pitches. He is amazing. He has a third of a beer to kill. Now he doesn't.
The last batter comes up. I have thrown my beer and plate down. I raise my arms. I did it.
Mike T. finishes his beer. He is done. The last batter flies out. We made it. We are awesome.
We feel like crap.
A commercial comes on.
MM: Oh my God, my belly.
Me: I could probably do another hot dog.
MT: I could probably do another one.
MM: Oh, what's wrong with you guys?
MT: A lot of things.
Final Tally:
Hot dogs: 1,530 calories. 1,170 calories from fat.
Buns: 900 calories. 135 calories from fat.
Beer: 990 calories. 0 calories from fat. (Thank goodness).
Mustard: 0 calories. 55 mg per dab (2 dabs per dog).
Ketchup: 20 per dab. 160 per dab.
Total: 3,780 calories from fat. 1,305.
Total mg of sodium: 8,789.
To put that in perspective, we'd need to run 288.5 minutes at a 5 mph pace just to get back to where we were at the National Anthem.
Matt Hurst is the founder of Throwback Attack, a sports blog. Read more at throwbackattack.net