Which College Football and NFL Quarterback Controversies Should Be Avoided?
October 20, 2011
Bart Young/Getty Images
After watching nearly the first half of both the college and professional football seasons, I've been surprised to see all of the quarterback shuffles that have taken place so far. The quarterback position has got to be one of the most important positions in all of sports. He is the captain and leader of not only the offense, but the entire team. He is the face of the team, and a team's success can be based solely on how good your quarterback is.
Just ask the University of Florida, whose team declined dramatically after the loss of Tim Tebow. The same can be said for the University of Texas, who didn't even make it to a bowl game the year after Colt McCoy left.
The best example is of the struggling, winless Colts, who haven't been able to win a single game without Peyton Manning. It can even work the opposite way. The New England Patriots didn't become the franchise team they're known as until Tom Brady emerged.
Because the quarterback is such an important decision, coaches should be hesitant on who they pick as their starter or leader out there on the field. Coaches hesitate to make changes during the season in fear of hurting either of the quarterbacks' confidence. Coaches should pick who their starter is going to be before the season starts and stick with that quarterback until it is absolutely necessary, because no quarterback wants to be out on the field so worried about losing his starting job that he under-performs. Shuffling quarterbacks in and out can be worse than keeping the struggling quarterback in the game.
Listed below are a few of the quarterback controversies this year and whether or not they should have made the change at quarterback.
Brigham Young University (Jake Heaps vs Riley Nelson)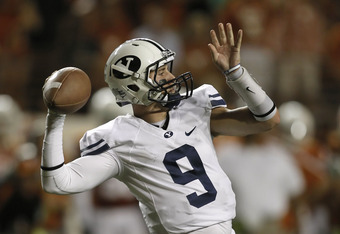 Erich Schlegel/Getty Images
The hype of Jake Heaps started way before the Cougars' football season even started. There were reports of Heaps having a stellar training camp and that he was ready to take the next step at quarterback. There were even some radio analysts that were saying he would be a dark horse for the Heisman. What many fans and analysts didn't remember was that Heaps did all of his improving against the bottom of the Mountain West last year. Heaps was overrated and overhyped to begin the season.
After struggling in the first season against Ole Miss, Texas, Utah and UCF, Heaps was struggling again against Utah State when offensive coordinator Brandon Doman decided to go with Riley Nelson. Nelson had traded snaps with Heaps last year before suffering a season-ending shoulder injury. He came into the game and provided a spark for the Cougars, as they were able to make a thrilling comeback victory against the Aggies. The Cougars haven't lost a game since then.
While the competition has definitely been on the other end of the spectrum, the Cougars entire team has responded to Nelson's fierce competitiveness. People respond differently to him.
What the organization should do: Stay with Riley Nelson until the end of the season and then re-evaluate each quarterback and make a decision starting next year.
Denver Broncos (Kyle Orton vs Tim Tebow)
This is definitely a sticky situation that they have going down in Denver. While fans are calling for the head of Kyle Orton and praising Tim Tebow, many analysts question whether or not Tebow can make it in the pros. This controversy should have been handled clear back in the offseason when it was a heated debate even then. This is a perfect example of a quarterback who played scared of losing his starting job.
What people don't realize is that Orton doesn't have terrible numbers, except for the interceptions this year. Orton finished 11th and 10th in the passing yards after the 2009 and 2010 and finished right in the middle for touchdowns. Not the desirable numbers for a franchise that had John Elway as a quarterback, but not bad for a team that has worse issues at other positions.
While I think Orton is still the better quarterback, you have to go with Tebow. If you're going to have a crappy season, you might as well give the fans what they want, and that is to see Tim Tebow as their starter. He does bring a different dimension to the game, but he is definitely lacking in the passing category of being a quarterback.
What the organization should do: Put in Tebow, because that's what the fans want, and then trade Orton off to some other team.

Minnesota Vikings (Donovan McNabb vs. Christian Ponder)
We all know the story of Donovan McNabb. Five trips to the NFC Championship game with the Eagles before being sent to Washington, where he was benched then. He was then sent over to the Vikings. The Vikings then drafted Christian Ponder to groom while McNabb took over the starting roles.
McNabb has underperformed this year, ranking in the bottom half of the league in passer rating and only throwing four touchdowns so far this year. The Vikings gave up halftime leads in each of their first four games and are sitting at 1-5.
McNabb was benched in the fourth quarter of the Bears game, and will now sit while Christian Ponder comes in and takes the reins. While McNabb certainly has been struggling, the lack of plays utilizing Adrian Peterson has also been a factor. Not only that, but the Vikings play the Green Bay Packers next week. It's definitely a long shot, but maybe the Vikings are getting a head start on grooming their quarterback situation.
What the organization should do: Whichever they feel will get Ponder the most experience. The Vikings only play two teams with losing records for the remainder of the season, and McNabb isn't getting any better. It's time to prepare for the future.
Washington Redskins (Rex Grossman vs John Beck)
There was a little bit of controversy for the quarterback position going on in the preseason between Grossman and Beck. Each of them played relatively well, but it was Grossman who got the start. Until last Sunday's loss to the Eagles, Grossman had led his team off to a quick 3-1 start. After throwing four interceptions, though, Grossman was benched in place of Beck, who had a rushing touchdown.
Coaches should have expected Rex to be inconsistent, as he's always been. Sometimes it's more constructive to have your starter play through bad games and be responsible for the loss. The Redskins were way too quick to pull Grossman and are foolish for naming Beck as the starter after a 3-2 record.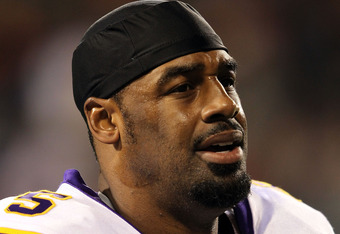 Jamie Squire/Getty Images
What the organization should do: Keep Grossman in until the team starts losing multiple games in a row or games that they should have won.
Oakland Raiders (Jason Campbell vs Kyle Boller vs Carson Palmer)
Jason Campbell had solidified the starting position for the Raiders and had his team at 3-2 before going out in the middle of the Browns game with an injury. A broken collarbone will sideline him at least six weeks.
The Oakland Raiders showed that they had no faith in Kyle Boller, who was the old starter for Baltimore, and went out and acquired Carson Palmer, who has been sitting out this season after refusing to play for Cincinnati. Not only that, but they gave up two potential first round draft picks for a player who hasn't been to a Pro Bowl in several years and hasn't nearly been as effective after tearing his ACL.
The Raiders gave up way too much for this quarterback only to have a giant controversy coming once Campbell is back to full strength
What the organization should have done: Either stuck with Boller or Terrell Pryor or not paid so much for Palmer.
These are the main quarterback controversies that have been happening so far this season. Some organizations have handled it well, while some have immediately pushed the panic button in order to save their season. They will be criticized if it doesn't turn out the way everyone hopes, but that is something still yet to be seen.