San Diego Chargers vs. New York Jets: An AFC Game the Jets Need To Win
October 20, 2011
Jeff Zelevansky/Getty Images
I think I have figured out why the Jets are starting off so slow on offense. Don't their first few offensive series seem like something you would see in preseason? They're just not in a groove. There's no flow. What is weird is that we're in Week 7. We should be past this. So why is this happening?  
I think the only way to understand this is to recall that the first month of the season, Mark Sanchez was getting absolutely flattened every game.  
They were worried enough about him after the Dallas opener to test him for a concussion. He thwacked his throwing arm against Jacksonville and broke his nose in Oakland. He suffered another blow to the throwing arm in New England and don't even get me started about the brutal beating he took in Baltimore.  
Some of the Jets players subsequently allowed that as evidenced from watching the Baltimore film, which was shocking and sobering. Mostly, the rest of the offense faces away from the QB. They knew he was getting hit, but it wasn't really until they saw the film that they understood how bad it was.  
Nick Mangold (who is currently neck in neck with Darrelle Revis for my MVP vote on this team) being out with an  ankle injury didn't help.  
The offensive line fell apart.  

And Sanchez, understandably, has been very skittish in the pocket ever since.  

All these armchair analysts on TV and in the media are ridiculous blathering that Sanchez needs to stand tall in the pocket, take the hits, release the ball faster. Easy to pontificate when it's not you facing a 250-lb pass rusher whose sole aim is to knock you out of the game.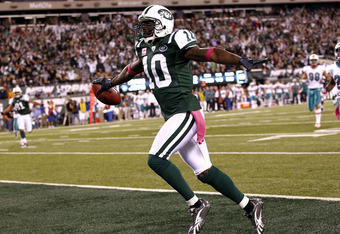 Jeff Zelevansky/Getty Images
Sanchez went into self-preservation mode and rightfully so. It's like no one else on this team understands that without him, they go nowhere. The coaching staff showed no sense of urgency to try to get him some more protection. They have no viable backup option at QB. Certainly not one who can absorb hits like that.

Enter Santonio Holmes. Just like I predicted, Holmes went public. Everyone is hammering him, but I am on his side. The offensive line and by extension the whole offense needed to be called out. His message in essence was: We protect this kid, or we go nowhere. This is not sustainable.   
Hate all you want that he went public, but someone had to scream loud enough for it to break through the cacophony that surrounds this team.  

And what happened?  Well, behind the scenes drama for sure. But the line showed up Monday night. Nick Mangold back under center is huge. And Wayne Hunter dug deep and had a terrific outing against Cameron Wake who was clearly Mark's biggest concern.  
Sanchez never really familiarized himself with the protection and coverage the line was supposed to perform. He relied heavily on Mangold for that. Now he has had to learn if only as a means of self-preservation. It's a good step forward for him. Hunter got a game ball for his efforts and deservedly so.  

As the game wore on and Sanchez started to trust the protection, that is when he got the offense into a groove. The happy feet started to go away and he was able to go through his reads and make some nice plays downfield.   
Listen: Monday Night Football especially at the beginning was ugly.  Four three-and-outs?? That cannot happen anymore. San Diego will eat you alive. You cannot blow those possessions. I feel like I'm beating a dead horse with Brian Schottenheimer, but the game plan is still way too tight and predictable.
Look....this Jets team owes Schotty a lot. He did a masterful job when Mark Sanchez (extremely athletic and with obvious potential, but very green and young) was drafted, and came up with an offense that helped the entire team succeed. Twice. But you have to loosen up. That was then. This is now.

If Sanchez took nothing else from losing in the AFC Championship Game again last year, it is a sense of urgency.  

Jeff Zelevansky/Getty Images
Mark is a winner. Losing is not in his DNA. It drives him crazy. 

Which makes me wonder, at the end of the year, is will we look back at this game against the Dolphins as the turning point in the Jets season? Not just because they got to .500, but because of one play in particular: 3rd -and-4 on the Miami five.  
I think Sanchez audibled out of whatever Schotty called in. I'm not a big fan of Brian's goal line play-calling anyway. LaDainian Tomlinson  in motion in the Jets' backfield draws the Miami linebacker to follow. The ball is snapped and Mark takes off to the end zone—diving in for the touchdown. I hate seeing him go head first like that (remember the knee injury late in his rookie year?), but that tells you everything you need to know about Sanchez.  

Calling the game for ESPN, Jon Gruden first praised Schotty's creative play-calling. My gut instantly said: Not Schotty's play. Coming out of the commercial, Chuckie decided it was an audible by Sanchez. Audible or just plain "I'm taking this in myself"..... doesn't matter. Whether he consciously knew it or not, Sanchez was done with being the good soldier in service of vanilla offensive play-calling. Especially at the goal line.

That entire play was fascinating. I think it's a recalibration of the relationship between Sanchez and Schotty.  Sanchez is done with this cautious conservative approach. What was even more interesting were Sanchez's post-game comments both on camera and to the written press. Sanchez never outright said he did or did not run the play called.  And he was overt in his support of Schottenheimer.  

But he made that touchdown happen and every single person on that team knows it. He sent a big message. To Brian and the other coaches: let me play. To the divas and critics: I'm in charge. Right after you can change the play at the line of scrimmage and score six, let me know.  
Sometimes you just have to have the courage of your convictions. Mark's not by nature insubordinate. But if it means the difference between a win and loss? He'll take matters into his own hands.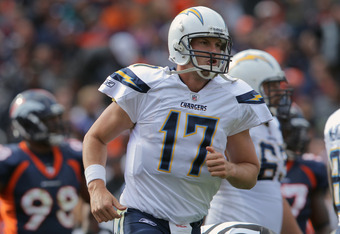 Doug Pensinger/Getty Images
Am I giving too much credit to the young QB? Maybe. But he is extremely competitive and actions speak louder than words.  

So now the Chargers come to town. I've lost count of all the different dramatic story lines. Schottenheimer pere et fils bounced in favor of the Norv Turner regime. Rex Ryan and Turner sniping in the media this week. Tomlinson and Antonio Cromartie against their former team. LDT will be extra motivated —there's no love lost between him and Philip Rivers.

This San Diego game will be telling. Playoff teams, like the Jets consider themselves to be, should put away inferior competition like Miami.  
But San Diego is talented and they have a very good QB in Rivers. SD is 4-1, but they haven't really played quality opponents. It's hard to know yet exactly what they are this year. Plus they've been battling some injuries.

And don't forget: there is still bad blood from the 2009 playoff loss where the Jets upset the favored Chargers in San Diego. Need I remind Jets fans of the singular play in that divisional round in Sanchez's rookie year?  Sanchez's pass to Dustin Keller in the end zone on a scramble make-it-happen play in my opinion, decided the game. 

This game will also likely have all sorts of tiebreaker implications down the road.

I hope the play-calling will loosen up against San Diego. I'd like to see what I had hoped to see Monday night: first play long ball to Plaxico Burress. Even if it's incomplete.  

Once again, the Jets' backs are against the wall in a must-win situation. They need every AFC win they can get. If they can beat San Diego and go into the bye 4-3, they'll be in better shape than we would have thought a couple of weeks ago.  

We should know a lot more by late Sunday.