Alabama vs. Tennesse: Crimson Tide Scouting Skinny on the Volunteers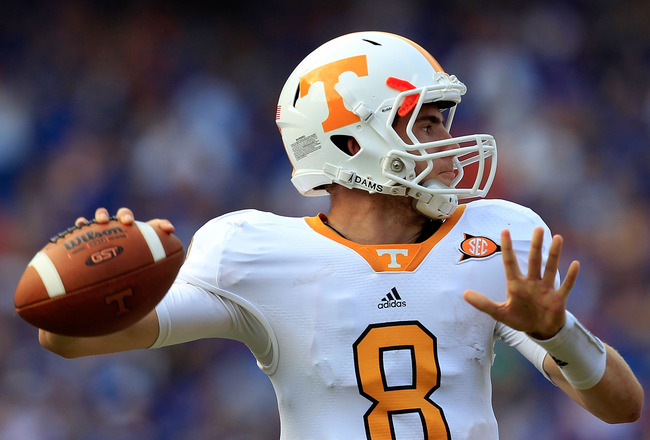 Bray's loss hurt the Vols.
Sam Greenwood/Getty Images
Coming into Saturday evening's game with the Alabama Crimson Tide at Bryant-Denny Stadium in Tuscaloosa, Derek Dooley's Tennessee Volunteers have to feel as though they are running a gauntlet of fire.
Last Saturday, the Vols, 3-3 overall but 0-3 in the SEC, faced off against the nation's No. 1 team, the LSU Tigers, at home in Neyland Stadium. Though they fought valiantly for the better part of the first half, they were eventually mauled by the Bayou Bengals, 38-7.
In a seven-day turnaround, Tennessee will find itself having to square off against the No. 2 team in the BCS, Alabama. Trying to regroup after two consecutive home losses—last week to LSU and to Georgia two Saturdays ago—Tennessee is up against the eight ball in trying to end its slide against the Tide.
In Alabama, the Tennessee's injury-riddled offense faces a stiff test against a pachyderm defense that leads the nation in rush defense, pass defense and total defense. The chink in Alabama's defensive armor is pass efficiency defense—Alabama is only No. 2 nationally in this category, though it leads the SEC.
On defense, the Volunteers face an improving Alabama offense featuring juggernaut running back Trent Richardson, the nation's fourth-leading rusher with 912 yards through seven games, averaging a gaudy 6.91 yards per carry.
Though primarily a ground-oriented attack, the Vols secondary will face an efficient and improving Alabama passing attack. Sophomore quarterback A.J. McCarron is becoming more comfortable with each game of experience and is developing improved rhythm and rapport with a Tide corps of receivers, featuring Marquise Maze, who is third in the SEC in receptions and eighth in receiving yards.
Though on the surface the deck may seemed to be stacked in the favor of the home team, this game is still Alabama vs. Tennessee and, as a result, could be much more competitive than many looking the numbers may think.
Let's break down the Tennessee Volunteers, both the pros and the cons, and take a more in-depth at the Tide's victims—I mean, opponents—this week.
Here we go!
Their Infantry's Gone AWOL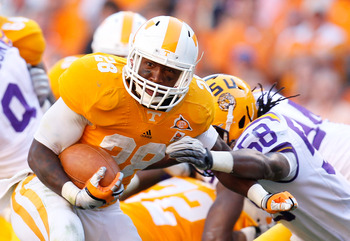 Poole seems to lack a fifth gear.
Kevin C. Cox/Getty Images
Even though offenses have evolved in the SEC over the years, having a productive running attack is still crucial to a team's chances of success in this league. Therein lies an Achilles' heel of the Tennessee Volunteers.
Ideally, Tennessee would like to run a pro-style offense, featuring its traditionally strong running attack supplemented by a dynamic passing attack. Unfortunately, Smokey does not have the tools in the shed, having broken some of them, to play the way they want.
Coming into Saturday's game, Tennessee is dead last in the SEC in rushing offense. That Derek Dooley and his staff recognize this inadequacy is reflected in their minimalist approach to attempting to run the football. On the season, the Vols have netted but 534 yards on 198 rushes for an anemic average of 2.7 yards per game.
Senior tailback Tauren Poole leads the Vols in both carries (97), yards (422) and average per carry (4.1), but he has had little help from his friends. Poole is a dependable, hard-running, experienced back who simply does not have the extra gear and shimmy to turn good runs into big ones.
This team's weakness will be especially problematic facing an Alabama defense that is No. 1 against the rush. The inability to run effectively will play into Alabama defensive coordinator Kirby Smart's hand, as he will be able to unleash the hounds up front while confusing Tennessee quarterback Matt Simms with his complex looks and coverages in the secondary.
By all appearances, Saturday won't be the day that the Volunteers reverse their fortunes on the ground.
If He Had Been the Best Candidate, He Would Have Been Running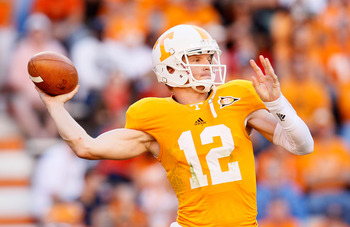 Simms star has never been bright.
Kevin C. Cox/Getty Images
If a Tide fan were to look at the league's statistical leaders, he might have reason for concern. Sitting atop the leader board in passing, offensive passing efficiency and points responsible for is Tennessee's sophomore quarterback, Tyler Bray. Bray has completed 116 of 176 passes, a completion rate of 65.91, for 1,579 yards and 14 touchdowns.
Fears should be allayed, however, because Bray won't be playing against the Tide on Saturday. Late in the loss against Georgia two weeks ago, Bray's hand struck the helmet of a Bulldog rusher as he was falling away and following through after releasing a pass. He attempted to shake the injury, but was unable to throw and finish the game.
Senior Matt Simms, son of former NFL great Phil Simms, took over in relief for Bray and started last week against LSU. Simms, an on-and-off starter throughout his career, has never really found his anticipated stardom at Tennessee. Clearly, if his star were ever going to shine, it would have by now. For his career, Simms has completed 54.9 percent of his passes for just under 100 yards per game and five TDs.
Since leading the Vols to late touchdowns against Georgia in relief, Simms has had little luck. Against LSU's vaunted defense, he was 6-of-20 for 128 yards. He threw two interceptions.
It would seem unlikely that his luck will change in Bryant-Denny on Saturday.
Woulda', Coulda', Shoulda': What Might Have Been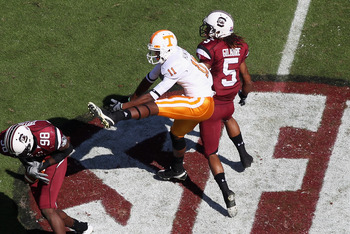 Hunter's loss hurt the Vols.
Streeter Lecka/Getty Images
Prior to Tyler' Bray's injury against Georgia, the Tennessee offense had already suffered a huge blow in its first SEC contest of the season against the Florida Gators in Gainesville on Week 3.
Sophomore wide receiver Justin Hunter showed tremendous promise of becoming a great receiver during his freshman campaign. In 2010, Hunter, a gifted and fleet target at 6' 4" and 200 pounds, caught 16 passes for a 23.9 per reception average. Along with Da'Rick Rogers, freshman Devin Young and other young talents at wideout, Hunter provided the talented Bray with a bevy of targets with which to dissect opposing secondaries.
Through the first quarter against Florida, Hunter had already caught 17 passes for 314 yards (18.5 yards per catch) and two TDs. Fate was not kind Hunter and the Vols, however, as the receiver tore an ACL against the Gators, putting an end to what appeared to be a fantastic season in the making.
Hunter's injury also derailed the Tennessee passing attack, which was shaping up into one of the best in the nation.
To this point, though, while freshman Young has shown promise, no one has really stepped forward to fill Hunter's shoes.
The Vols' Gun Cabinet Aint' Completely Empty: Biggest Gun Left in the House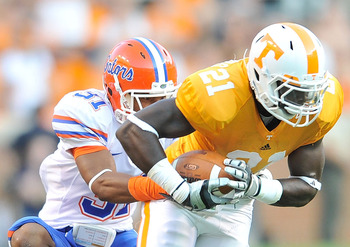 Rogers is Julio-esque.
Grant Halverson/Getty Images
With Tyler Bray and Justin Hunter sidelined with injuries and a tepid running game, the Volunteers are coming to this fight unarmed, right?
Well, not exactly. There's still sophomore wide receiver Da'rick Rogers. Rogers was originally one of Georgia's most coveted verbal commitments headed toward national signing day in 2010. However, after the departure of Lane Kiffin for USC and the hiring of Derek Dooley at Tennessee, Dooley recruited him hard and swayed him to flip to the Vols by offering his high school teammate, quarterback and best bud a scholarship, as well.
Rogers, a Julio Jones-ish physical specimen at wideout, stands at 6' 3" and 215 pounds and is a combination of brutish strength, freakish speed and wicked sticky hands. After catches, he is a defensive back's worst nightmare in space. After LSU cornerback Tyrann Mathieu tweeted before last weekend's game with the Tigers that Rogers would go reception-less for the day, Rogers carried "Honey Badger" (Mathieu's nickname) on his back for about 15 yards after his first catch, refusing to go down.
On the year, Rogers has 35 receptions (almost six per game) for 576 yards (16.5 yards per reception) and six touchdowns (of Tennessee's 22). In their weakened and vulnerable state, look for the Volunteers to try to get the ball into Rogers' hands as often and as many ways as possible.
Special Teams: A Mixed Bag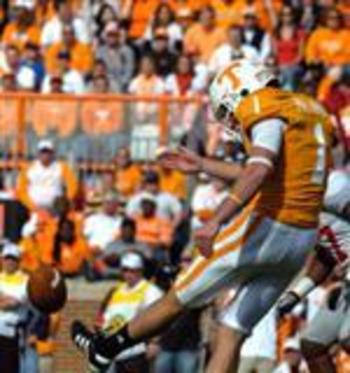 Palardy has kicked and punted.
Much like their season to this point, the Vols' special teams have been a mixed bag of ups and downs, highs and lows. Some units have been steady, some started slow but have picked up steam and some are just plain erratic and ineffective.
Redshirt freshman Matt Darr has handled most of the punting duties, but as Darr was averaging under 39 yards a kick, he was benched in favor of sophomore placekicker Michael Palardy last week against LSU. Palardy did manage a 51-yard boot against the Tigers. The Vols are dead last in the SEC in net punting, averaging only 33.42 yards per punt. To add insult to injury, they have had two punts blocked so far this year. They certainly don't want to arm the potent Tide attack with good field position.
Palardy has been relatively steady as the Tennessee placekicker. He is 66.7 percent on 6-of-9 field goal attempts. His range, however, appears to be relatively limited, perhaps to 40 yards and in. He has missed one PAT attempt this year. On kickoffs, Marquis Maze can look to receive the kick between the 5- and 6-yard lines, though Palardy has kicked for four touchbacks this season.
While struggling to find returners who could dependably corral the kicks early on, Tennessee has found a dependable kick returner in freshman Devin Young. Young is now handling most of the punt and kickoff returns for the Vols, and Tennessee currently ranks fifth in the SEC in both categories. The Vols have not returned any kicks for touchdowns, nor have they allowed any punts or kickoff return scores themselves.
Tenneesse Have Enough Track to Slow and Stop the Trent Train?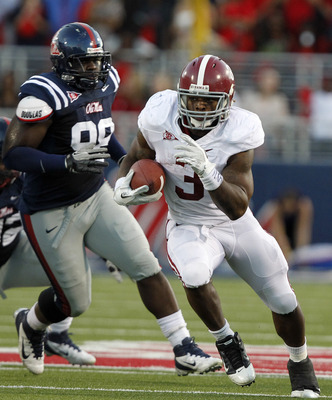 Trent has been like a freight train of late.
Butch Dill/Getty Images
Tennessee has a solid, respectable but mediocre defensive unit. Among FBS defenses, the Vols rank 69th in rushing defense, 63rd in passing efficiency defense, 43rd in total defense and 44th in scoring defense. They are, for the most part, in the bottom third of the SEC in all of those categories, as well.
Against LSU last week, Tennessee yielded 260 rushing. Its ineffectiveness against the rush should prove particularly problematic on the road against a Tide rushing attack, which is No. 1 in the SEC.
While the Vols field more experience on defense than they have on offense, starting a couple of seniors on the defensive line and three juniors in the secondary, youth is a key issue on the defense at key positions. Two of UT's linebackers are true freshmen and, as in any defense, the guys in the middle are critical to the unit's success.
Tennessee primarily employs a 4-3 scheme, but like with most sophisticated defensive packages today, when it employs alternative coverages, it frequently morphs into a 3-4 scheme.
Its leading tacklers are the three linebackers, Austin Johnson, AJ Johnson and Curt Maggitt. To date, the defense has 33 tackles for losses (ninth in the SEC), nine sacks (11th), four fumble recoveries (only one for any return) and but one interception (last). Despite the paucity of interceptions, Vols opponents are only completing 56.9 percent of their passes.
In all likelihood, similar to their efforts against LSU, the Vols will put up a valiant fight early in the game, only to be broken down by big runs and the strength of the Tide as the game wears on. The numbers just don't suggest that the UT defense will be able to bring enough pressure and resources to slow down the Tide.
Turnovers: Not Enough Margin for Error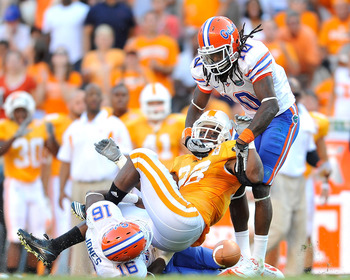 Turnover margin is poor.
Grant Halverson/Getty Images
In a game against a favored, power opponent like Alabama, turnovers are often key for an underdog like Tennessee.
Tennessee is 10th in the SEC in turnover margin, while Alabama is third. What does this mean? In a big rivalry game in which the Volunteers need to turn the Tide over while making certain that they play error free, the likelihood of this happening is slim. While Tennessee has taken relatively good care of the ball, it is dead last in turnovers forced.
Defensive scores and field position opportunities for the offense in orange will likely not come at Alabama's expense. More likely, it will be vice versa.
Life on the Road in the SEC Can Be Tough, Especially If the Road Passes Through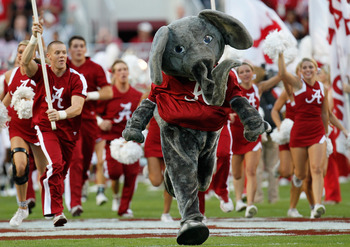 Big Al looks frienly but is not a hospitable guy.
Kevin C. Cox/Getty Images
Tennessee hasn't won an SEC game this season. It lost at Florida in September. It dropped two in a row in Neyland to Georgia and LSU over the last two weekends. It now faces the challenge of breaking into the win column in Tuscaloosa.
Since Alabama home games in the series were moved from Legion Field in Birmingham to Bryant-Denny Stadium in 1999, Tennessee has split the six games played there.
Unfortunately for the Vols, the Tide have won the last three, and it seems unlikely this will be the year that Tennessee reverses either of these trends Saturday night.
Teacher vs. Pupil: Round 2
Saban again faces a former pupil.
Sam Greenwood/Getty Images
Second-year Tennessee head coach Derek Dooley was a member of Nick Saban's staff at LSU (2000-2004, part of a national championship team there in 2003-2004) and for the Miami Dolphins in 2005-2006.
In the minds of some Tennessee faithful, Dooley is already on a hot seat, as the Vols have struggled to reverse their fortunes and return to the winning ways of their past. Over the course of his first two seasons, a few of his game management decisions have been questioned, most notably the end-of-game handling resulting in a loss being snatched from the jaws of defeat against LSU last season.
Others believe Dooley is the right man for the job. He was enthusiastically endorsed by former Tennessee and current Indianapolis Colts quarterback Peyton Manning on national television last Saturday.
Either way, another of Saban's disciples will challenge him on Saturday. Earlier in the season, Saban's Tide trounced former assistant Will Muschamp's Florida Gators.
Don't look for the mentor to be mastered by the apprentice this week, either.
Saban Domi-Nation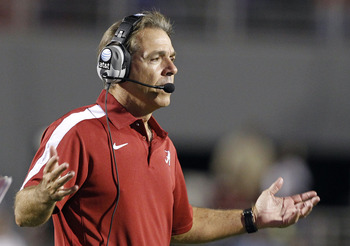 Saban has mastered the VOls.
Butch Dill/Getty Images
The Alabama-Tennesse series is one of the oldest and most fiercely contested in the South. The two schools have been playing since 1901. During the 41-year interlude of the intra-feud between the Tide and in-state rival Auburn between 1907 and 1948, Tennessee became Alabama's primary rival. The enmity remains intense to this day.
While Alabama leads the series 48-37-8, it has been ultra-competitive, with both teams having stretches of dominance over the other. The Tide, under the inimitable Paul "Bear" Bryant, ran off a string of 11 consecutive victories between 1970 and 1980, while Tennessee rode the Tide between 1995 and 2001.
Since arriving in Tuscaloosa from South Beach in 2007, Nick Saban has had a hex on their coon-skin capped neighbors to the north. Under Saban, the Crimson Tide have pretty much dominated the mountain folk, running off four straight victories. The only close call came in 2009 when a couple of field goal attempt blocks by Terrence "Mount" Cody averted a disaster at home during Alabama's run to the national championship.
Don't anticipate the Volunteers nipping this Bama run against Nick 5.0.
Coming on the heels of having played LSU just last week, the Tennessee game should provide the Alabama coaching staff with a relatively complete and accurate picture of how the Tide and the Tigers compare against a common foe in back-to-back games. While Saban is certainly not one to look over one opponent to another, this week certainly provides an opportunity to compare what Tennessee did effectively against LSU, and vice versa for LSU versus Tennessee, to their own preparation, efforts and experience against the Volunteers this week. The information most certainly will jump start Bama's bye week preparation for a its matchup with the Tigers on Nov. 5, one that could determine the SEC, if not the national championship.
In football, anything is possible, but the Tide dropping their candy against this Tennessee team in Tuscaloosa seems a long shot at best.
Keep Reading

Alabama Crimson Tide Football: Like this team?