Week 8: Serie A Predictions
October 20, 2011
Maurizio Lagana/Getty Images
There are no marquee matches or local rivalries when Serie A resumes this weekend. Two matches are slated for Saturday and the remaining eight are set to kick off on Sunday.
Certainly the biggest news of the week was that Alessandro Del Piero is playing his final season with Juventus, the only club he has played for since 1993.
Del Piero is expected to start for the Bianconeri and he could have an incentive to show the world he is still capable of great things.
The weekend begins with the Sicilians visiting Tuscany. Catania is coming off of a win over Inter Milan. Fiorentina is trying to hold things together. Center forward Alberto Gilardino is still out due to injury. Star midfielder Riccardo Montolivo is still a starter even though he is expected to leave in January, as the club does not want to lose him to free agency next summer. Juan Manuel Vargas may play, but is not on good terms with coach Sinisa Mihajlovic after a series of off-the-field incidents.
Catania is developing into a fine side under first-year coach Vincenzo Montella. Francesco Lodi is a player few have heard of outside of Italy. But the midfielder is one of the best free kick-takers in the world.
Prediction 1-1 tie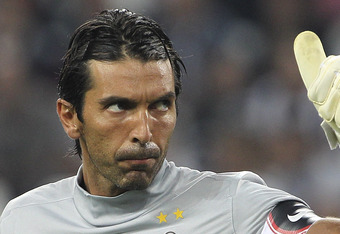 Marco Luzzani/Getty Images
Genoa at Juventus
Juventus is playing well and is certainly the favorite here. Del Piero is expected to start with Simone Pepe up front, with Mirko Vucinic on the left side and Milos Krasic on the right side of the attack.
Genoa has a solid defense. It welcomes back Giandomenico Mesto from injury to the right side of the defense. Kakha Kaladze is out for four weeks due to a suspension for a red card last weekend. But Genoa is deep enough in the back to overcome the loss of Kaladze.
Up front Rodrigo Palacio has played very well to start the season. But he faces a tough Juventus defense and getting past Bianconeri goalie Gianluigi Buffon is no easy task.
Prediction Juventus 2-1
AC Milan at Leece
On paper this looks very one-sided and it should be. Lecce has a pair of starters on loan from Milan in veteran Massimo Oddo and youngster Rodney Strasser. Milan still has some injury problems, but there is no crisis as no youth sided players will be needed to fill in on the bench.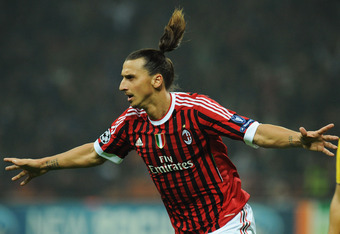 Valerio Pennicino/Getty Images
The attacking trio of Zlatan Ibrahimovic, Antonio Cassano and Robinho has worked well the past week. Coach Massimiliano Allegri plans to continue with the three again. Cassano will be playing in his home region of Puglia, so a good showing could be in store for him.
Prediction: 3-0 AC Milan
This might be the best matchup of the weekend. Both are solid sides. Napoli is coming off a giant 1-1 tie with Bayern Munich in the Champions League on Tuesday. Both sides are expected to field their normal starting 11, although Napoli may make some changes to give some players a rest following the Bayern match.
This should be a match to watch. Cagliari has a talented midfield and Napoli has a potent attack led by Edinson Cavani.
Prediction: Tie 2-2
Chievo at Inter
Chievo is known for upsets. Inter won during the mid-week in the Champions League, but was upset by Catania last weekend. This will be interesting because Inter hasn't hit a stride yet and Chievo is never a team to take lightly. Inter has some players out, but the injuries are not as bad as they were earlier in the season.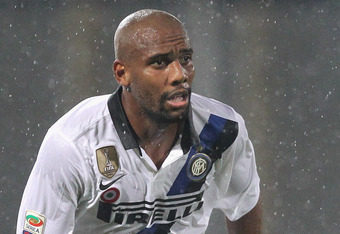 Maurizio Lagana/Getty Images
Prediction: Inter 2-1
Atalanta has done well to begin the season. Parma has Sebastian Giovinco on its side and a home-field advantage. This is a pretty even match on paper and this battle of the Lombardy and Emilia-Romagna regions could go either way. German Denis has played well for Atalanta in the attack.
Prediction: Tie 1-1
Palermo was brought back down to earth last weekend against AC Milan in its 3-0 defeat. AS Roma also suffered a tough loss as it was stunned with just seconds to play against rival Lazio. This match is to see which team has bounced back better from last weekend. Roma has the home field-advantage, but is still without Francesco Totti. Fabrizio Miccoli is the leader for Palermo, which had played well to start the season until last weekend.
Prediction: Roma 2-1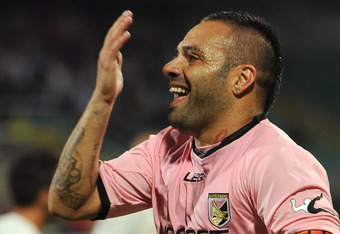 Tullio M. Puglia/Getty Images
Both of these sides need three points, as they both will be in a fight until the end to remain in Serie A. Cesena needs the points more as it sits in last with two points. Siena has just six points. Siena is at home and its pitch with small dimensions sometimes causes problems for the teams playing in large stadiums. Cesena is not one of those teams, however. Adrian Mutu has been suspended for three matches, which will not help Cesena's cause.
Prediction: Tie 0-0
Novara enters the match having given up a league-high 12 goals. Udinese star Antonio Di Natale has generally started his tear a month or two after the start of the season the past couple of years. A home match against a team with a weak defense looks like a good reason why Di Natale could have a big match. Udinese's defense has allowed just one goal and Novara's offense has been strong, scoring 10 times. Look for Novara to push the tempo, but fall short.
Prediction: 4-1 Udinese
Lazio at Bologna
Bologna is struggling with four points and Stefano Pioli has taken over as manager. Lazio is coming off a huge 2-1 win over rival AS Roma. Lazio is certainly pumped and appears to be the favorite once again. Miroslav Klose is not the most talented player with his feet, but he knows how to score goals. He is the German version of  Filippo Inzaghi.
Prediction: 2-0 Lazio