MLB Free Agents 2012: Should the Blue Jays Target Edwin Jackson?
October 20, 2011
Christian Petersen/Getty Images
As the 2011 World Series draws to a close, the attention of the baseball world will soon switch to the free agency market. Over the winter, Toronto will be looking to strengthen its starting pitching options.  
While Toronto will probably make a concerted effort to sign Yu Darvish, it is unlikely that general manager Alex Anthopoulos will go after the two biggest free agent pitchers, C.J. Wilson and CC Sabathia (who is very likely to opt out of his current contract with the New York Yankees).
The biggest name after these two is probably Mark Buehrle, but his age and contract demands will probably not fit with Anthopoulos' building for the future.
A more realistic target is Edwin Jackson. Jackson, who was briefly a Blue Jay this season, is a mass of contradictions.
His career statistics are not at all impressive. His career ERA stands at 4.46.  While a lot of that can be explained by a rough start, he has only posted a sub four ERA twice. Other than his excellent 2009 season, he has not managed more than a 2.1 WAR for the year.
It is not just the statistics that are contradictory. Jackson has a 95 mph fastball and a slider that is considered among the best in the league yet he has never been able to consistently put everything together and live up to his potential.
Jackson also has a no-hitter to his name, but has already played on six teams. In the majority of the trades involving Jackson, he has been just one piece of a much bigger trade.
However I think that Jackson would be a perfect fit for Toronto. Firstly, despite his experience Jackson is only 27 years old and therefore still has time to live up to his talent. Especially in a settled home where he knows he is less likely to be traded.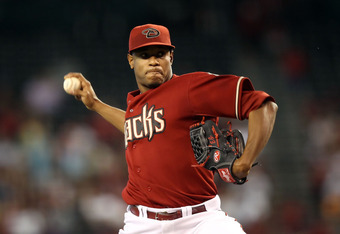 Christian Petersen/Getty Images
Secondly, Jackson is only a type-B free agent, meaning the Blue Jays would not have to give up a first-round draft pick to sign him.
Perhaps the best thing about Jackson though is that he offers some flexibility. If Toronto was to sign him for four years, then they would have a starting pitcher with postseason and World Series experience for when they are ready to compete in a few years.
However, with the amount of young talent currently in the Toronto farm system, Jackson might not be around to see the Blue Jays make the postseason. In a couple of years Jackson could be traded in order for the Blue Jays to get the final pieces needed to challenge for the postseason.
In the short term, Jackson fills a desperate need in the Blue Jays rotation. Outside of Ricky Romero, the Toronto starting pitching staff really struggled this year.
Jackson could be added as the third starter.  He and starting pitcher Brandon Morrow could be separated in the rotation, as their pitching repertoire is very similar. Either way, a rotation of Romero, Morrow, Jackson, Henderson Alvarez and Dustin McGowan looks a lot stronger than the 2011 rotation.
This would also allow Brett Cecil to move into the bullpen where he could be used as a lefty specialist.
Jackson may not be the most attractive free agent on the market but he could be very useful for Toronto in both the short and long term. He could be a very attractive option for Alex Anthopoulos this winter.