2012 MLB Offseason: Boston Red Sox Fielding Breakdown
October 20, 2011
Rob Carr/Getty Images
We are continuing our team fielding series with the fourth team on our list: the Boston Red Sox.
If you have just stumbled onto our little project, I invite you to read the original piece "Team Fielding Series" to catch up on the terms we are using and what we are trying to do. If you are familiar with all of that information we'll go ahead and get started.
DER: .701 (8th)
RA: 737 (21st)
FLD%: .985 (10th)
Baseball Reference: +2 (18th)
Fangraphs: +42.8 runs (4th)
Fielding Bible: -5 runs (17th)
Baseball Prospectus: +34 runs (1st)
Composite Runs: +18.5 runs
A quick look at the runs allowed tab demonstrates what happened to the Red Sox last season. Unfortunately, Boston went through a collective nervous breakdown, and just began firing the shotgun in the dark.
They hit Terry Francona and Theo Epstein. They hit on a vicious stories about pain killers, drinking in the clubhouse and marital problems. They hit on everything but what was really going on in Boston.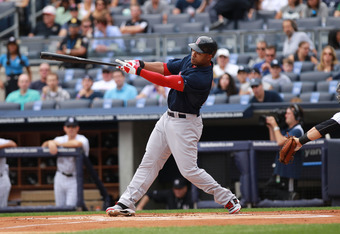 Nick Laham/Getty Images
They had injury problems all season in their bullpen and rotation. By the end of the season, only Josh Beckett and Jon Lester were available and effective (at least for most the season).
John Lackey morphed into some kind of a Jim Clancy clone. Clay Buchholz went on the shelf in the second half, while Daisuke Matsuzaka was on the shelf virtually the whole season.
I suppose Tim Wakefield was around the whole time, but he was supposed to be an emergency starter at best.
We say all this because it is imperative that Ben Cherington not lose sight of the problem.
The Sox fielding was by most accounts a positive. Furthermore, it has the opportunity to get even better with just a little luck. If the same lineup returns next season, they should see a different and better result.
Best Fielder: Dustin Pedroia is the complete package. When he won the MVP award a couple of years ago, some bristled because of the lack of power numbers. Don't pay attention to those folks.
When you can field your position well, run the bases well, and hit well, you are just as good if not better than the one-dimensional great hitter.
Pedroia will have a tough go for the Gold Glove as the American League is loaded with good defensive second baseman. It says here that Ian Kinsler is slightly better, but Pedroia is definitely in the discussion.
Worst Fielder: This one is a tossup at the moment.
When the Sox traded for Adrian Gonzalez they decided to let Adrian Beltre move on. They arguably could have re-signed Beltre and been better off, but that is a different debate for a different day.
Kevin Youkilis is a solid fielding first baseman, but he is not quick enough to play a good third base. Still, they need his bat in the lineup, so hopefully they find a way to bring him back.
Possible Changes: The Sox have several decisions coming their way. They must decide whether to pick up Marco Scutaro's option, whether to re-sign Kevin Youkilis, and they must decide what to do with right field.
J.D. Drew shouldn't be re-signed unless he takes pennies on the dollar. Do they want to go with what they have, or do they want to check the free-agent market and possibly upgrade?
2012 Outlook: Boston is in a lot better shape than most give them credit for. If they keep their heads about them, they will return the best hitting lineup in baseball.
In terms of fielding, Carl Crawford used to be an all-world left fielder and suffered through a fielding slump at the same time as his hitting slump.
If both turn around next year, you could see the Red Sox jump into the top five in fielding.