NFL Week 7 Picks: Who Will Drive Las Vegas Crazy?
October 20, 2011
Doug Pensinger/Getty Images
Anytime your making a bet, it is certainly nice to have a sense of confidence in the team your betting on.
That said, all the NFL games will be bet on, but unfortunately for some, there will be games which drive them up the wall.
The following three games are those games, however, there is advice on who take after each explanation. 
Click the link for a full view of the Week 7 NFL line.
Carolina Panthers (Favorite) vs Washington Redskins (Underdog) -2.5
This is a tough game to pick either way because we're not sure the identity of the Redskins with QB John Beck under center, however, it's clear that they have a great defense and can shut opposing offenses down.
As for Carolina, they have a more clear identity, which is use Cam Newton to throw the ball (pray that he doesn't turn it over) and hope the defense doesn't give up too many points.
Carolina has given great effort all year, whereas the Redskins started out a surprising 2-0, but are just 1-2 since. Something has to give this game, but when in doubt take the points.
Take the Washington Redskins and the points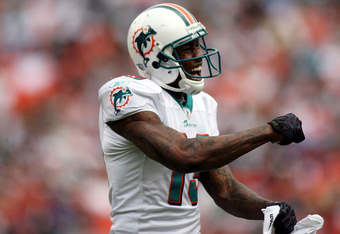 Marc Serota/Getty Images
Miami Dolphins (Favorite) vs Denver Broncos (Underdog) -1.5
Just because Denver QB Tim Tebow is getting the start doesn't mean that this game is going to be exciting. You have two of the NFL's worst team battling it out and the winner doesn't improve that much.
It's slated to be an ugly game as well because both defenses are each team's stronger area, which just shows you how bad this may turn out.
The Dolphins are winless, confidence-shot, and maybe even apathetic, whereas Denver has at least Tebow going for them, so take the Broncos by default.
Take the Denver Broncos and the points 
San Diego Chargers (Favorite) at New York Jets (Underdog) -2
The scary part about this game is that both teams are technically under-performing. The only difference however, is that the Chargers are 4-1 and feasting off a weak schedule, whereas the Jets have had a fairly tough schedule, but are still 3-3.
With San Diego, it appears they got off to another slow start because all their wins are close and against bad teams. As for New York, some personnel changes on defense and you can see why only the pass defense is solid.
Both need a win here, however, the Jets need it more as they're in the more difficult division. Also, the game is in New York while the Bolts may still be without TE Antonio Gates.
Take the New York Jets and the points
Be sure to check out John on Bleacher Report. 
And, you can follow him on Twitter @ Sportswriter27.