5 Overlooked Points About the Boston Red Sox's Collapse
October 20, 2011
Ronald Martinez/Getty Images
Everyone now knows about the Red Sox collapse in September of 2011, but the media coverage has given disproportionate attention to certain aspects of the story (beer in the clubhouse, etc) while not examining how and why the team's performance could go into a freefall.
I will focus on five major aspects of the story that I believe deserve more attention.
1. The Red Sox' tremendous lack of pitching depth led, largely, to the team's 7-20 record in September. 
After starters Daisuke Matsuzaka and  Clay Buchholz were lost due to injury early in the season, the team failed to find half-decent replacements.  Tim Wakefield, Andrew Miller, Kyle Weiland, (a rookie) and Eric Bedard all failed to perform well enough to keep the team in competition.
The question many of us had in late August and September was, "isn't there anyone else the team could bring up from its farm system to help salvage the season?" When we kept seeing Wakefield and Weiland, the answer was obviously "no." When you factor in John Lackey's horrendous season, that makes three fifths of the rotation bad—making a "collapse" much less shocking.
Red Sox outgoing GM Theo Epstein admitted in a September interview that the team lacked adequate pitching depth.  He said they tried to have pitchers from the minors who would be ready, if needed, but things didn't work out that way.  Epstein was quoted in a Sept. 23 article posted by Alex Speier on WEEI.com: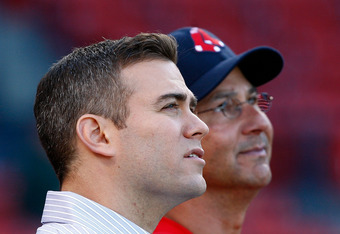 Jim Rogash/Getty Images
"...We had a number of guys we thought positioned fairly well in the farm system to step up and take a more meaningful role, but development is not linear, and it just so happened that those players didn't develop the way we wanted on the perfect time frame for how our injuries coincided...." Theo said.
While many teams can be vulnerable to that circumstance, the 2011 Red Sox actually ran out of any good pitchers!.  It got to the point in September - when Josh Beckett and Jon Lester also faltered - that nobody in their rotation could pitch a half-decent game! 
What is surprising is that Epstein has received incredibly little scrutiny or criticism for the team's total inability to make any new pitchers available in August and September.  (This applied to the bullpen too - which relied on way too few pitchers night after night!) Epstein has drawn only a few random comments from Boston baseball writers.  The Boston Globe's Peter Abraham, in a September 16 "Extra Bases" item, said the team "failed to build starter depth,"  and continued:
"....The Red Sox have a well-funded and comprehensive player development system and the only starter they were able to spit out of their vaunted machine for 2011 was Kyle Weiland? How is that possible? That's on Theo Epstein and his staff."
Yet, in the past few weeks, as non-stop stories come out on "Beer-gate," the far more central topic of the team's remarkable shortage of pitching has been relatively ignored.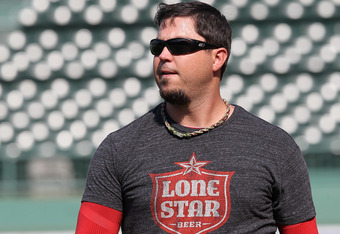 Jim Rogash/Getty Images
2.  Terry Francona might have "lost the clubhouse" far more than most believed.
It is stunning that Dustin Pedroia is the only player who has vigorously defended and praised Francona during the painful aftermath of the seasons.  Three weeks have passed, and we've heard comments on the collapse from veterans David Ortiz, Jon Lester and Jason Varitek.  When all three were asked about Francona's departure and his 2011 season, none offered any spontaneous, strong endorsements of Tito. 
I can understand if maybe they felt Francona had "burned out" as one suggested, but I've gotten a sense that perhaps we'll learn more during this winter about why these players appear so distant from Francona, a manager who has been so loyal in protecting all the players.  Maybe Francona had even worse circumstances or distractions in 2011 than we now know, and maybe these "other factors" contributed to damage in his relationship to his players.  (Or, maybe the players simply tuned Francona out).
3.  There are no signs, yet, that Theo Epstein Did Much to Address Francona's Problems or the Dysfunctional Clubhouse.
Because Epstein is headed to the Chicago Cubs, he's escaped virtually any scrutiny for his action or inaction in trying to address the team's problems in the clubhouse in 2011.  Epstein and Francona, in the days immediately following the season, mentioned during a press conference how they had spoken about the clubhouse problems or the team's "culture" on occasions.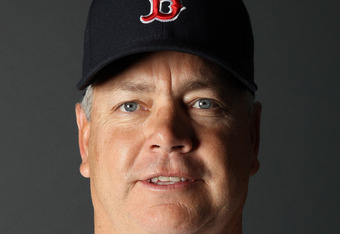 Elsa/Getty Images
However, it's unclear how Epstein, as GM, could have been quite so oblivious to these issues during the entire season. (Issues such as the lack of leadership among players, a lack of support of players for each other, the beer drinking and other matters).  Also, did Epstein share any concerns he learned of from Francona with CEO Larry Lucchino or owner John Henry before September?  Did the "chain of command" work?
4.  John Farrell, the pitching coach in 20101, was BADLY missed in 2011.
It didn't take a rocket scientist to notice that the pitchers in 2011 didn't seem to respond as much to Curt Young as they had previously to Farrell, one of the best pitching coaches the Red Sox have had for many years. From simply observing Young talking to pitchers on the mound, one got a sense he was not quite as assertive or challenging compared to how Farrell appeared in that role.  One sensed that Farrell spoke firmly to his pitchers and said whatever he felt had to be said to motivate them to perform better.  Is it a coincidence that we used to hear Farrell, in interviews, talk openly and bluntly about what his pitchers needed to improve on, while we heard very little from Young in that regard.  I just don't think starting pitchers would have either drunk beer as much in the clubhouse or gained weight or separate themselves from the position players if Farrell had been around in 2011.  Farrell didn't appear to take any crap from any pitchers.  Who knows?  Perhaps if Farrell had been here, much of this episode would never have happened. 
5.  The media coverage of the collapse has unfairly "tainted" players on the team who probably do not deserve to be lumped in with everyone else.
Take Adrian Gonzalez as an example.  After the season, I heard certain radio talk show hosts ripping Gonzalez for a few different things.  First, they criticized Gonzo for complaining, in a radio interveiw about the Red Sox schedule being tough at times due to overnight or early morning travel.  He made a remark that, in his view, the collapse might have been "God's will." And he spoke about the impact of injuries.  Some have complained Gonzalez did not show leadership on the team. My response:  Gonzo was unwise to remark about the hassles of the schedule to any member of the media right after the collapse.  However, his religion is his own business.   I don't know about his leadership capacity,but he spoke about that candidly this  week, saying he felt he needed to get to know his teammates (in his first year) before trying to be a vocal leader. Lastly, Gonzalez, by most accounts, was a "professional" player who gave his best effort all year.  In addition, while some observers jumped on his hitting performance diminishing in the second half, he reportedly was experiencing fatigue and weakness in his surgically-repaired shoulder.
Gonzo ended the season batting .338 with 27 HRs, 117 RBIs, 213 hits, an OBP of .410 and an OPS of .957.  And that's with his bad shoulder.
So, before blasting every member of the team all winter, it's time to keep perspective and sort the good from the bad.  It's also time to build better pitching depth and prevent future collapses like in 2011.