The 25 Saddest Moments in MMA History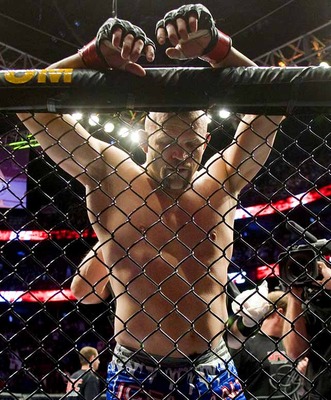 The world of mixed martial arts is dictated by a series of ups and downs.
Though a fighter like the famed Randy Couture has seen the highest of highs in his mixed martial arts career, having claimed the UFC title on five separate occasions, he too is a victim of the spotlight, having fallen from grace on several occasions.
Couture is just a small example of a legacy that many fighters and figures in the MMA community have left behind, concluding in both uplifting and tragic stories.
Sam Vasquez and Michael Kirkham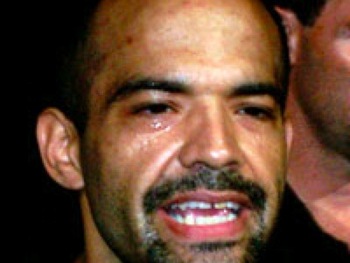 Sam Vasquez
Mixed martial arts, statistically, has proven to be a much safer alternative in the world of combat sports, though it has seen its fair share of tragedies regardless.
Outside of untimely deaths of trainers and memorable figures, the MMA community has seen the passing of two fighters, Sam Vasquez and Michael Kirkham—two men dedicated to the sport that eventually took their lives.
Vasquez suffered a knockout loss to Vince Libardi under the Renegade Extreme Fighting banner in October of 2007. Vasquez lost consciousness and was rushed to the hospital, where he was diagnosed with a subdural hemorrhage. After invasive surgery ensued, Vasquez, 35, died on November 30 after slipping into a coma. He is survived by his wife and son.
Kirkham was also victim to a knockout in June of last year at the hands of Carlos Iraburo, fighting for the first time in his career under the Dash Entertainment banner. Kirkham, 30, was brought to the hospital, where he never regained consciousness. Medical personal diagnosed Kirkham as having suffered a subarachnoid hemorrhage, which eventually led to his death.
Rest in peace.
Joe Stevenson Loss to BJ Penn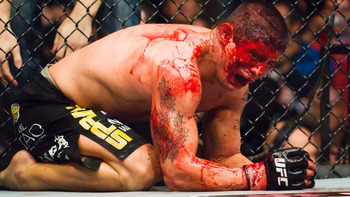 Joe Stevenson was a winner of the second season of The Ultimate Fighter and was riding a wave of confidence heading into his bout with a legend in BJ Penn.
The two lightweights met at UFC 80 as equals, but the Hawaiian ended up dominating Stevenson en route to a second-round rear-naked choke finish. It left Stevenson crying in a bath of his own blood washing over him, upset at his failed opportunity to capture a major world title—his first and, so far, last.
Frankie Edgar 2-0 over Penn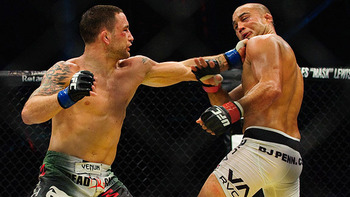 It wasn't all that long ago that many hailed "The Prodigy" as the longstanding ruler of the lightweight division. Then along came Edgar.
Twice did Frankie have "The Answer" for Penn, besting him in a contentious bout at UFC 112 that stripped the Hawaiian of the title and later defending the belt in a rematch with Penn, dominating the former two-time world champ at UFC 118.
Essentially, Edgar ousted Penn from the lightweight class following the back-to-back defeats suffered by the 31-year-old. So long as Edgar reigns as king at 155 pounds, don't expect Penn to be making a return to his natural weight class anytime soon.
Andrei Arlovski KO Loss to Sergei Kharitonov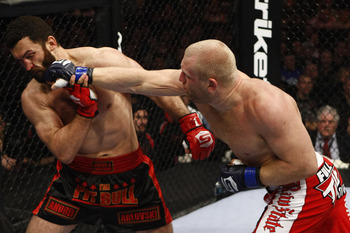 The former UFC heavyweight champion has dropped far from grace.
Following a memorable performance against the prolific Fedor Emelianenko in 2009, Arlovski transitioned to the Strikeforce banner, where the Belarusian went 0-3 under the promotion.
In his final performance, Arlovski looked to be edging fellow striker Sergei Kharitonov early. However, his suspect chin was tested and ultimately led to his defeat when the Pride veteran shut off the former champ inside of the first round, spelling the end of Arlovski's relevance in the sport.
Kenny Florian 0-3 Title Fights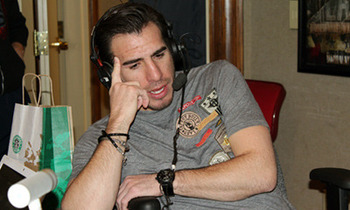 mmajunkie.com
Three times has perennial contender Kenny Florian contested for a world title under the UFC banner, and three times has Florian come up empty-handed.
He earned shots as a lightweight against 155-pound greats in Sean Sherk and BJ Penn, which essentially signaled the end for Florian in the division.
He decided to move down to the featherweight division in hopes of a quick title shot against champion Jose Aldo, which he earned after defeating the Brazilian's teammate in Diego Nunes.
However, again Florian came up short, eventually dropping a clear-cut decision to Aldo, which has since made "Ken-Flo" contemplate retirement following his third failed attempt at capturing gold.
Shogun Losing Decision to Lyoto Machida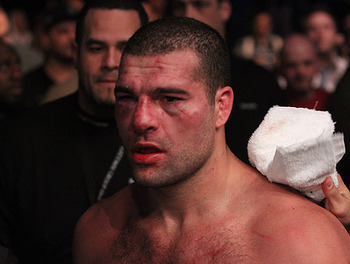 mmaweekly.com
At UFC 103, Mauricio "Shogun" Rua finally earned his shot at the UFC world title. However, what ensued was dubbed the "Robbery of the Year" by many fans and the media alike.
Then Shogun challenged fellow Brazilian Lyoto Machida for the title, later seemingly edging his fellow countryman on the score cards before losing a controversial decision.
Though it was later avenged, it was still a stinging blow for a great performance turned in by Rua, who later was handed a loss for his efforts.
Mirko Cro Cop KO Loss to Brendan Schaub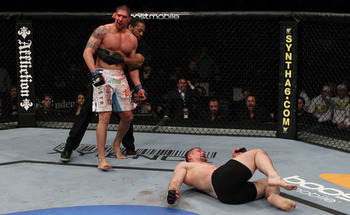 Though there had been signs before, UFC 128 this past March truly spelled the "end of an era" for Mirko Cro Cop.
The heavyweight K-1 striker built his legend in Japan under the Pride banner, earning the Open-Weight Grand Prix title in 2006, though his accolades were quickly dismissed when The Ultimate Fighter veteran Brendan Schaub viciously knocked out Cro Cop in the waning moments of the final round.
Matt Hughes KO Loss to Josh Koscheck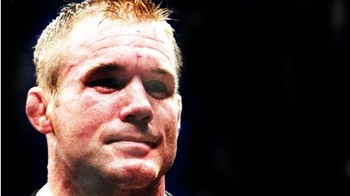 UFC Hall of Famer Matt Hughes recently suffered a second consecutive knockout loss at UFC 135 last September, thanks to Josh Koscheck.
Though Hughes wouldn't, or rather couldn't, allow himself to retire, he too is a victim of his own successes, falling out of the welterweight rankings—something that Hughes, for a long time, ruled with an iron fist.
Those days are long gone.
Gina Carano Loss to "Cyborg"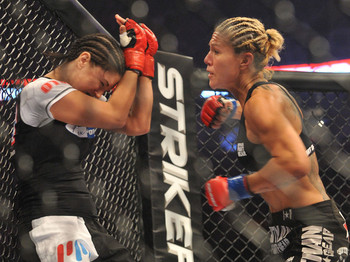 The former face of women's MMA, Gina Carano was almost ousted from the sport altogether after an embarrassing one-sided defeat at the hands of Cristiane "Cyborg" Santos.
The Brazilian ran a rout through Carano, eventually finishing off the pretty-faced striker in the final moments of the first round.
Since the 2009 loss, Carano has not seen the inside of the cage, though she is rumored for return very shortly under the Strikeforce banner.
Wanderlei Silva KO Loss to Dan Henderson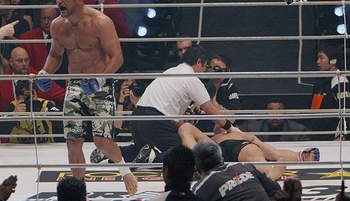 sherdog.com
In his last appearance under the Pride banner, Wanderlei Silva lost his championship, his prestige, and his seemingly invincible aura in his knockout loss to Dan Henderson.
It was his second consecutive KO defeat, previously having been shut off by Mirko Cro Cop. Since the string of defeats, Silva hasn't been the same fighter.
Death of Helio Gracie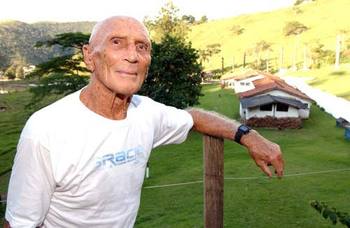 Co-founder of the famed art of Brazilian Jiu-Jitsu, Helio Gracie is single-handedly responsible for elevating the world of mixed martial arts. Helio was supported by his brother Carlos in creating and refining the art of Jiu-Jitsu.
The Brazilian lived a long and fruitful life, enjoying his family's successes in both the BJJ circuit as well as in the world of mixed martial arts, where his sons Royce, Rickson and Royler found success.
He died at the age of 95.
Jens Pulver WEC Losses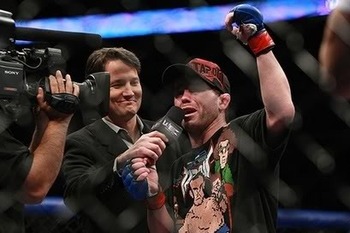 Jens Pulver, the first-ever UFC lightweight champion, ended his run under the Zuffa banner when the heavy hitter suffered a string of losses—five in a row, to be exact—during his WEC tenure as a featherweight.
His post-fight speeches became more and more dramatic before Pulver all but said he was hanging up the gloves for good. He may still be fighting, but he's not nearly the man he was all those years ago when he ruled the 155-pound division with an iron fist.
Forrest Griffin Loss to Anderson Silva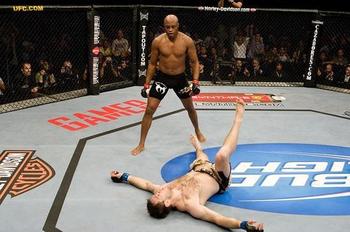 The former light heavyweight champion was pitted against pound-for-pound king Anderson Silva at UFC 101 in August 2009.
Silva, the much smaller of the two, dominated Griffin from start to finish, eventually finishing off the durable fighter inside of the first round after having dropped him three times during the bout—seemingly toying with Griffin throughout by dropping his hands by his waist, backpedaling and eventually finishing off Griffin with a short jab.
In the end, Griffin ran out of the Octagon soon after, having been embarrassed in front of a large capacity crowd in Philadelphia.
Chael Sonnen Loss to Anderson Silva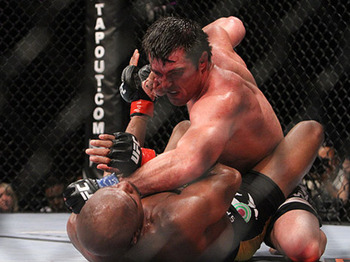 mmaweekly.com
After dominating Silva from the opening bell to nearly the last, Chael Sonnen seemed like he was just moments away from being crowned the new middleweight champion of the world at UFC 117 in August of last year.
However, Sonnen's ugly tendencies reared their head, as he was submitted with a triangle choke with only 90 seconds remaining in the bout. If Sonnen had staved off the submission, he would have won a clear-cut 50-45 decision over the proverbial pound-for-pound king.
Wanderlei Silva KO Loss to Chris Leben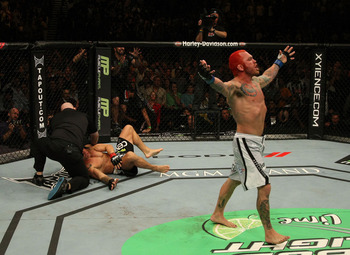 His bout with Chris Leben was supposed to be an early candidate for "Fight of the Night" honors, but instead Silva succumbed to the most devastating loss of his career.
At UFC 132 this past July, Silva succumbed to early strikes from "The Crippler," having been knocked out in just 27 seconds of the opening round.
The loss was his sixth in an eight-fight stretch, with four of those defeats coming by way of knockout.
Death of Ryan Gracie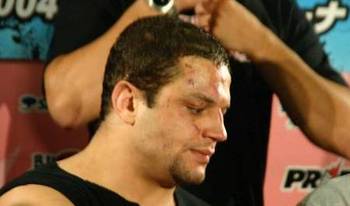 Billed as the "Bad Boy" of the Gracie clan, Ryan lived a short and sad life.
In 2007, the Gracie fighter was arrested for stealing and crashing a car in Sao Paulo, Brazil. He also attempted to flee the scene by stealing a motorcycle and outgunning police, though those plans failed.
He tested hot for marijuana, cocaine and an unknown anxiety drug as well.
In an effort to detain and calm down Ryan, doctors administered the Brazilian a litany of drugs: Haldol (a powerful antipsychotic), Fenergan (which has a side effect of sleepiness), Topamax (for migraines), Dienpax (tranquilizers), and OmniPlex (relaxant).
Ryan died shortly thereafter.
Death of Pride FC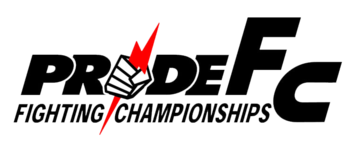 The prestigious mixed martial arts organization Pride FC was a victim of the greed that surrounded its handlers. The company went belly-up in 2006 and was eventually bought out by the UFC, which inevitably ceased PRIDE operations shortly thereafter.
Wanderlei Silva, Mirko Cro Cop, Mauricio "Shogun" Rua and Fedor Emelianenko—among many others—were some of the success stories that came out of the famed Japanese promotion, which has produced some of the best fights in mixed martial arts history.
Chuck Liddell KO Loss to Rashad Evans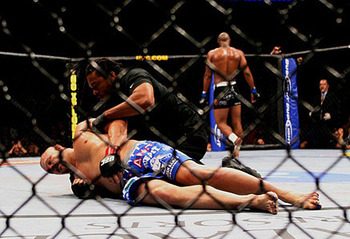 "The Iceman" had suffered a few knockout losses before, though none like this.
At UFC 88, Liddell seemed to be edging The Ultimate Fighter Season 2 winner Rashad Evans early. However, the heavy-handed Evans proved to be quicker on the draw.
Evans connected on a lightning-fast overhand right, a counter to an impending uppercut, emphatically severing Liddell from his consciousness and spoiling the return to the top of the former champ in devastating fashion.
It was a sign of things to come.
Antonio Rodrigo Nogueira KO Loss to Cain Velasquez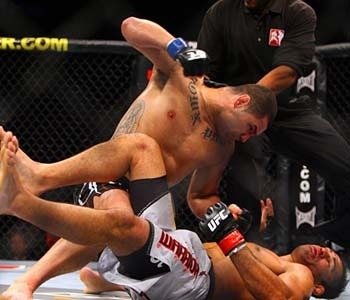 One of the most durable men in the world of mixed martial arts, Antonio Rodrigo Nogueira was emphatically stopped at UFC 110 in February of last year.
The Brazilian had been stopped on strikes before by former champ Frank Mir, though the loss was incomparable to the defeat suffered against Cain Velasquez, who knocked out Nogueira on first-round strikes, signaling the demise of the heavyweight great.
Fedor Emelianenko Loss to Antonio Silva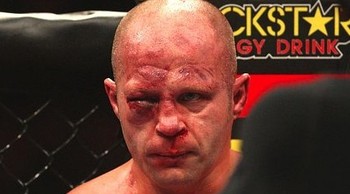 Earlier this year, the legendary Fedor Emelianenko was looking to mount a comeback following a decisive submission loss to Fabricio Werdum just a few months earlier.
The Russian was pitted against the bigger, stronger man in Antonio "Big Foot" Silva.
The action was close in the first rond, though the Brazilian dominated the former Pride champion in the second, which eventually sealed the fate of the bout. The bout ended in between rounds when Emelianenko's right eye was closed shut in a bloody, bruising, not aesthetically pleasing fashion.
Next, Emelianenko made the first hint towards retirement, contemplating ending his mixed martial arts career after the loss. He has since suffered another defeat, a TKO in the first round at the hands of fellow Pride vet Dan Henderson this past July.
Randy Couture First Retirement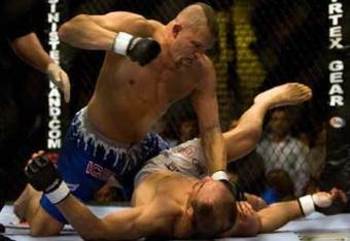 Following his second knockout loss to Chuck Liddell at UFC 57 in February 2006, an emotional Randy Couture took to the microphone announcing his retirement from the sport.

Couture would go on to become one of the few inductees into the organization's Hall of Fame. However, he later mounted a comeback and claimed the heavyweight title shortly thereafter.
He has since retired once again.
Chuck Liddell KO Loss to Rich Franklin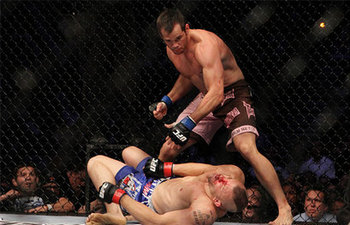 The worst part about Liddell's bout with Rich Franklin was that "The Iceman" looked every bit the fighter that ruled the light heavyweight division for a long, long time.
The former world champion dominated Franklin early, seemingly having "Ace" rocked on multiple occasions, even breaking his arm with a shattering head kick that was deflected by Franklin.
Going in for the kill towards the end of the first round, Liddell became a victim of his brutal style when he was finished with a right hook, which instantly shut him off.
The UFC Hall of Famer later announced his retirement from the sport, leaving behind a proud legacy.
Mark Coleman Second Loss to Fedor Emelianenko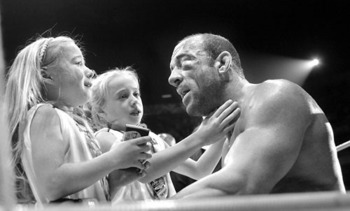 Coleman will long be regarded as a legend of the sport, as his place in the UFC Hall of Fame would indicate.
However, one of the more memorable moments of his career would be the post-fight antics following his second loss to Fedor Emelianenko.
Afterwards, Coleman's two young daughters were brought to the ring to comfort a devastated Coleman, who was left battered and bruised by Emelianenko. Coleman's attention later converted to attending to his two crying daughters.
Death of Evan Tanner
This video trailer of Once I Was a Champion—a feature-length documentary surrounding the life and death of Evan Tanner—best details the impact the Team Quest product left behind in the world of mixed martial arts.
Death of Shawn Tompkins
The passing of revered mixed martial arts coach Shawn Tompkins is one of the most untimely deaths in the sport. Beginning his career as a karate specialist, Tompkins later parlayed his skills into a successful career as a kickboxer, holding multiple world titles before opening up his first gym at the age of 18.
Since then, Tompkins was regarded as one of the best trainers in the sport, helping mold such fighters as WEC vet Chris Horodecki as well as UFC contenders Sam Stout and Mark Hominick.
At 37 years old, Tompkins fell victim to a heart attack this past August, dying in his sleep. He is survived by his wife Emelie Stout—sister to "Hands of Stone"—as well as the many mixed martial artists that Tompkins has assisted over the years.
Death of Charles "Mask" Lewis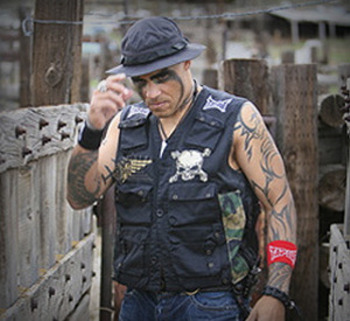 "Mask," co-founder and brain behind the famed TapouT brand, was killed tragically in a high-speed car crash in March 2009, victim of a drunk driver.
He is remembered as a bright, bubbly personality—a man who always lent a helping hand to those in need, which is evident in his admiration in the mixed martial arts community.
Lewis remains the only non-fighter to enter the UFC Hall of Fame, thanks largely due to the legacy he left behind that will never be forgotten.
Keep Reading