Notre Dame Football: USC Is a Trap Game for the Heavily Favored Irish
October 20, 2011
Ezra Shaw/Getty Images
Notre Dame's complacency will ultimately bring them to a standstill and open the door for USC to steal a victory on the road Saturday. Notre Dame operates best when it is under the radar, which makes its "sure victory" the biggest trap game imaginable.
USC vs. Notre Dame is one of the most heated rivalries in all of sports. With both teams coming into this game with decent teams, there is no way to justify giving this game a two-score spread. There is no bigger force in sports than pure hatred, and it's impossible to say one of these teams is significantly better than the other.
To make matters worse for Notre Dame, USC has Matt Barkley under center. Some are quick to point out that USC lost this game at home last season, but Barkley was out injured in that game and Mitch Mustain was the under center.
This year Barkley is healthy and has solidified himself as a top-flight quarterback. This is likely his last season at USC and after outdueling Jimmy Clausen in 2009, a win would be a great feather in his cap before he moves on to the next level.
USC is still on a bowl ban, so essentially games like this are the highlight of its season. The Trojans can't go to the Pac-12 championship game and it's tough to set long-term goals with the restrictions that have been imposed, but playing spoiler to Notre Dame would ease the pain of not having a postseason.
Robert Woods is going to be a factor for USC, and teammate Marc Tyler's shoulder injury will come into play. It will be interesting to see if Tommy Rees can keep up the recent production he's put forth in the past two games for the Irish, but the biggest determining factor in the outcome of this game is that USC is being written off.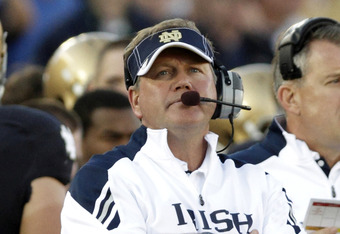 John Gress/Getty Images
The Irish are at their worst when they aren't hungry. Their No. 16 ranking coming into the season took away their drive and set them up for failure, which they attained right of the gate with an 0-2 start. With their backs against the wall, they clawed their way to four consecutive victories immediately following their two losses.
Notre Dame would be better off if they were seen as the underdogs in this game. The lack of respect being shown to USC going into this game has to agitate Lane Kiffin's squad.
The Trojans are going to come to play. Brian Kelly is going to have a tough time convincing his team that they don't have a gimme game lying ahead of them. Notre Dame has a habit of failing to live up to expectations, and USC has to be elated that they are coming into their matchup with Notre Dame as 8.5-point underdogs.