Auburn Football 2011: A Look at LSU and a Common Future Opponent
October 20, 2011
Kevin C. Cox/Getty Images
While some would say a comparison of common opponents is quite useless, this is not usually the case. The fact is that a study of a common opponent is a very useful indicator of what is to come. How badly a team beats a common opponent is not as useful as other comparative statistics.
Alabama, LSU and Auburn recently played a very competitive Florida team in three consecutive weeks. One must take into consideration several factors when doing a comparison, one of which is the effect of playing three such teams in consecutive weeks.
Another factor to consider is that Florida lost their quarterback in the first half of the Alabama game, changing their offense. We'll look at that as well.
Florida produced about 170 of their 232 total yards of offense in the first half of the Alabama game.
Florida never crossed the 50 yard line after halftime. There is little doubt that Florida was unprepared to lose their starting quarterback. We must also consider that Florida had a week to prepare without their starter before facing LSU and two weeks to prepare to face Auburn.
If one doubles the production of the Florida offense in the first half of the Alabama game, it shows a total production of about 340 yards. It also shows a total production of 20-23 points, far less than would have been necessary to win the game.
The Florida offensive line and defense was essentially the same for all three games.
Comparison of Florida games
| | | | |
| --- | --- | --- | --- |
| Statistic | Alabama | LSU | Auburn |
| Total Offense | 366 yards | 453 yards | 278 yards |
| Scoring Offense | 31 points | 41 points | 17 points |
| Sacks Allowed | 0 | 1 | 1 |
| Allowed Tackles For Loss | 4 | 5.5 | 8 |
| Total Offensive Plays | 68 | 63 | 59 |
| Total Defense | 242 yards | 213 yards | 194 yards |
| Scoring Defense | 10 | 11 | 6 |
| Sacks | 4 | 1 | 4 |
| Tackles for Loss | 11 | 4 | 8 |
| Total Offensive Plays Defended | 52 | 48 | 59 |
LSU gained the most yards per play against the Florida defense and Auburn allowed the least yards per play by the Florida offense. The most telling statistic is likely the offensive performance against Florida, since their defense was not held back nearly so much by injuries.
Even after losing the three games, the Florida defense is ranked No. 13 nationally in total defense and No. 18 in scoring defense. This is a very strong indicator that Florida can be considered a formidable defensive team.
Auburn averaged 4.2 yards per offensive play against Florida. Florida allowed an average of 4.5 yards per play on the year. This would indicate a substandard performance.
LSU averaged over seven yards per offensive play against Florida. This is well above average. This would indicate a solid offensive performance for them in that game.
Alabama averaged 5.3 yards per play against Florida. This would indicate a good offensive performance against the Gators.
All indicators point to it being a much more achievable task to shut down the Auburn offense than those of either Alabama or LSU. They also indicate that Auburn should stand a better chance against Alabama than LSU.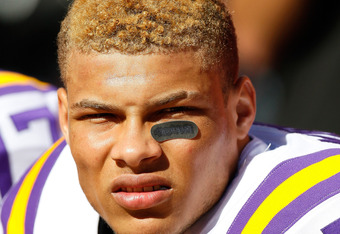 Kevin C. Cox/Getty Images
While Florida does run a conventional offense like Alabama and LSU, it should be noted that Florida averaged over five yards per offensive play against Alabama and well over four yards per offensive play against LSU.
Auburn was able to hold this opponent to less than four yards per offensive play.
Prognostication for LSU
LSU has been the favorite in the SEC since the 2010 season ended. The only piece they seemed to be lacking was a quarterback. They are now very solid at that position.
Auburn started the 2011 season with more potential for improvement than any other team in the conference. They have stumbled along the way, but improvement has been steady and obvious.
What was thought to be an advantage of this young Auburn team was exposed as an Achilles heel when Auburn was forced to change starting quarterbacks in week seven of the season.
This change will inevitably make the Auburn offense quite different from what it has been so far this season.
No one can predict what signature Clint Moseley will leave on the Auburn offense, but history tells us that Gus Malzahn will adapt the offense to his strengths. This makes for a particularly difficult game for LSU to prepare for.
Auburn will be able to run the ball against LSU as long as there is a legitimate threat of a passing game to back it up. Auburn's chances in this game will hinge on the poise and effectiveness of Clint Moseley.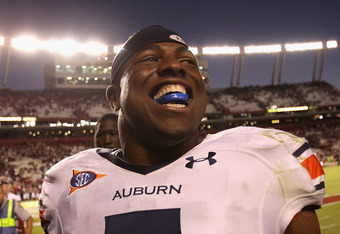 Streeter Lecka/Getty Images
The Auburn defense should be able to slow down the LSU offense. It will then be up to the Auburn offense to control the clock and score enough to win.
Looking at every available indicator, LSU should win this game. With recent improvements in the Auburn defense, there could be a decent shot at pulling off the upset on the road.
LSU has suspended Tyrann Mathieu, Spencer Ware and Tharold Simon for this game. This was the bit of information that was holding up the report of this article. Reports suggest that this will be at least a full game suspension.
Spencer Ware is the starting running back for LSU and Tyrann Mathieu is their most prolific playmaker in the defensive secondary. These are big factors that tip the scales in the direction of the Plains Tigers for this daytime game in Death Valley.
LSU is a 21-point favorite going into this contest. It is unlikely in the extreme that they will cover that spread. It is also hard to see Auburn pulling off the upset. Look for LSU to pull off a close contest.