Falcons vs. Lions: TV Schedule, Live Streaming, Radio, Game Time and More
October 19, 2011
Gregory Shamus/Getty Images
The Atlanta Falcons' disappointing season has a chance to get a lot better this week when they head to the Motor City to take on the Detroit Lions, who are coming off their first loss of the season.
The Falcons have all sorts of problems right now. The offensive line is a mess, leaving Matt Ryan and Michael Turner little time to do anything. Receivers Roddy White and Julio Jones have battled injuries at different points this season.
Also, the defense has not been getting after the quarterback as much as it should, which is forcing their weak secondary to stay in coverage longer than they are capable of.
The Lions have been flirting with disaster all season long, and it finally caught up to them last week against San Francisco. The good news is they don't have to sit around waiting for another game to get back on track. They are still one of the best teams in the NFC, so there is no reason for them to be nervous.
Where: Ford Field in Detroit, Michigan
When: Sunday, Oct. 23 at 1:00 p.m. EDT
Watch: FOX; DirecTV Channel 707
Listen: Star 94 FM, 790 The Zone (Atlanta); 97.1 FM WXYT, Sirius Channel 86 (Detroit); NFL.com Audio Pass ($29.99 for year, $27.99 team specific, $9.99 a month)
Betting Line: Detroit (-3.5)
What's At Stake?
The Falcons' postseason hopes fade with each passing week. Even though they won last week against Carolina, they are still trying to find a consistent rhythm on offense and defense. A win versus Detroit would be a major confidence boost for this team heading into their bye next week.
The Lions are very good, but they are still young and need to beat teams that they are superior to if they want to make a deep playoff run. They failed last week against San Francisco, but get a shot at redemption against Atlanta on Sunday. A win will be a step back in the right direction.
Falcons Injury Report
Questionable: WR Julio Jones (Hamstring), 
Lions Injury Report
Doubtful: RB Jahvid Best (Concussion), TE Tony Scheffler (Concussion)
Questionable: LB Justin Durant (Concussion) 
What They Are Saying
At his weekly press conference, Falcons head coach Mike Smith felt like the team turned a corner against the Panthers.
"I felt we got back on track today in terms of our preparation this week. It was a very solid week of preparation. Especially in the second half of the ball game, we did what we feel like is our DNA that we want to do and that is to control both sides of the line of scrimmage, both offensively and defensively. We had some trouble in the first half, getting off on third down. In the second half, the final four drives of the ballgame ended in three-and-outs or interceptions and that's the way you want to end a game."
Lions coach Jim Schwartz, fresh off his tongue-lashing of Jim Harbaugh, says the team needs to get better at protecting quarterback Matthew Stafford in order for the offense to play up to its potential.
"It's not one of Matt's better games, for sure. A combination of a lot of things: We've got to do a better job of getting open for him, we've got to do a better job of protection. But yeah, there's some things we need to clean up, just the tempo of getting rid of the ball and being able to step up."

 
Falcons Player To Watch: Ray Edwards, DE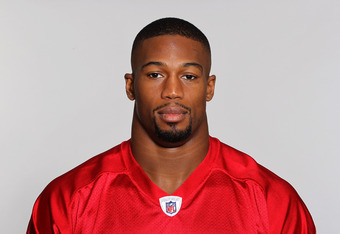 Handout/Getty Images
One of the biggest free agent acquisitions was Ray Edwards signing with the Falcons. He was supposed to solidify their pass rush up front and take pressure off the secondary. To date, he has just 15 tackles and two sacks and has been a big disappointment.
If the Falcons want to get back into contention this season, the defense has to step up and make some plays, and that starts with Edwards and John Abraham. If they can't break through the Lions offensive line, Stafford and Calvin Johnson will pick them apart.
Lions Player(s) To Watch: Nate Burleson and Titus Young, WRs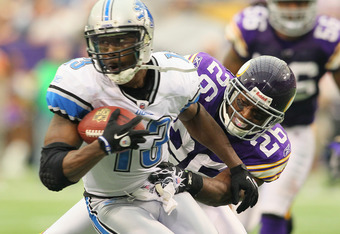 Adam Bettcher/Getty Images
Johnson is going to get all the attention from opposing defenses, which means that one of the other receivers has to step up and make a play. At different times this season, both Nate Burleson and Titus Young have had moments of brilliance.
Burleson had a touchdown catch last week against San Francisco and a season-high four catches. That doesn't sound like much, but he doesn't have to be lighting it up to be exactly what the team needs. 
Young is an interesting case because he started out the season strong—five catches, 89 yards—and has seen his numbers decrease in each subsequent week—51 yards, 41 and 14 in the last two games. 
Too often they get lost in the shuffle and Stafford has been left to throw the ball into double- and triple-coverage to Johnson. It is a good formula when it works, but it is no way to run an offense for an entire season.
Fortunately, the Falcons do not have a good secondary, so Burleson and Young should have a good game.
Key Matchup: Detroit Wide Receivers vs. Atlanta Cornerbacks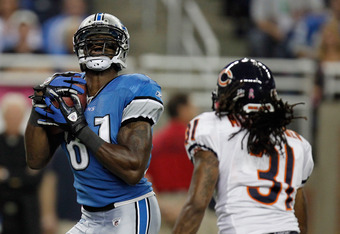 Gregory Shamus/Getty Images
The Falcons are not getting the kind of pass rush that they need to in order to throw off the timing and rhythm of opposing quarterbacks, so more pressure is put on the secondary and, for the most part, they have not been able to handle it. 
They are ranked 27th in the NFL in pass yards allowed per game (282.8), which does not bode well going up against a receiver like Johnson. If they can shut him down, it will be incumbent upon Young, Burleson and the rest of the wideouts to make a play. 
If the Lions offense is able to get loose, which they have more often than not this season, they will make life miserable for the Falcons. 
Prediction
While the Falcons did look impressive in their victory last week, that was against a weak Carolina defense. The Lions have had problems on the defensive line in the last two weeks, but they are still deep up front and the secondary is getting better.
The Falcons don't have enough on defense to contain Stafford and Johnson, especially in the red zone. Even with so much uncertainty in the running game, they are the better team overall and will win this game.
Lions 31, Falcons 20