NBA Lockout: An Open Letter to Derek Fisher and Billy Hunter
October 19, 2011
Patrick McDermott/Getty Images
Dear Derek Fisher and Billy Hunter,
I am writing to you to express my dissatisfaction with the NBA's second delayed start in its history. I griped to Commissioner David Stern a few weeks ago, imploring him to end this dispute and protect his league's viability.
Consider this plea your own call to action.
I do not harbor the massive naiveté required to believe anyone with influence in labor negotiations will read this. A few hundred—maybe a few thousand—hoops fans will peruse this on the Bleacher Report and Swoosh Nation websites.
Some of them will color me stolid and charge that I do not understand the lockout or its intricacies. Others will litter the comments section with misspelled words and a lack of punctuation that suggests a return to fourth grade might prove beneficial. A few will commend me or agree with my message.
There is, of course, a chance no one will take the time to offer feedback. In that case, I might as well scream at a wall or punch a desk.
The prospect of no professional basketball until next fall infuriates and saddens me. For this hardwood aficionado, salvaging at least a portion of the 2011-2012 season is a "blood issue." Everyone involved in this impasse should know that phrase like a fiancé.
The NBA Players Association continues to protest the owners' proposed salary structure and the mechanisms by which the bosses would compensate the employees.
Please understand that die-hard followers cannot negotiate the terms of this millionaire-billionaire squabble. We have to sit idly and accept the outcomes of the thus far fruitless boardroom sessions.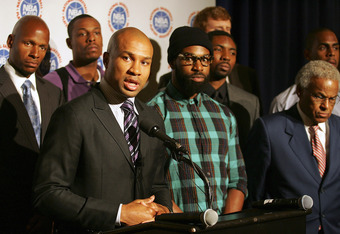 Michael Cohen/Getty Images
Think about whom you really serve, gentlemen, before asking me to re-tweet "Let Us Play." I do not use Twitter. I also think that phrase belongs in the same compost pile as Deputy Commissioner Adam Silver's line about the league wanting a system in which all 30 teams can compete for championships. Yeah, right.
Follow these instructions and let yourselves play.
Remember the hard-working, earnest ticket buyers who cram themselves into nosebleed seats just for a glimpse of Derrick Rose, Kobe Bryant, LeBron James or Kevin Durant.
Think about those soon-to-be hoops-deprived supporters who cheer every slam dunk, every long-distance grenade and use each momentous victory as an excuse for a celebration fit for Carnival or Mardi Gras.
Think about what I lose with missed games, because it is clear a segment of owners refuse to do that. They care as much about the fans as the Kardashian sisters do the outcome of any Lakers or Nets joust.
These determined bosses decided to aim for the union's jugular when they should have paid attention to the looming consequences of their greed-mongering. Much like Kim, Khloe and Kourtney, they might as well have been exchanging flirtatious, abbreviation-laden text messages.
This different brand of flirting promises to torpedo the sport's tremendous progress since the last extended labor war. Few can flirt with disaster and win. That also applies to you, Billy and Derek.
Help me help you. We both want players back on the court ASAP. Even if some owners do not know it yet, they also want the campaign to begin soon.
This is why you must accept a 50-50 basketball-related income split. Avoiding a more devastating cancellation in January also means swallowing a harder cap. I said harder, not hard.
Chuck decertification in the same garbage bin as NBC's just axed "Playboy Club." Do not allow the super agents near that plastic thing to fish it out.
You might feel more inclined to listen to someone who understands your difficult position. I write because I care.
I have never paid to watch Peter Holt, Robert Sarver or Jerry Buss sit like royalty in the expensive seats. I might pony up to watch Mark Cuban unleash his worst on a ref or Stern, but the NBA has not yet offered that exclusive ticket option.
The players drive the product. They inspire fans to purchase tickets and merchandise. The owners provide the platform and the infrastructure.
You make valid points, Derek and Billy. It is not fair to ask the employees to foot the bill for managerial incompetence. If fairness mattered to the other side, though, the preseason would have been well underway.
This is a business negotiation—in which the billionaires hold many more cards—not a Kindergarten classroom. A 50-50 cut represents the best possible compromise. You both share in the league's risks and successes, so come down three more percentage points in your proposed BRI figure and get this show on the road.
I admit without pause that I am not asking myself to surrender hundreds of millions more in givebacks. That is the point, however, the two labor parties seem to miss.
The phrase "it isn't your money" ranks right up there, Billy and Derek, with "how about a root canal" or "call the scheduling department to set up your colonoscopy."
Do not assume the cash-strapped fans mentioned above will return the moment a season commences.
Should I recap the Wall Street-centered protests spreading around the country? Right or wrong, people are fed up with being broke and unemployed. They do not want to listen to you bicker with other rich guys. Period.
I know the players have done most of the bargaining and compromising. I know that each BRI percentage point amounts to anywhere from $20 million to $60 million.
How do you think it looks when players and owners fight over a $4 billion pie when the guy across the street cannot scrounge up enough change to buy a slice at the local diner? The answer to that question matters in this economy.
Just as Stern must understand he absorbs the brunt of the criticism on the bosses' side because of his role and his visibility, the union must concede that it also appears greedy and unappreciative in prolonging this CBA spat.
I applaud both of you for helming a sterling PR battle. In a digital age, with more information available about wealthy businessmen than ever, the players were destined to fare better in this clash of perceptions. The change in the union board's composition from star-crossed to rank and file also aided the cause.
Most intelligent fans now grasp that lockouts have nothing to do with allotting more funds to teachers, firefighters, police officers or service men and women. They know the end result involves taking money from millionaires and giving it to billionaires. These tycoons operate other companies and projects.
I am not the only fan who noticed 12 NBA owners cracking Forbes Magazine's wealthiest persons list. You have kept the clueless, dumb sound bytes to a minimum. Amar'e Stoudemire threatening to "boycott the lockout," while a hilarious concept, does not compare to Patrick Ewing's "we make a lot, we spend a lot" gaffe.
Kudos aside, you are also destined to lose. The people with more money and resources tend to triumph. It has worked that way since humans invented the concept of bartering.
You can decide whether you want a respectable score or a blowout. The hard-line owners reneged on key demands for a hard cap and extensive rollbacks on guaranteed contracts. They agreed to come up four percentage points in their BRI split proposal.
Given the situation and the doomsday scenario ahead, those concessions—even if they are reversions to the current system, not sacrifices—must suffice.
If either of you expects the owners' offer to improve from here, perhaps I overestimated your intelligence. It gets worse. A lot worse. I think both of you know that.
Decertification solves nothing. That counter-suit filed with the NLRB accusing you of illegal bargaining tactics and bad-faith negotiating will ensure that. All decertification does is nuke the season and piss off a lot more folks, including both you and the owners.
Agents must look out for themselves. I would do the same thing if my paycheck depended on a group expected to surrender seven percent of its total income. I hope they have indeed backed off that radical "send this to the courts" stance.
Court is the last place you want this mess to go. The owners were smart enough to make sure they'd eventually win in such a scenario. How do you think they became billionaires?
You will lose more than paychecks when those first two weeks of the regular season pass without any activity. The longer this lasts, the more fans will turn on you. Forget justice or fairness.
Stern, a master puppeteer gone reckless, has opened the door for a reasonable deal. Remember that today's "bad deal" becomes tomorrow's nightmarish one. Attack this week's mediated sessions with the same panache you would a Game 7, Derek.
Lose the cringe-inducing catch phrases. Stop whining about recompense. When will the devotees who remain loyal to a product on hiatus get their redress?
The only victory that matters now is rescuing the 2011-2012 campaign. I no longer possess the forbearance or the stomach to care about the score in the boardroom.
Both parties should sweat image preservation more than their own bank accounts. The owners have demonstrated a blatant and unmistakable ruthlessness. I trust you, Derek and Billy, when you tout the union's stamina and solidarity.
We get it. You did not fold without a fight. Start fighting for me. Start fighting for the consumers on which the sport's livelihood depends.
This is a blood issue. If the carnage continues, it will soak your hands as much as Stern's and the owners'.
Basketball, not blood. Now, there's something to tweet.
Best,
Robert Kleeman
An agitated, die-hard fan sick of this absurdity