MLB Playoffs: Assessing My Earlier Predictions
October 20, 2011
Jamie Squire/Getty Images
At the beginning of the postseason, I predicted who the ten best pitchers would be, as well as the best players at each position. Between the Division and Championship Series, I also wrote an article on the ten best bats still playing. I've decided to man up and assess how right or wrong my predictions were.
My ten best bats list included, in order, Ryan Braun, Miguel Cabrera, Adrian Beltre, Albert Pujols, Prince Fielder, Ian Kinsler, Lance Berkman, Michael Young, Delmon Young and Skip Schumaker. The last two were hurt and non-entities for the Championship Series, so totally off there. Also, my list is totally wrong in that it didn't have the sumptuous bat that was Nelson Cruz (6 dingers, 13 driven in, 28 total bags in the ALCS alone). In hindsight, David Freese should have also made the list. Young and Kinsler were OK, but not the monsters that Cruz and others in the Rangers' lineup were.
Catcher: I went with Alex Avila for catcher. Totally wrong there.  He batted .073, worse than any postseason backstop except Carlos Ruiz. Even Lucroy was better than Avila.
First Baseman: Pujols and Fielder made my honorable mention; Cabrera was the starter. I think Pujols may have edged out Cabrera. Though Cabrera had a better OPS and more home runs, Pujols had a better average, more total bags and more hits. Not to mention that Pujols is still playing and Cabrera is not. A surprising candidate to be ahead of either of them was Paul Goldschmidt of the Diamondbacks, who led all postseason first basemen in average and OPS.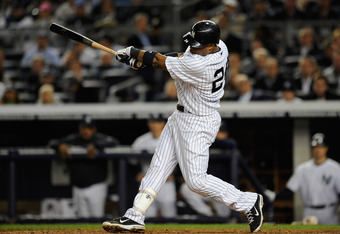 Patrick McDermott/Getty Images
Second Baseman:  I went with Robinson Cano. Though Utley and Kinsler (another honorable mention) had their moments, Cano seems about right. I also had Ben Zobrist at what I called "utility infielder". He underperformed.
Shortstop: I was rockin' with Rollins; got some flack for not picking Peralta, and was proven right (.450 average for Rollins)
Third Baseman: I said Beltre. Beltre had three home runs in one game, and zero home runs in the other nine. David Freese came out of nowhere to hit 4 dingers, drive in 14, and had a triple hash of .425/.465./850. 
Outfield: My outfield was Braun, Granderson and Pence, with Hamilton and Berkman as honorable mentions. Pence was not worth a farthing in the NLDS loss. Braun was solid. Brett Gardner and Chris Young both went out in the DS after solid performances. Plus, no Nelson Cruz, so automatic fail.
DH:  I said V-Mart. Jorge Posada came out of nowhere to have a .429/.579/.571 triple hash.
My position players list included Justin Verlander and the three main Phillies starters; my top ten pitchers added to the list of starters James Shields, Ian Kennedy, Doug Fister and C.J. Wilson.
Most of those pitchers took it in the shorts. Shields, Wilson, and Cliff Lee all had ERAs of over 7. Verlander and Sabathia were good, but not great. Roy Halladay had a 2.25 ERA...just good enough to give up enough runs to blow the series.
Cole Hamels was decent, with a shutout. The next best starter...Tampa Bay rookie Matt Moore, who started the season in the minors and started the playoffs with a shutout. Chris Carpenter, with his NLDS Game 5 beauty, probably should have also been on the list.
Mariano Rivera was the closer on my position players team, and was joined by Jose Valverde on the ten best pitchers list. Rivera extended his streak of no postseason home runs, losses or blown saves for another season, though he only pitched 1.1 innings (all zeros). Valverde didn't blow a save...though he DID have. In hindsight, I'd knock JV off the pedestal and replace him with Cardinals "closer" Jason Motte, who had four saves, seven strikeouts, a 0.00 ERA and a 0.125 WHIP  
My position players list also included middlemen Mike Adams and Al Alburquerque. Adams was decent. Alburquerque wasn't. 
Manager
Tony LaRussa. Nuff said.