Arsenal vs. Stoke: Preview, Team News and Prediction
October 21, 2011
Shaun Botterill/Getty Images
Between all competitions Arsenal have won four of their last five games. The lone loss was in the North London Derby against Tottenham Hotspur when Kyle Walker was the Gunners spoiler of the day at White Hart Lane.
Aaron Ramsey secured a last-minute victory at the death over Marseille during the Gunners first Champions League trip to France in nine years.
Ramsey adds himself to the list with Robin Van Persie as players that have secured late victories for their club in the last two matches.
Van Persie netted a brace against Sunderland at the Emirates, ensuring the Black Cats suffered another loss to add to their dismal season, while Arsenal are attempting to salvage theirs one match at a time.
This weekend they will face another tough away match when they play host to Stoke City. The Potters will face the Gunners after securing a European win of their own during midweek, as they knocked off Maccabi Tel-Aviv 3-0 in their fortress of noise, the Britannia Stadium.
Cameron Jerome received one of the Europa Leagues 13 Red Cards during Thursday's European match day but will still be available for EPL matches and could feature against the Gunners.
Peter Crouch, Jonathan Walters, Rory Delap and Wilson Palacios were all rested by Tony Pulis, with the first two seeing late second half cameos as they were preparing to take on Arsene Wenger's side on Sunday.
Stoke's away form in the league is questionable, with only one win coming for them against West Brom at the Hawthorne's. However, their home form has been masterful, as they have secured draws against Chelsea and Manchester United while defeating both Liverpool and Fulham. It will be interesting to see which side of the Potters show up in London.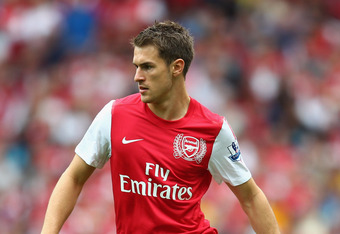 Clive Mason/Getty Images
Arsenal will be hoping that they can find a way to get a second clean sheet after their 1-0 victory against Marseille. The Gunners defense has been like a sieve for most of the season but they managed to hold off the former French Champions.
Stoke City will be taking everything they have and throwing it against the Gunners, especially considering Pulis looked to be preparing for them against Tel-Aviv by resting his stars up front.
Arsenal have only won a single match at the Britannia since the Potters were promoted for the 2008-09 EPL season. With a record of four wins and three losses in three years it could go either way, but history is on the side of Arsenal for this match. Despite a one-and-three record away they are undefeated in three matches at the Emirates.
The Potters first match against Arsenal in the EPL on November 1, 2008 they defeated the Gunners 2-1 at the Britannia. That same season Arsenal took revenge in the return leg on May 24, 2009 in a 4-1 thumping of the Potters.
Three matches during 2009-10, including a fourth round FA Cup victory for the Potters at home, saw the Gunners take their only victory at the Britannia in four trips with a 3-1 last-gasp victory, thanks to a penalty from Cesc Fabregas and a goal from Thomas Vermaelen. However, that win was soured by Aaron Ramsey's nearly career ending broken ankle due to a Ryan Shawcross tackle.
The last meeting between the two was in May of last season on May 8, 2011, a week before the Potters 1-0 defeat in the FA Cup Final to Manchester City, and Stoke took a 3-1 victory over Arsenal at home.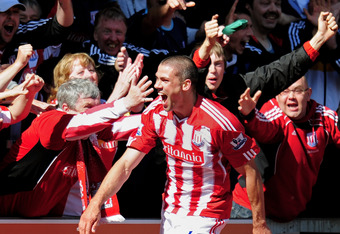 Shaun Botterill/Getty Images
Tony Pulis will hope his charges are up for another strong performance after their European victory. If the pattern of wins and losses continue as before the Gunners are due to win the next two matches. If you base it on average goals per club per game then the score line should be 2 - 1 to the Gunners as the averages were 2.14 per game for Arsenal and 1.43 per game for the Potters.
However, if it is one season that Stoke could pull off another victory this could be it, as the Gunners are still shaky and despite their four wins in their last five, a one win and three loss record at the Britannia is not in their favor.
The score lines for the Gunners three wins at the Emirates over Stoke have been 4-1, 2-0 and 1-0, with the Potters gradually improving in front of the London crowds. With this being Arsenal's least in-form start to a season in years it is possible that Stoke are set for a major upset to earn their second away result of the season.
Match Prediction: Arsenal 2-2 Stoke City
Predicted Lineups
Arsenal Starting XI: Wojciech Szczęsny, Kieran Gibbs, Per Mertesacker, Laurent Koscielny, Andre Santos, Mikel Arteta, Alex Song, Aaron Ramsey; Gervinho, Robin Van Persie, Andrei Arshavin
Stoke City Starting XI: Asmir Begovic; Jonathan Woodgate, Ryan Shawcross, Robert Huth, Marc Wilson; Jermaine Pennant, Rory Delap, Wilson Palacios, Matthew Etherington; Peter Crouch, Jonathan Walters.
Players to Watch: Robin Van Persie and Peter Crouch
For more information on all 10 of this weeks EPL matches you can check out English Premier League: Week 9 EPL Match Previews and Predictions.
Thanks for following me and be sure to read further on Bleacher Report and at the links below. You can follow me on Twitter  @thedailyatz and Facebook or visit my Website.