NFL: How the San Francisco 49ers Are Proving the World Wrong
October 19, 2011
Jamie Sabau/Getty Images
"He saved his best throw for the most critical part of the game." - Fox analyst Moose Johnson on Alex Smith's go-ahead fourth-quarter touchdown pass.
They have been great without being spectacular. Today, the San Francisco 49ers have proven the world wrong and in the process humbled many, yours truly included. Their heart and grit is something movies have been made about. What makes their climb from football's atrocity to football's acclaimed so noteworthy is the way the Niners have won.
The 49ers have played with what can only be described as a "coal miner's" mindset. They fought and earned every win they gotten thus far. The proverbial hard hat has been worn not just in each game, but on each possession. They have given new life to a city that has believed in them since the hiring of coach Jim Harbaugh.
Regardless, of what anyone thinks or thought about this club their play in the first six games deserves everyone's respect and admiration.
The season began with a 33-17 win against last year's NFC West champion Seattle Seahawks, which looking back should be watched with the timeless Sam Cooke classic, "A Change Gonna Come." This is the only song fitting for this game, since it was the one against last year's surprise team that laid the foundation for the new Niners' regime.
Then, a 27-24 loss to the Dallas Cowboys; that loss would have shaken previous Niners teams. However, for Harbaugh's Navy it proved to be nothing more than a blip on the radar.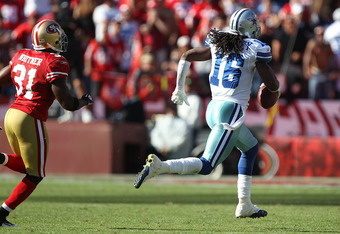 Jed Jacobsohn/Getty Images
Four consecutive wins later, it is apparent that all prognosticators should only speak when spoken to regarding these 49ers, yours truly included. Despite the uninformed commentary by pundits alike, the 49ers have displayed their plan and mindset successfully through their play.
It is now apparent that Harbaugh and his staff's conscience decision to teach technique to this current roster rather than rebuild the roster have proven to be correct. Their decision to establish a style of play with this band of mercurial players has been extraordinary.
Each win accumulated in their current four-game win streak has provided a different character building obstacle for this group to overcome. First there was the ugly 13-8 win in Cincinnati, a game that they seized control of in the second half.
Then there was the trip to Philadelphia, a game the Niners trailed 20-3 at one point. They were able to overcome that lead by staying committed to the run and their stubbornness would eventually win them that game 24-23. Upon returning home, the 49ers mauled a strong Tampa Bay Buccaneers team 48-3. This game could have proved to be a downfall for these knights of redemption, but after this conquering this conquest they sat and waited almost eagerly to slay their next opponent.  
Two road victories and a full five-finger smack to the Bucs would have been enough to take this group serious, but the shakedown in Detroit warrants respect and a retraction. Many outside of Detroit felt the Lions were playing above their heads and it was only a matter of time before they were taken down. Yet, the way San Francisco did it was textbook. Quarterback Alex Smith fumbled and turned the ball over on the very first offensive possession, and the game looked lost. After that turnover and a few false starts, Harbaugh did something that is lost on so many NFL head coaches: he made an adjustment.
Then, he had the foresight and courage to stay with his redirection. They were tough and defiant in their refusal to lose and the result was about as an impressive 25-19 road victory you will see this year.
Much like their season, each game has given them every reason to quit and they would not. San Francisco has been behind in all three of their road wins and have managed to comeback and win in each of them. Most recently, this club was given every reason to go into their bye week content with their success thus far; but they displayed their true character and addressed the issue at hand.
There is no reason to doubt this team going forward they have garnered our respect and my admiration through their play. The 5-1 record along with their how it came about have proven that success can be had regardless of the hand you have been dealt. The 49ers have proven that nothing can overtake hard work and conviction.
The season began with this collection of warriors being entrusted with protecting a dynasty. They were protecting a legacy that had been tarnished through years of failures. Regardless of what the outside world believed this group has banded together with their own belief that all things are possible. Their discipline and linear focus is evident in each play from scrimmage.
Six games in, they are unapologetic for their brashness, as well they should. They have regained the attention of the land they once proudly reigned supreme over and do not appear intent on relinquishing power.
Slowly the Niners are reintroducing themselves to their adversaries, almost in a remember us fashion. This introduction is not taking place before or after the game no sir, it is taking place during each snap and with each violent collision.
Slowly the Niners are surveying the land they once ruled upon and reacquainting themselves with a stern handshake and pat on the back.