Badge Kissers: Why Wayne Rooney and Frank Lampard Shouldn't Wind You Up
October 19, 2011
Laurence Griffiths/Getty Images
A group of fans were pretty vocal last night after Wayne Rooney kissed the badge after scoring from the penalty spot away to Otelul Galati. The argument goes that, given Wayne Rooney's transfer request last season, he no longer has the right to kiss the badge so beloved to the fans.
Yet more fans are repulsed by badge kissing full stop, considering to be a classless, empty gesture. Having seen their badge kissed by foreign mercenaries and ex-rival players, they just don't want to know and take offence at anyone who dares to kiss the badge.
Despite this, it's absolutely stupid that anyone gets wound up by the gesture. That's all it is, and an empty, hollow one at that.
Wayne Rooney is fooling nobody. We all know that he was born an Evertonian and will remain an Evertonian at heart for all his days. Once a blue, always a blue and all that. The same is true of Alan Smith, who kissed the Leeds badge after scoring at Old Trafford the season Leeds went down, before joining us that summer and eventually kissing our badge.
These days kissing the badge isn't a sign of undying loyalty. It's just an empty gesture, a nod to the fans and to the player's employers. Just a goal celebration. Very few players can claim to kiss the badge out of love for their clubs.
Instead, the majority kiss the badge out of lust.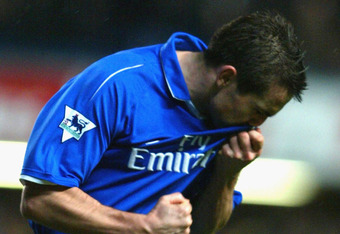 Ben Radford/Getty Images
Take Frank Lampard. He's been slobbering all over the Chelsea crest since 2003, but didn't love the club enough to accept wages of any less than £130,000 per week. Ole Gunnar Solskjaer and Gary Neville, in contrast, never asked for pay rises. They genuinely had affection for the club they represented. They would never heave dreamed of indulging in bloody-minded brinkmanship to secure an eye-watering payday.
It's not just in the megabucks Premier League that this goes on. Kris Commons recently spent season after season kissing the Nottingham Forest badge but then, when a slightly-improved contract offer came along, jumped ship on a Bosman to mortal rivals Derby County.
Are we really surprised, though? Commons, a Scotsman, has no inbuilt loyalty to either side—they're just employers paying their wage. Rooney isn't a United fan any more than I'm the queen of Denmark, yet he's paid an exorbitant amount to perform his best for us. That buys his loyalty in the way that a pair of fake tits and a miniskirt grab our attention. There's nothing meaningful there but, my god, don't we fool ourselves that there is!
This is the case with players, paid what they are. It's very easy for Rooney to feel affection for a club paying him every month more than the majority of people make in their lifetime. He kisses the badge because he likes the lifestyle, the money, the glory. There's no deeper meaning there, not in the way that there is with us.
Just like when you got your first car and pulled the hot classmate who you thought was the one, the affection is only genuinely one way. When you kissed that classmate, you felt genuine, you felt brilliant, it felt so, so right. She didn't feel that way though. She was only with you for the car and the money. Do you remember how difficult it was to get your head around how you could feel one way, but she could feel completely different.
That's exactly what we have here. Badge-kissing means one thing to us and something entirely different to players. We should accept the gesture for what it is—lip service, quite literally.