College Football Predictions: WAC End of Season Rankings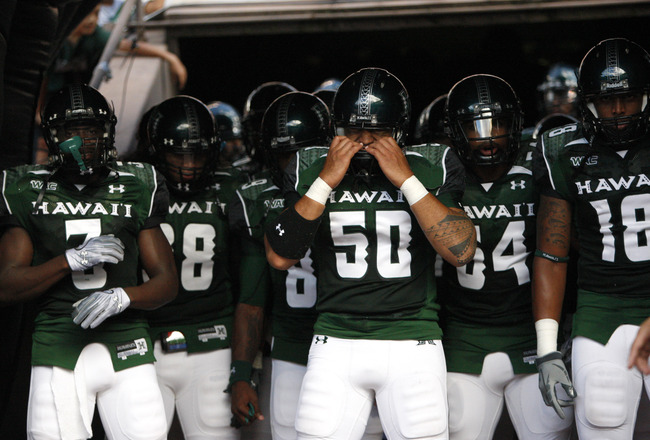 Kent Nishimura/Getty Images
We are now well into the 2011 football season, and after seeing a few Western Athletic Conference games, it is time to make some predictions as the WAC season moves into full swing.
With Boise State leaving to play its football in the Mountain West Conference, the WAC is poised for a very tight finish this season.
Conference heavyweights Fresno State, Nevada and Hawaii will follow Boise State into the Mountain West after this season, but they are primed for one last tilt at WAC glory.
Here is a look at how each team in the WAC has fared so far and where they might be ranked at the end of season.
8. Idaho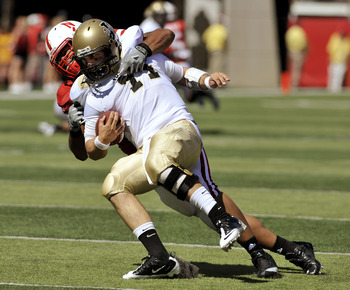 Eric Francis/Getty Images
Idaho has struggled along to a 1-6 record overall this season and an 0-3 record already in the WAC.
It would be fair to say that the Vandals are comfortably the worst team in the WAC at this stage.
They did have a win earlier in the season over North Dakota and had an unfortunate overtime loss away to Virginia.
But they have let three WAC games against Fresno State, Louisiana Tech and New Mexico State slip away already.
While Idaho hasn't been too far behind on the scoreboard in a few games, they haven't really threatened either.
It doesn't get any easier for them with Hawaii up next and road trips to San Jose State, BYU and Nevada around the corner.
Prediction: WAC 0-7, Overall 1-12
7. Louisiana Tech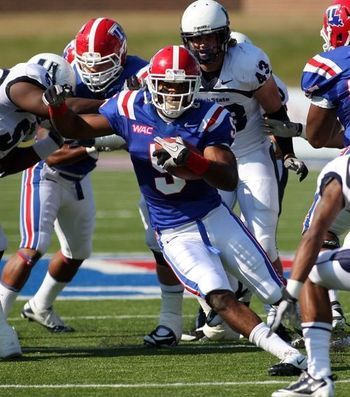 Louisiana Tech has a 1-1 record in the WAC so far and are 2-4 overall.
The Bulldogs' only wins to date were an overtime win against Central Arkansas and a WAC win over Idaho.
However, they are unlucky to have lost as many games as they have—three of their losses were by two points or fewer, including a one-point loss to undefeated Houston.
The Bulldogs have definitely been right in the contest in most of their outings, and their offense seems to be ticking along nicely, but the defense has been a concern at times.
Louisiana Tech has a few good teams left to play, but the team has shown an ability to hang in the contest so it shouldn't be written off and could surprise a team or two.
Prediction: WAC 2-5, Overall 3-9
6. Utah State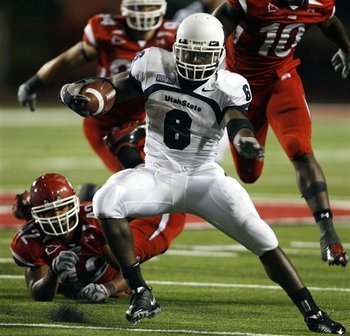 Utah State is off to a rough start in 2011 with a 2-4 overall record and an 0-1 start in the WAC.
However, despite the record, there have been some good signs from the Aggies this year.
They almost upset Auburn in their first game, and in fact, all of their losses have been quite close, including their WAC loss to Fresno State.
Utah State boasts the sixth best rushing attack in the country which has kept the scoreboard ticking over for them, but unfortunately the defense has leaked a few points.
With just WAC games left on their schedule it looks to be a pretty tough run in—in particular their trip to Hawaii—but they have enough quality to win a couple more games.
Prediction: WAC 3-4, Overall 5-7
5. New Mexico State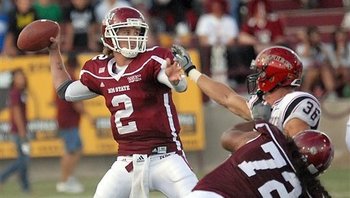 New Mexico State is currently 1-1 in the WAC with a 3-3 overall record.
The Aggies had a tough start to the year with three losses in their first four games including a WAC loss to San Jose State.
They have bounced back nicely, though, in the last couple of weeks with a win over New Mexico and a WAC win over Idaho.
New Mexico State has a decent passing game with some promising receivers, but the Aggies have a very tough schedule ahead in their next five games, and it is hard to see where more wins might come from.
It starts with a road trip to Hawaii this weekend before they host Nevada. They then have a WAC matchup against Fresno State in between two more very difficult away games against Georgia and BYU.
Prediction: WAC 3-4, Overall 5-8
4. San Jose State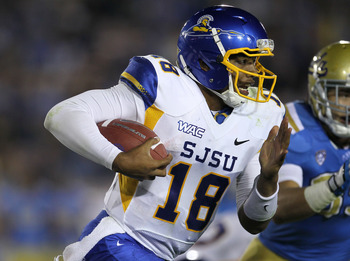 Stephen Dunn/Getty Images
San Jose State, 3-4 overall so far this season and 2-1 in the WAC, is possibly one of the most improved teams in college football.
The Spartans had a tough start to the season with losses to Stanford and UCLA, and then a narrow WAC loss to Nevada.
Their season also included a loss to BYU, but they have bounced back in recent weeks and managed two WAC wins over New Mexico State and Hawaii.
The Spartans haven't done anything flashy, but they are a team that fights and scraps their way through football games.
Their schedule has been tough so far, but they are through the worst of it, and their run-in from here looks a lot better with their trip to Fresno State likely the toughest game remaining.
Prediction: WAC 4-3, Overall 6-6
3. Fresno State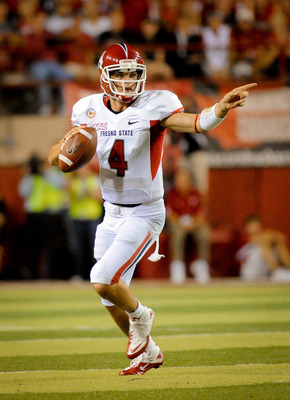 Eric Francis/Getty Images
Fresno State currently leads the WAC with a 2-0 record and a 3-4 overall record.
Earlier in the season the Bulldogs showed their promise when they managed to hang with Nebraska until the fourth quarter, but they were then well beaten by Boise State.
They have had WAC wins over Idaho and Utah State so far, but neither of them were very convincing.
Fresno State has a solid passing game, but their defense has become a concern—they have one of the worst points against in the nation.
The toughest is yet to come for Fresno State with a difficult remaining schedule.
They face a road trip to Nevada this weekend which is shaping up to be a huge game in this year's WAC standings, and they also travel to Hawaii later in the season.
Prediction: 5-2 WAC, Overall 6-7
2. Hawaii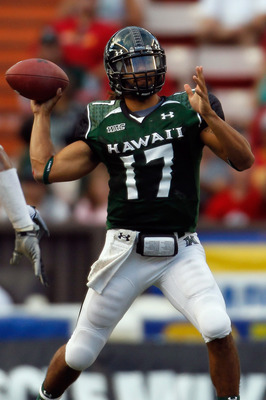 Kent Nishimura/Getty Images
Hawaii has started the season with a 3-3 overall record and is currently 1-1 in the WAC.
The Warriors started their year with a good win over Pac-12 Colorado but then struggled on a two-week road trip with losses to Washington and UNLV.
In the WAC they had a comfortable first win over Louisiana Tech before slipping up at San Jose State.
As always they are among the leaders in the nation in passing yards but have struggled for consistency and haven't been very clinical.
The Warriors have a physical defense that creates a lot of turnovers, but they too need to get more consistent.
Hawaii lost a lot of talent from last year, and this new group should improve as the season goes on.
The team still has some tough games to contend with—most noticeably a road trip to Nevada.
Prediction: WAC 5-2, Overall 8-5
1. Nevada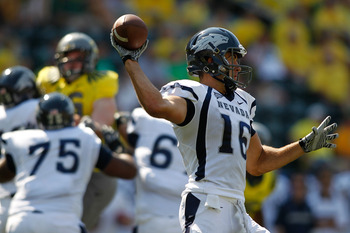 Jonathan Ferrey/Getty Images
So far this season Nevada is 3-3 overall and 1-0 in the WAC.
The Wolf Pack were well beaten by Oregon in their first outing of the season but rebounded to almost beat Texas Tech and then put in a decent performance against Boise State.
Their running game has been terrific—currently the 10th best in the nation—and they lead the WAC in total offense.
They have had a tough overall schedule so far but kicked off their WAC campaign with a good win over San Jose State.
The next few weeks for Nevada will be huge as it hosts Fresno State and Hawaii, and faces a trip to New Mexico State.
Nevada looks to be the favorite at this early stage, but these games will go a long way to determining how successful the team's season is.
Prediction: 6-1 WAC, Overall 8-4
Keep Reading