Tim Tebow Lacks the Skill of Other Dual-Threat Quarterbacks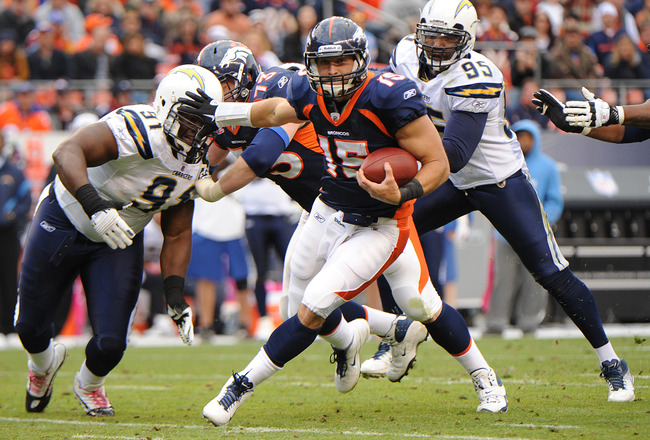 Bart Young/Getty Images
It is easy to see why Tim Tebow has been so hyped. He was the 2007 Heisman Trophy winner at Florida and he followed up that season by leading the Gators to a BCS championship in 2008. He anchored the Gators 13-1 season in 2009, winning the Sugar Bowl.
Tebow has numerous individual achievements. His 88 passing touchdowns and 55 rushing touchdowns are both SEC conference records. He is also the conference leader in career passing completion percentage and quarterback rating.
The NFL requires a much different game then the one Tebow played at Florida. College statistics are essentially meaningless. Instead, it is more beneficial to look at a player's actual skill set and Tebow fails to impress in this category.
His appeal is also generated from being a scrambling quarterback, yet if Tebow is compared to other quarterbacks who relied on their legs, he does not match up with them. The scrambling quarterbacks who have seen successes in the league all have significantly better skills then Tebow. It takes much more then being a threat to run to be an NFL quarterback.
Here are five NFL dual threat quarterbacks that did it better than Tebow ever will. Statistics used are courtesy of Pro Football Reference
Randall Cunningham
Matthew Stockman/Getty Images
Cunningham was one of the greatest athletes in NFL history. He possessed blazing speed along with a very strong arm. He was even capable of being a punter. His four seasons from 1987-1990 showcased a dual threat ability that had never been seen before. Unfortunately, injuries ate away at Cunningham's athleticism prematurely.
In seven seasons where Cunningham started the majority of games, he never had a losing record. He finished with 35 rushing touchdowns, 28 of those coming in a six-season period. He totaled 4,928 rushing yards, the vast majority coming early in his career. He did damage with his arm as well. With 207 passing touchdowns and nearly 30,000 yards, he was a clear threat throwing the football.
Despite his unique ability, Cunningham never won a Super Bowl. In fact the best team he played on was the 1998 Vikings, a team that was a missed field goal away from getting there. In that season, Cunningham had evolved into a pocket passer.
Tim Tebow does not come close to matching Cunningham's athleticism; he does not compare when it comes to arm strength or speed. Cunningham's best years came when he was a big threat throwing the ball. Tebow will never match his ability in this category. His career also shows the risk that scrambling quarterbacks take, as Cunningham was unable to stay healthy after age 27.
Michael Vick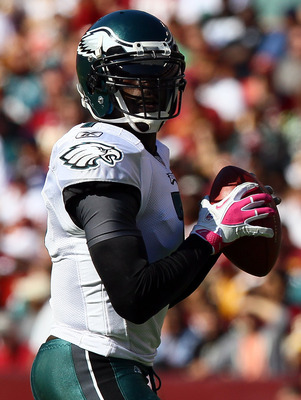 Win McNamee/Getty Images
Michael Vick is probably the best athlete to ever play the quarterback position. He has over 5,000 career rushing yards and a ridiculous 7.2 average per carry. He also possesses one of the strongest arms in the league. When on the field, Vick has been a winner, with a 48-35-1 record as a starter. Unfortunately, Vick has not been able to consistently stay on the field due to injury and legal circumstance.
Vick's weaknesses during his years with Atlanta were his inaccuracy and run first mentality. His post-prison Philadelphia career has seen a tremendous improvement in those areas. Still, the problem of keeping Vick healthy persists.
Tebow cannot come close to matching up with Vick. He does not have the arm strength to keep defenses honest. He does not have the game-breaking speed to produce electrifying scores. He may be a better battering ram, but that is probably not a good strategy for staying healthy.
Donovan McNabb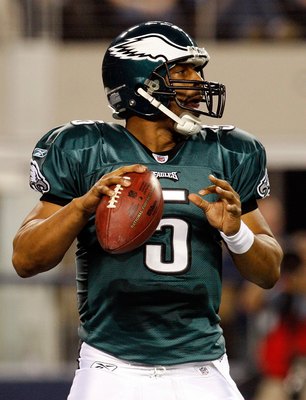 Ronald Martinez/Getty Images
Fans may forget about the dual threat that Donovan McNabb was early in his career. From the beginning McNabb was more of a passing threat. He quickly learned to make running a last resort option.
McNabb needed to carry a large portion of the offense in 2000. The Eagles had a putrid rushing attack that year. He responded with nearly 700 rushing yards and six touchdowns on the ground. He also threw 569 passes in what was his first full season as the starter.
From the beginning, McNabb was a throw-first quarterback, unlike Vick or Cunningham. He had very good athleticism, noted by his high yards per carry along with his large size.
Again, Tebow cannot matchup with what McNabb brought to the table. In terms of running ability, Tebow isn't quite there, though he is not very far off. The more important factor was McNabb's throw first mentality and better arm.
Daunte Culpepper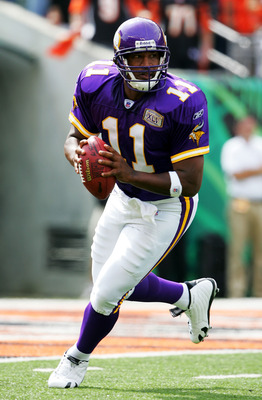 Andy Lyons/Getty Images
Daunte Culpepper provides a scrambling quarterback model closer in nature to Tebow. At 6'4" and nearly 250 pounds, he was a battering ram at the goal line. He had 22 rushing touchdowns in his first three seasons as a starter. He was only able to last five full seasons before a horrible knee injury ruined his career.
Culpepper only had one winning season while healthy, but that cannot be blamed solely on him. The Vikings defense was extremely poor during his tenure, negating a strong offense. He possessed a much better arm then Tebow, both in strength and accuracy. He had a 64.4 completion percentage during his Vikings career.
While he did have a strong tendency to scramble, Culpepper put up some very high passing marks. In his first season starting, he threw for 3,937 yards and 33 touchdowns. In 2004, he passed for 4,717 yards and 39 touchdowns.
Tebow can come close to Culpepper in scrambling ability, but his arm is nowhere close. Culpepper also had a very short shelf life with his physical running style. Tebow will put himself at a similar risk with his style of play.
Steve McNair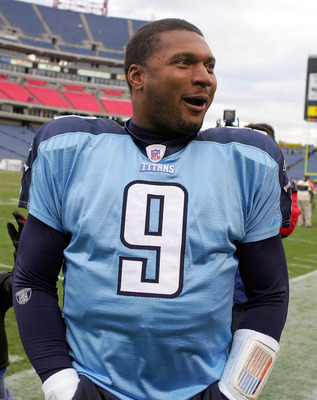 Scott Halleran/Getty Images
Steve McNair was another scrambling quarterback who had a nose for the end zone. In his first three years as a starter, he had 20 rushing touchdowns. He finished with 37 in his career.
McNair was able to lead the 1999 Tennessee Titans to the Super Bowl despite not being a traditional quarterback. His only 200-yard game of the postseason came in a losing effort to the St. Louis Rams. He was not a high percentage passer that season, and averaged under 200 yards per start. Perhaps this is the Tebow model? Well, not exactly.
Again the issue of arm strength comes up. McNair had a rocket of an arm, he just was not as accurate at the time. From 2000 through the end of his career, his completion percentage never dipped below 60%. Tebow doesn't come close in arm strength to McNair.
The 1999 Titans had a dominant running back in Eddie George and a very good defense. Neil O'Donnell went 4-1 as a starter that year. This was not a team that was good because of a dual threat at quarterback.
Conclusion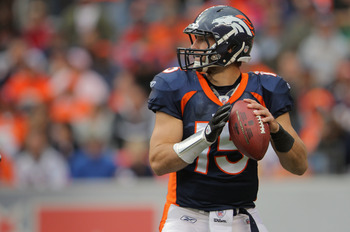 Doug Pensinger/Getty Images
The quarterback who heavily relies on his legs is a rare breed in the NFL. A quarterback has to be able to win with his arm at some point. The five players listed all had the capability to do this. Cam Newton looks to share that same ability.
The shelf life for a quarterback who runs often is limited. Michael Vick has only played five seasons of at least 12 games. Injuries decimated the careers of Randall Cunningham, and even more so, Daunte Culpepper. Steve McNair and Donovan McNabb dramatically reduced their running games. It did not prevent McNair from having a young retirement and McNabb looks to be finished this season.
Tim Tebow cannot match the skill of any of these quarterbacks. He does not posses the athletic ability or the arm strength. In his 300-yard passing performance from last year, 99 yards came from screen passes.
The bottom line is that Tebow does not have the skill set to be a franchise quarterback. He is a valuable commodity around the end-zone and has a career in special packages. Any rational look at his ability and performance cannot conclude he is a franchise quarterback.
Keep Reading

Denver Broncos: Like this team?