Seattle Seahawks Were Big Winners at the NFL Trade Deadline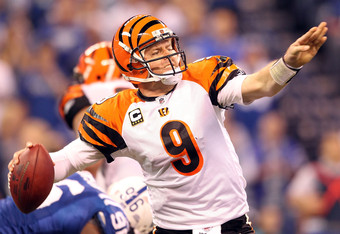 Andy Lyons/Getty Images
The Seattle Seahawks failed to be the team to pull the trigger on the most anticipated trade of the season, but still ended up being winners as the NFL trade deadline was reached.
There are certain words from coaches that stick in players' minds. I had a position coach in college that liked the "dig deep" mantra, and most athletes had more than one coach that used the term "you gotta want it." Then there was my wrestling coach that barked out "doing something is better than doing nothing."
The 2011 Seattle Seahawks are the exceptions to those rules.
Carson Palmer being shipped off from the Bengals to the Seahawks has been the conventional wisdom in the NFL since Seattle failed to grab a quarterback in the 2011 draft. Despite several NFL experts insisting Palmer would not be dealt, I was still anticipating a deal to come to fruition for the bitter quarterback.
Bengal owner Mike Brown allowed for a little wiggle room when asked if he'd changed his mind on trading Palmer as the trade deadline neared. "I don't have a thing to say about that," Brown said.
While some read that as another sign he hadn't changed his mind, I saw it as a major softening of his stance.
The Oakland Raiders (4-2) did, too. The loss of Jason Campbell in the middle of what they see as a playoff season made them the team that wanted it more, and they dug deep to get him...too deep, actually.
In the process, the Seahawks saved their 2012 and 2013 first round draft picks, making them the real winners. To be fair, the Cincinnati Bengals didn't do too shabby, either.
Should the Seahawks have surrendered a first-round pick in '12 and a 1st or third round pick in '13 for Palmer?
Brown will have a few extra early picks that will allow him to sign low-priced rookies and terminate the contracts of a few high-priced veterans. The odds are he still won't see the hypocrisy in his actions, but at least he finally returned a featured quarterback to the playing field.
The Seahawks took care of some housecleaning of their own over the last week. They were able to send Aaron Curry to the Raiders, picking up a 2012 seventh-round draft pick along with a conditional fifth-round pick in 2013. That is pretty poor compensation for the fourth overall pick from the 2009 draft class, but Seattle is hardly alone in teams that have come up short with a top-10 pick that year.
The picks acquired for Curry, along with saving the draft capital (and possibly a player) they would have had to surrender for Palmer, set the Seahawks up to be active in April's draft. Should they decide they want to move into position to draft their long-term answer to the quarterback position they will have the flexibility to do so. If they instead opt to look for a pass-rusher or linebacker, they'll likely be able to get the guy they want.
Palmer would most likely have been an upgrade at the quarterback position in Seattle, and most certainly would have bought them time to find their long-term franchise player. But the cost was just too much.
The Raiders felt comfortable making the move, which is somewhat understandable given their desperation at the position and recent lack of success with first round draft picks.
Robert Gallery, Fabian Washington, Michael Huff, JaMarcus Russell, Darren McFadden, Darrius Heyward-Bey and Rolando McClain are the seven picks they have made in the first round over the last eight years. While McFadden has certainly turned into a solid option, there are more duds on the list than contributors.
What draft pick would be fair value for Golden Tate
Seattle could have fared better at the trade deadline if they were able to make a move with one of their surplus wide receivers.
The Seahawks were already deep at the position, witnessed by Kris Durham being inactive for four of five games so far this season. Now Deon Butler is coming off the physically unable to perform (PUP) list, creating more pressure at the position.
The St. Louis Rams made a move for a wide receiver, and the San Francisco 49ers should have. Both of these steps enhance Seattle's position.
The Rams figure to be mathematically eliminated from the playoffs prior to Thanksgiving, yet they gave up a sixth-round pick for a player that isn't under contract next season. The 49ers are struggling on offense, and need some help to strengthen their playoff run, but didn't get it.
While these are small gains for Seattle's standing in the division, they are gains all the same. The Seahawks (2-3) are still in position to make a run at the playoffs in 2011. More important, they have their draft capital from the upcoming drafts in tact to allow them to plug a few remaining holes that would keep them from making a deep playoff run.
This article is
What is the duplicate article?
Why is this article offensive?
Where is this article plagiarized from?
Why is this article poorly edited?

Seattle Seahawks: Like this team?