World Series 2011: Chewing Tobacco Is Harmful but So Are Steroids, Senator
October 19, 2011
Harry How/Getty Images
The 2011 MLB World Series has not even started yet and there is already controversy.  And once again, the beef is coming from an outside source.
The latest activist-pushed change in the professional sports world is now chewing tobacco in Major League Baseball.
I can see where they are coming from.  Children and teens who grow up watching baseball want to emulate their favorite "Big Leaguer."  
Let's say their favorite is Josh Hamilton.  Younger players wear their uniform like he does.  They even change their on-field behavior to act more like J-Ham.  And yes, I'm sure there have been a few kids who have thrown in a "fatty" or put in a "wad" like Hamilton does.
But, when it comes down to it, aren't there many other things that we should be focusing on?  Should outlawing chewing tobacco in MLB really be at the top of the list?
How about steroids?
Steroids actually affect the game!  They make the game "fake" for those who watch or follow.  After all, it's been outlawed and it is considered cheating, but players still get away with it.  Until the Mitchell Report, there were "hundreds" who got away with it.
They're even starting to call that time period the "Steroid Era."
And even now, unless a player takes a drug test on national television, I will still have my doubts.
The career leader in home runs has been linked to steroids.  One of the greatest pictures of the last 25 years has been linked to steroids.  One of the most pure hitters and recognizable names in baseball right now has been linked to steroids. No need to name any names (Bonds, Clemens, A-Roid).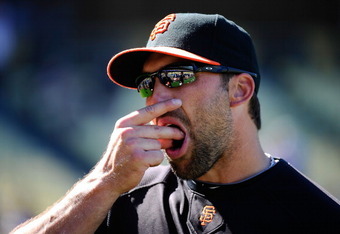 Kevork Djansezian/Getty Images
High school and college athletes both want to get stronger.  If they know or think that there are MLB players who are using steroids to hit 50+ home runs a year, don't you think they will want to do the same?  It goes right back to the emulation that I was talking about earlier.  They're going to want to use steroids. 
I'm not saying that chewing tobacco isn't an issue.  I'm not even going to say that I disagree, but come on.  If politicians are going to be intrusive, I would at least prefer they stick to topics that affect the game.  Aren't people protesting other much more important things right now (Occupy Wall Street)?
To chew or not to chew, that is the question.