NFL Picks Week 7: 5 Teams That Are Going Down in Flames This Week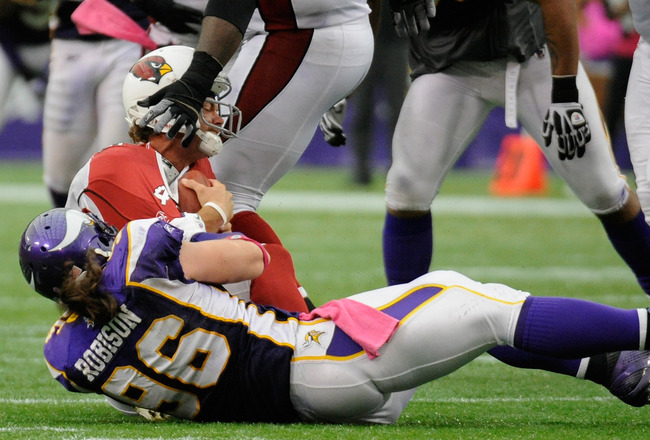 Hannah Foslien/Getty Images
In the NFL, there's the famous phrase of "Any Given Sunday" that many fans and teams live and die by. It means that on any particular game day, any team can be beaten—no matter how superior they may appear.
That may be true, but "Any Given Sunday" will bear no meaning for the following five teams this coming weekend, which, thanks to dire circumstances and better opponents, have no chance of emerging victorious in Week 7.
Colts vs. Saints: Why the Colts Will Lose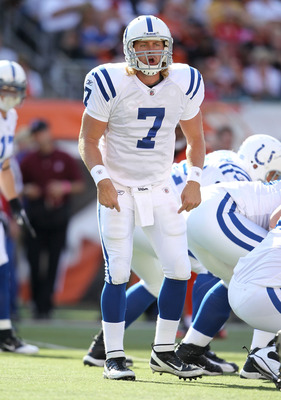 Andy Lyons/Getty Images
Unless you've either been living under a rock or are a hopelessly naïve Indianapolis fan, you're well aware that the Colts sans Peyton Manning aren't very good. With that said, Indy hasn't been nearly as dreadful without No. 18 as I thought they'd be.
Sure, they're a hopeless 0-6, but it's been a very competitive 0-6 at that. They've only been blown out in one game thus far (Week 1 down in Houston), and it's just a matter of time before they finally break through for their first victory.
Too bad it won't come this week. It's pretty easy to see why the Colts are still winless. Without Manning, Indianapolis boasts inferior talent on both sides of the ball against most of its opponents.
That's the case once again this week, as the Colts look to be outmanned against a formidable opponent, and a pretty angry one to boot.
Colts vs. Saints: Why the Saints Will Win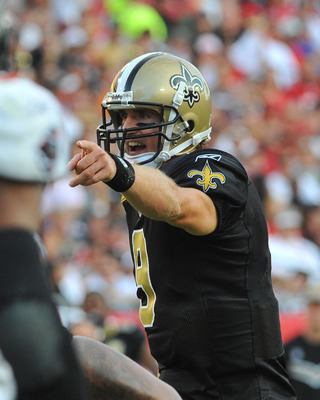 Al Messerschmidt/Getty Images
That angry opponent happens to be the Saints, a team that will surely be fuming coming off of a tough 26-20 loss to the Bucs. One particular Saint eager to bounce back after a poor outing is quarterback Drew Brees.
He uncharacteristically threw three picks in the loss to Tampa Bay, and he'll be looking to take advantage of a suspect Colts defense. Although the defensive end tandem of Dwight Freeney and Robert Mathis can pose problems, Brees will overcome this with his quick release.
Brees' counterpart Curtis Painter won't fare nearly as well in this one. Saints defensive coordinator Gregg Williams will certainly dial up the pressure on Painter, a quarterback who's still struggling to fully connect with his receivers and is still seeking his first career victory.
Too bad for him—and Colts fans—it won't come against the Saints.
Ravens vs. Jaguars: Why the Jags Will Lose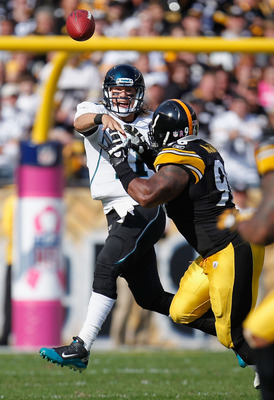 Gregory Shamus/Getty Images
Despite losing last week in Pittsburgh, the Jaguars should've come away with at least a moral victory, considering how they played on both sides of the ball. The defense held Steelers quarterback Ben Roethlisberger—who had five touchdown passes the prior week—in check most of the afternoon.
And on offense, the maturation of rookie quarterback Blaine Gabbert continued. Gabbert was 12 of 26 passing for 109 yards and a touchdown, a solid 18-yard strike in which he stepped up in the pocket and rifled the ball to Jason Hill.
But moral victories—or any victory—will be tough to come by this week for the Jags. While Gabbert showed potential in Pittsburgh, he was doing so against a defense still trying to reestablish itself as a dominant force. The defense he's facing this week doesn't have that problem.
Ravens vs. Jaguars: Why the Ravens Will Win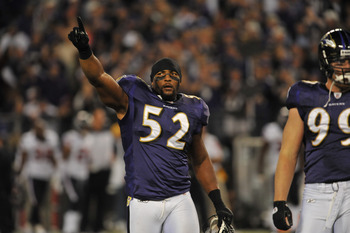 Larry French/Getty Images
The Ravens look like the best team in the AFC at the moment, thanks largely in part to their stifling defense. They're starting to look like the same unit that carried the Ravens to a Super Bowl title over a decade ago, which has to be a scary thought for any opposing quarterback—much less an unproven rookie like Gabbert.
John Harbaugh's defense in the middle is undoubtedly the league's best, with stars Haloti Ngata, Ray Lewis and Ed Reed wreaking havoc in between the hash marks. On the other side, what was once a weakness is quickly becoming a strength, as the Ravens offense looks pretty complete itself.
Quarterback Joe Flacco is taking the next step in his career, and he now has plenty of weapons at his disposal, like fantasy stud Ray Rice and rookie speedster Torrey Smith.
Jacksonville looks overmatched in this one, which could be over by halftime.
Rams vs. Cowboys: Why the Rams Will Lose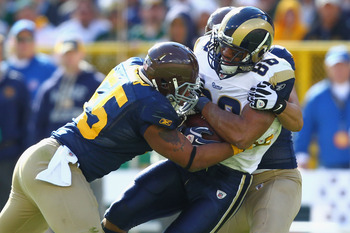 Dilip Vishwanat/Getty Images
The Rams are one of three winless teams remaining, and they're going to remain so after this week. Can someone please explain to me how St. Louis won seven games last season?
Last year may as well have been last century, considering how the Rams are playing with no fire both on offense and defense in 2011. They were smacked in the mouth from the opening kickoff against the Packers last week and were quite lifeless in response.
Second-year quarterback Sam Bradford has hit a sophomore slump big-time, but it's not entirely his fault. His receivers are arguably the worst in the game (although acquiring Brandon Lloyd improves this dreadful bunch's ethos) and his offensive line has done a poor job protecting him.
Bradford is nursing yet another injury—this time a high ankle sprain.
While on defense, the Rams have two Pro Bowl-caliber players in Jake Long and James Laurinaitis, Steve Spagnuolo has gotten little contribution from anyone else.
Rams vs. Cowboys: Why the Cowboys Will Win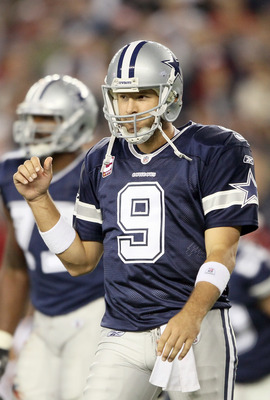 Elsa/Getty Images
With each loss in 2011, the drama piles up around America's Team. Well, Jerry Jones and his restless fanbase will enjoy at least one drama-free week after the Cowboys easily dispatch themselves of the Rams.
Why am I so confident in Dallas this week? It's because it'll carry over its performance from last week's tough loss to New England.
That's when Dallas had the Patriots—an elite team—on the ropes until Tom Brady bailed them out with another clutch drive in the game's waning minutes. Even in defeat, the Cowboys played very well. Tony Romo threw for over 300 yards and Rob Ryan's defense flustered Brady for three-plus quarters.
If he can do that to one of the game's greatest quarterbacks ever, just imagine what he'll have in store for a quarterback struggling to find any kind of confidence in Bradford.
Packers vs. Vikings: Why the Vikings Will Lose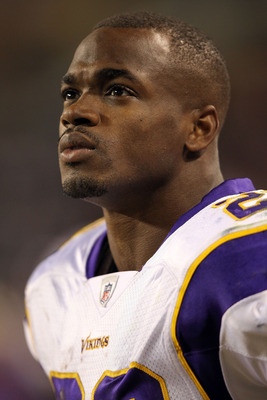 Jamie Squire/Getty Images
Minnesota's formula for success in 2011 is pretty simple: hand the ball to Adrian Peterson—um, like, a lot. Unfortunately for Vikings fans, the opposition has picked up on this game plan, too. Thus, the Vikings only have one win and don't stand much of a chance at picking up a second victory this Sunday.
It's tough enough when you're facing off against the defending world champions in the Packers, a team which is steamrolling the opposition at this point in the season. But you have to do so with either the atrocious Donovan McNabb or the extremely untested Christian Ponder under center.
Minnesota could perhaps find hope from its once-feared pass rush. But if it generated no heat against Jay Cutler and arguably the worst offensive line in the game, how is it going to get to Aaron Rodgers and his rapid-fire release?
Packers vs. Vikings: Why the Packers Will Win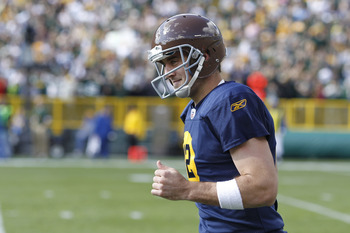 Joe Robbins/Getty Images
There's a pretty simple answer to that question: they won't. Green Bay's firing on all cylinders right now, although you'd never know it if you talked to Aaron Rodgers.
Even after thrashing the Rams 24-3 last week, Rodgers admitted that there was "minor disappointment" regarding how his offense performed against St. Louis. That can't be good for news for the Vikings, who now face the tall task of stopping Rodgers, a guy eager to make up for his apparently disappointing outing.
And in Ponder's first career start, expect him to meet linebacker Clay Matthews, the Packers star who registered a sack last week and is showing signs of breaking out of his slump. For those who bleed purple and gold, hide the women and children because this game could get pretty ugly.
Steelers vs. Cardinals: Why the Cardinals Will Lose
Hannah Foslien/Getty Images
It's starting to look like the Philadelphia Eagles got the better end of the deal when they traded quarterback Kevin Kolb to Arizona for cornerback Dominique Rodgers-Cromartie. It's obviously unfair to give up on Kolb so soon in his Cardinal career, but after playing well the first few weeks, his game has taken a nosedive.
Kolb hit on only half of his passes for no touchdowns and two picks in Arizona's most recent bad loss against Minnesota. While star wide receiver Larry Fitzgerald has found plenty of success against Pittsburgh in the past (see: the Super Bowl), Kolb simply isn't ready at this point to connect with him on a regular basis like former Cardinals quarterback Kurt Warner did at the height of his days in the desert.
And Steelers defensive coordinator Dick LeBeau is already familiar with Cardinals coach Ken Whisenhunt's offensive plans, as Whisenhunt was a former Steelers assistant. That familiarity combined with Kolb's ineffectiveness means we could see a cameo by the old Steel Curtain defense this Sunday.
Steelers vs. Cardinals: Why the Steelers Will Win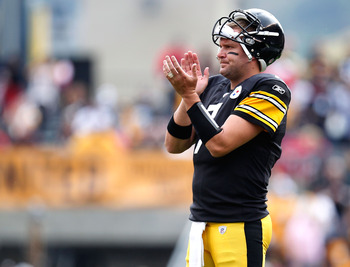 Gregory Shamus/Getty Images
Another elite quarterback eager to atone for an average day at the office will be Ben Roethlisberger. The Steelers' signal-caller was just 12 of 23 for 200 yards and a touchdown in Pittsburgh's 17-13 victory over Jacksonville.
In Roethlisberger's defense, the Jaguars actually boast a decent one at that—the Cardinals do not. Arizona was run out of the building (almost literally) by Adrian Peterson and a bad Vikings team in its last game, a 34-10 blowout two weeks ago.
That same Sunday, Roethlisberger only threw five touchdown passes on a bum wheel. He could go off for similar numbers against Arizona. Conversely, if Pittsburgh's defense wants to return to its dominating ways, this Sunday may be the perfect opportunity to start doing so, considering the quarterback it'll be facing.
Keep Reading